Health and Economic Destruction from Pandemic Continues
To much fanfare earlier this week, New Zealand Prime Minister Jacinda Ardern declared the country was free of COVID-19. As for the rest of the world… not so much.
At a press conference, Ardern declared, "We are confident we have eliminated transmission of the virus in New Zealand for now, but elimination is not a point in time, it is a sustained effort." The world will be watching as all social distancing guidelines and measures are lifted across the country—only border and in-bound travel restrictions remain.
New Zealand's Pacific neighbor Australia isn't doing so poorly either, with a few hundred active cases according to the Johns Hopkins University tracker. Much of the rest of the world continues to face more jeopardy even as economies try to reopen.
The U.S. stock markets—after regaining all, or nearly all, of its pre-pandemic wealth—took a step back Thursday, with the S&P losing nearly six percent. On Wednesday, the Organisation for Economic Co-operation and Development (OECD), headquartered in Paris, released an ominous world economic outlook. "The COVID-19 pandemic is a global health crisis without precedent in living memory," the OECD said in the report. "It has triggered the most severe economic recession in nearly a century and is causing enormous damage to people's health, jobs, and well-being." But wait, there's more: Later the report goes on to say "As restrictions begin to be eased, the path to economic recovery remains highly uncertain and vulnerable to a second wave of infections. With or without a second outbreak, the consequences will be severe and long-lasting." The bold emphasis is in the original. And here's the ominous graph to go with the ominous outlook: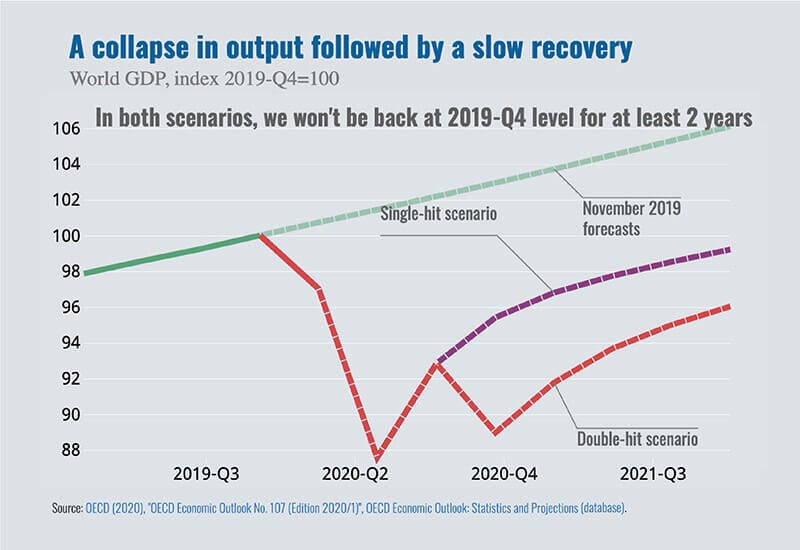 Whether or not what is happening in the United States or elsewhere is the beginning of a second wave or just a continuation of the first one, it's clear that the pandemic is not done, and there is a real possibility that there will be worse days ahead. London's Times reported, "The country needs to be prepared for the prospect of a second lockdown this winter, the government's most senior scientific advisers said." Forbes asked: "Is your supply chain ready for a second wave of COVID-19?" And a legal news organization based in Australia, Lexology, looks at contracts in light of a second wave, and implores businesses to prepare as if there will be less government stimulus response. One key may be: Don't delay cataloging those shutdown and reopening experiences—you may be putting the after-action reports to use sooner than you think.