Book Review: Hunting Whitey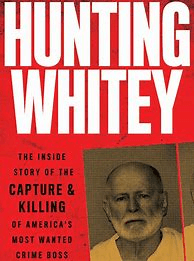 Hunting Whitey: The Inside Story of the Capture & Killing of America's Most Wanted Crime Boss
By Casey Sherman and Dave Wedge; William Morrow; www.harpercollins.com; 352 pages; $28.99
It was a cold day in January 1995 as I backed into my parking spot in the Boston FBI's underground garage. Suddenly a dozen of my fellow agents, dressed in suits and ties, ran past me. I watched as the entire Boston FBI Organized Crime squad raced to their cars. They had arrest warrants for James "Whitey" Bulger, Frank Salemme, Sr., and Stevie Flemmi. The next day Flemmi's photo appeared in the Boston Globe, under arrest outside a Boston restaurant. Whitey and Cadillac Frank were in the wind.
The hunt for Bulger would last 16 years. It took agents around the country and across oceans. The reward for his capture reached $2 million. He topped the FBI's Ten Most Wanted list. He headlined John Walsh's America's Most Wanted television program. In Hunting Whitey, Casey Sherman and Dave Wedge have written the final chapter of a saga that has inspired two major motion pictures and several books, including the bestselling Black Mass by Dick Lehr and Gerard O'Neill and Where the Bodies Were Buried by T J. English. Bulger's South Boston associates have also penned memoirs: Brutal by Kevin Weeks and A Criminal and an Irishman by Patrick Nee.
(Read more about the ties between Bulger, Nee, and the Irish Republican Army in Today in Security History: The Valhalla and Arming the IRA.)
The authors begin with the backstory to the federal indictment against Bulger, which charged him with 19 counts of murder. They show how a task force—with its sole mission to apprehend Bulger—is disheartened and the victim of frequent critical press coverage. The authors interviewed key FBI agents and employees who had a hand in the hunt. These agents included Special Agent-In-Charge (SAC) Warren Bamford, who brought in Assistant SAC Noreen Gleason to shake things up. Gleason in turn recruited two street-savvy agents who doggedly kept up the pressure.
While the FBI searched, Bulger and his girlfriend, Catherine Greig, traveled the United States. They settled in Santa Monica, California, and made occasional trips to Las Vegas gun shows where Bulger acquired 30 firearms. It was near the famed Santa Monica pier, in the parking garage of the Princess Eugenia apartments, where the FBI arrested Bulger and Greig, living as Charlie and Carol Gasko. During Bulger's subsequent trial and conviction, it emerged that Bulger had been an FBI mob informant for years prior to his indictment.
My one peeve with Hunting Whitey is minor, but worth mentioning. On occasion, the authors inject a word or phrase that is subjective and prejudicial, giving way to perception versus reality. At one point they describe FBI Director J. Edgar Hoover as "infamous." They also pronounce "…the near collapse of the Boston FBI office." I was assigned to the Boston Division from 1990 through 1997 and never saw it close to collapse. But my overall read was positive. Hunting Whitey is well written and thoroughly researched from the beginning to its violent end when fellow inmates beat Bulger to death. The authors have produced a fast-paced narrative that documents a vicious and elusive criminal in his efforts to avoid capture. They have effectively chronicled one of the most complex manhunts of present day.
Reviewer: R. Scott Decker, PhD, is a retired FBI special agent with experience in violent crime, counterterrorism, and physical security. His book, Recounting the Anthrax Attacks—Terror, the Amerithrax Task Force, and the Evolution of Forensics in the FBI, has won awards for non-fiction, true crime, and science & technology.