Report on COVID-19 Response from Asia Pacific
As COVID-19 was beginning to emerge as the global pandemic it has become, ASIS International asked its volunteers if they would be willing to share their knowledge and experience with the broader community. Leonard Ong, CPP, based in Singapore, was one of the volunteers to answer the call.
Ong is Council Vice President for ASIS, overseeing the Crisis Management and Business Continuity, Fire and Life Safety, and Retail Asset Protection Councils. He is also Group CISO for Fullerton Health. Security Management conducted this Q&A via email on 18 March.
SM: Please provide a brief overview of Fullerton Health: How many countries? How many employees? Describe the main types of facilities you have and services you offer.
Ong: Fullerton Health is a leading vertically integrated healthcare platform in the Asia Pacific region. Founded in Singapore in 2010, today it owns and operates an extensive network of healthcare facilities across nine markets and partners with established and reputable healthcare providers in the region. We harness these resources to provide affordable and accessible care for all in the Asia Pacific. There are around 6,200 employees in the company.
The services offered by the company include primary care, diagnostics, specialty and ancillary care, executive health screening, and managed care and network management.
SM: As January unfolded and it became clear that the coronavirus had the potential to spread widely and have a major impact, what kinds of measures did Fullerton Health take to protect employees, customers, and patients?
Ong: There were several measures taken in the early phase of this situation that includes forming a taskforce on COVID-19 comprising select senior leaders, reviewing and revising business continuity plans and disaster recovery plans, regular communication to employees, and aligning our approach with authority recommendations. Given that a segment of our employees are at the frontline dealing with patients, ensuring their safety and being able to provide the necessary healthcare services has been a top priority.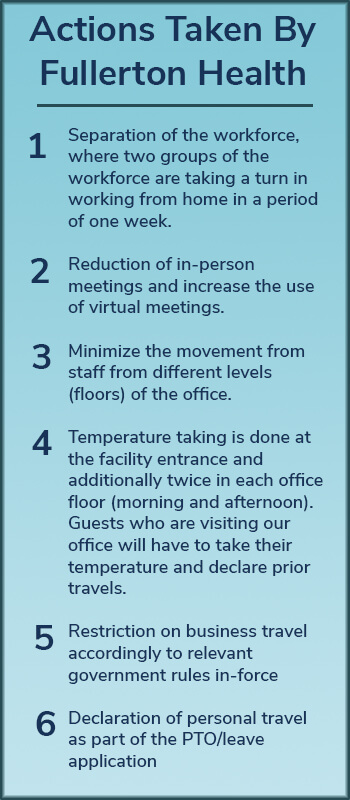 SM: Was there a facility or region at which you faced staffing shortages due to employees either becoming infected or needing to stay quarantined? How did you handle this situation?
Ong: The situation developed at a different pace in each market, and so did the response and guidance from each government. Aligning our approach with the guidelines issued by the various national health authorities in the regions we serve and with the information available to us was a logical approach. We do keep the communication channel open between different markets on the topic. Employees who are not well even at the slightest indication were asked to work from home or take sick leave.
In a later moment, governments started issuing quarantine and stay-home-notice orders. Fortunately, none of the markets where the company operates were severely impacted by COVID-19 as yet, hence there were no major shortages of employees. The reduction of staffing availability is also coupled with the overall reduction in demand.

SM: Did the staffing shortages include security personnel, and if so, how did you handle it?
Ong: The shortages may impact any departments, but especially more with departments that are already lean in the number of personnel. At this time, the existing and available staff have been able to cope with the workload.
SM: Did you close any facilities (or parts of facilities), such as corporate offices, as a result of the outbreak? If so, any lessons learned?
Ong: As we continue to operate and offer healthcare services, and there have not been any confirmed cases in our offices, we have not closed any of the offices. We do practice the following:
Separation of the workforce, where two groups of the workforce are taking a turn in working from home in a period of one week.
Reduction of in-person meetings and increase the use of virtual meetings.
Minimize the movement from staff from different levels (floors) of the office.
Temperature taking is done at the facility entrance and additionally twice in each office floor (morning and afternoon). Guests who are visiting our office will have to take their temperature and declare prior travels.
Restriction on business travel accordingly to relevant government rules in-force
Declaration of personal travel as part of the PTO/leave application
In addition, the company has been extending assistance to our customer in raising awareness to the public and our clients through video and webcast.
For more security-related pandemic resources, see ASIS's Disease Outbreak: Security Resources.
To share your experiences around COVID-19 response and preparedness, please join the conversation on ASIS Connects.