Book Review: Autumn of our Discontent: Fall 1949 and the Crises in American National Security
Autumn of Our Discontent: Fall 1949 and the Crises in American National Security. By John M. Curatola. U.S. Naval Institute Press; https://www.usni.org/press/books; 368 pages; $34.95 (hardcover).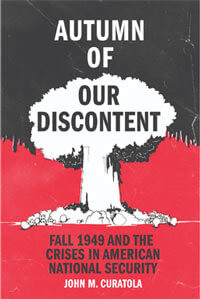 Unusual in a volume for industrial security professionals, this book provides an extensive and detailed history of how the United States government faced an onslaught of unprecedented national security challenges in 1949. That fall season marked the first detonation of a Soviet Union atomic bomb, years earlier than expected, and the proclamation of the Communist People's Republic of China (PRC). The timing of both announcements caught the U.S. government by enough surprise to launch prolonged discussion and debate at all levels about next steps, writes John M. Curatola in Autumn of Our Discontent: Fall 1949 and the Crises in American National Security. Adding to these crises was a post-World War II issue—now made more dangerous and creating fissures in the U.S. military—of whether the Navy or the Air Force should take precedence in the nation's defense going forward.
Curatola's historical account goes beyond the recitation of facts to include anecdotes highlighting the personalities, strengths, and weaknesses of the leading officials involved. For example, James Forrestal, the first U.S. Secretary of Defense, endured personal and professional conflicts with President Harry Truman until the president called for Forrestal's resignation in 1949.
Forrestal's successor, Louis Johnson, fought hard to uphold Truman's priority of reducing expenditures for Defense but exercised control and made decisions beyond his authority, raising suspicions about his possible aggressive aspiration for higher office and consequently making so many enemies that Truman asked for his resignation as well.
The historical account in this book concludes in the winter of 1949, when U.S. State Department Policy Planning Staff Chief George Kennan—perceived by some as overly cautious—lost support from the Secretary and is replaced by Paul Nitze—who is perceived by some as more aggressive. Nitze drafted National Security Council document 68, which turns away from America's traditionally small and lean military and sets the course for a larger, more robust military—a change that endured through the Cold War and, in some ways, to the present day.
However interesting the account, many security professionals may conclude that an abbreviated version of this history would have required less time and granted more space to explain the relevancy of national security issues to their daily jobs. While there might be a core of truth to that argument, one must note how the situations in China prior to the CRP's founding—such as the Nationalists' retreat to Taiwan—might today provide valuable context for concerns about a possible invasion of Taiwan.
More broadly, Curatola's book provides a model of how the U.S. government met the challenges of leadership through an unanticipated period of potential threat and uncertainty, not wholly different from the kind of period in which we are now living.
Reviewer: James T. Dunne, CPP, is a member of the ASIS Extremism and Political Instability and Information Technology Security Communities. Now retired, he was a senior analyst in the U.S. State Department's Bureau of Diplomatic Security.
The opinions and characterizations in this piece are those of the author and do not necessarily represent those of the U.S. government.