Book Review: War Transformed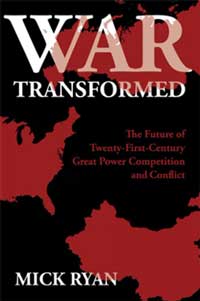 War Transformed: The Future of Twenty-First-Century Great Power Competition and Conflict. By Mick Ryan. Naval Institute Press; https://www.usni.org/books; 312 pages; $39.95
War Transformed: The Future of Twenty-First-Century Great Power Competition and Conflict is a brilliant and in-depth look at the strategy, technology, and motivation of international conflict in the modern era. Written by a senior Australian military officer and exceptionally researched, the book takes a global perspective to the study of what drives competition and explores in detail the mechanics behind how and why nation-states pursue armed conflict, and what separates the victorious from the defeated.
Partially rooted in history, and partially focused on extrapolating future events and conflicts, the book would be a useful addition to the curriculum or library of senior military academies, college ROTC programs, and international policy schools. Ryan uses succinct historical examples of events driven by the factors and changes he describes to illustrate possible future actions—which are frighteningly realistic and entirely plausible. U.S. readers may even find a refreshing outside perspective on the strength and weaknesses of American capabilities compared to strategic adversaries like China and Russia.
The book's strength is in its broad look at all the factors impacting a nation's ability to prevail in a variety of conflicts, not just those of military origin. The author examines the role of an ever-changing technological landscape as well as the sociological, economical, and societal factors to describe exactly how these interplay together to determine a conflict's final outcome.
While not specifically intended for the security industry, War Transformed does offer good nuggets of information for security practitioners, especially those in transnational corporations, major technological manufacturers, or that are involved in global supply chain security. Perhaps most relevant is the author's advice that organizations should always operate on the cutting edge of innovation—not just technologically, but also in terms of procedures, protocols, training, and practices. This advice seems as relevant for individual security organizations as it is for nation states.
The book is an interesting and smooth read, although some of the data presented can be alarming. It would make a great addition to any public safety organization's library and should be on the reading list of every student in current international affairs, leadership, or military studies.
Reviewer: Yan Byalik, CPP, is the security administrator for the City of Newport News, Virginia, where he manages a team tasked with protecting the city's critical infrastructure, and serves on numerous city multidisciplinary working groups providing security input on major city initiatives and special events. Byalik is a graduate of the Virginia Tech Corps of Cadets, and he has worked in the security industry since 2001. He is the Regional Vice President for ASIS Region 5A.