Book Review: Drug Wars and Covert Netherworlds: The Transformations of Mexico's Narco Cartels
Drug Wars and Covert Netherworlds: The Transformations of Mexico's Narco Cartels. By James H. Creechan. Publisher: The University of Arizona Press; https://uapress.arizona.edu/; 392 pages; $35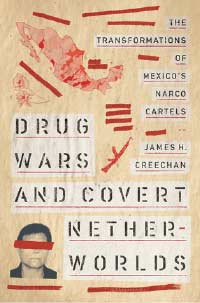 In Drug Wars and Covert Netherworlds: The Transformations of Mexico's Narco Cartels, sociologist James Creechan from the University of Alberta at Edmonton has written a brilliant book that will transform the way you think about the war on drugs in general and the Mexican drug trade specifically. In fact, by the time you finish the book, you will likely realize that everything you know about the Mexican drug trade is wrong.
The longest war in U.S. history is the war on drugs. This war started during the Nixon administration in 1971 when the drug problem was called "public enemy number one." Congress was tasked with devoting more federal resources to preventing new people from becoming addicted to drugs and rehabilitating those who were addicted. And after more than 50 years and a trillion dollars spent, the war rages on. 
Creechan makes it clear that he thinks the approach used by the American government in the war on drugs has been an abstract failure. Much of it is due to the United States simply not understanding how the Mexican government operates, the nature of how cartels operate, the myriad complexities of Mexican culture and government, and more.
Sponsored

Read this article to learn about new technologies and best practices that can help prepare and protect campuses from the potential threat of an active shooter.
Significant problems in the war are due to Mexican police and armed forces being significantly underpaid. The cartels saw a vacuum and used their profits to pay off police officers and military staff and get them on their payroll, making any effort to enlist the support of the police and military in the war on drugs a fruitless endeavor. 
Creechan writes that much public opinion on the drug war is driven by television shows such as Narcos and movies like Sicario, which portray a biased and inaccurate view of the problems. Those narratives betray reality, and in the book, Creechan brilliantly shows the depths of the problem. And how the approach of the United States to this challenge is inherently flawed. 
What Ralph Nader did for auto safety in Unsafe at Any Speed, Creechan does to the war on drugs. This brilliant and enlightening book will transform how you view the war on drugs and how the Mexican cartels operate. 
Reviewer: Ben Rothke, CISSP, CISM, CISA, is a New York City-based senior information security manager with Tapad, and he has more than 20 years of industry experience in information systems security and privacy. His areas of expertise are in risk management and mitigation, security and privacy regulatory issues, design and implementation of systems security, encryption, cryptography and security policy development. He wrote Computer Security: 20 Things Every Employee Should Know.