Book Review: Strategic Leadership in Digital Evidence
Strategic Leadership in Digital Evidence: What Executives Need to Know. By Paul Reedy. Elsevier; Elsevier.com; 158 pages; $125.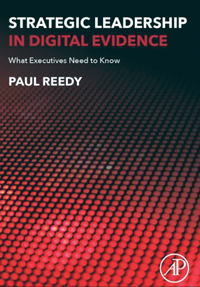 Many security professionals may have a limited knowledge of forensics, and fewer still of digital forensics. Author Paul Reedy has held high-level positions in the Australia Federal Police and the U.S. Department of Forensic Sciences in Washington, D.C., and he elected to write a book that pours forth, unsparingly, all of the richness and complexities of his field. The message for the intended audience is that they deserve and need a deep immersion into this body of knowledge if they hope to lead their organizations through the challenges and pitfalls of ever-increasing cyber and digital issues.
Reedy regularly reminds readers that this relatively new science is constantly changing, and efforts to understand the present situation are matched by an unending struggle to learn and adapt to new discoveries and innovations. Additionally, the author explains that learning digital forensics, to the extent possible, might be most effectively accomplished by first understanding the physical world of forensics and crime.
Strategic Leadership in Digital Evidence: What Executives Need to Know is full of memorable insights on numerous aspects of the digital realm. Chapters and subsections are numerous and form a comprehensive treatise, including various themes such as "the forensic model is dead" and "definitions, disambiguation, and differentiation of related fields."
Some readers may grow frustrated trying to comprehend dense, technical accounts that require mastering new terms, but committed security professionals, scholars, and others will surely come to value the personally guided tour of the world Paul Reedy inhabits and has decided to share.
Reviewer: James T. Dunne, CPP, is a member of the ASIS Communities for Extremism and Political Instability, and for Information Technology Security. He is a senior analyst in the U.S. State Department's Bureau of Diplomatic Security. The views expressed here are those of the reviewer, and do not necessarily reflect those of the U.S. Department of State or the U.S. government.