Announcing the 2021 Security Industry Book of the Year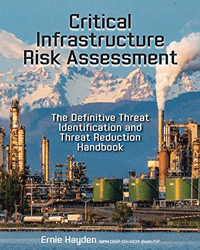 ASIS International's 2021 Security Industry Book of the Year is Critical Infrastructure Risk Assessment by Ernie Hayden, PSP.
"This book does a thorough job of explaining the various components of critical infrastructure and the definition of risk and risk management well enough to enlighten someone new to the subject or to reinforce the knowledge of a skilled security specialist with many years of experience in the field," said Joshua Fowler, CPP, in a book review in the July/August issue of Security Management. "It can easily be used as an instruction manual for conducting infrastructure vulnerability assessment training and a ready reference for ensuring thorough and complete assessments by experienced practitioners. A copy of this book should be on the shelf of any security professional performing these duties."
Now in its eighth year, the Security Industry Book of the Year is selected by a panel of ASIS members who review member-authored titles using criteria including relevancy to today's security threats, importance of the subject in the field, and the uniqueness of the coverage of a new security concept, idea, or technology.
Runners-up for the 2021 award include the seventh edition of Effective Security Management by Charles Sennewald and Curtis Baillie and the second edition of Cybersecurity Law, Standards, and Regulations by Tari Schreider.
"Critical Infrastructure Risk Assessment is the culmination of author Ernie Hayden's decades of experience assessing and protecting the can't-fail organizations responsible for national security and public safety," says Jennifer Hesterman, chair of the ASIS Book of the Year committee. "As threats to critical infrastructure abound and evolve, risks must be continuously evaluated and security planning and activities tailored accordingly. This extremely well-written and easy to digest book is mandatory reading for everyone working in a critical infrastructure sector, from seasoned managers to new employees on the front lines."
Critical Infrastructure Risk Assessment is available for purchase in the ASIS Store at store.asisonline.org.