GSX 2021 Product Showcase Listing
Check out the latest security technologies, services, and solutions in this special edition product showcase.
For a current listing of GSX exhibitors, education sessions, and more, please visit gsx.org.
---

---



Door Locks
Detex's Weatherized Electric Latch Retraction function was designed for
egress doors with panic or fire exit hardware left exposed to weather environments where remote unlocking, remote dogging, or access control are lacking. Unlike magnetic locks, the outdoor latch retraction remains in the locked position in the event of a power loss. This solution enables customers, staff, and visitors to push to exit a room or facility while preventing unauthorized persons from pulling the door open to enter. Visit www.detex.com/latch22 to learn more. Booth #1733



Security Consulting
Using 10 focus areas, Prosegur's consultants analyze an organization's current security posture, emphasizing three factors: overall security, deployed manpower, and total budget. With a holistic approach to security, these consultants look at how to blend technology with professional expertise, all to achieve higher security at a lower cost. After the analysis, recommendations are offered that will increase an organization's security—replacing superfluous costs and manpower with a combination of technology solutions and traditional guarding. Visit www.prosegur.com to learn more. Booth 2141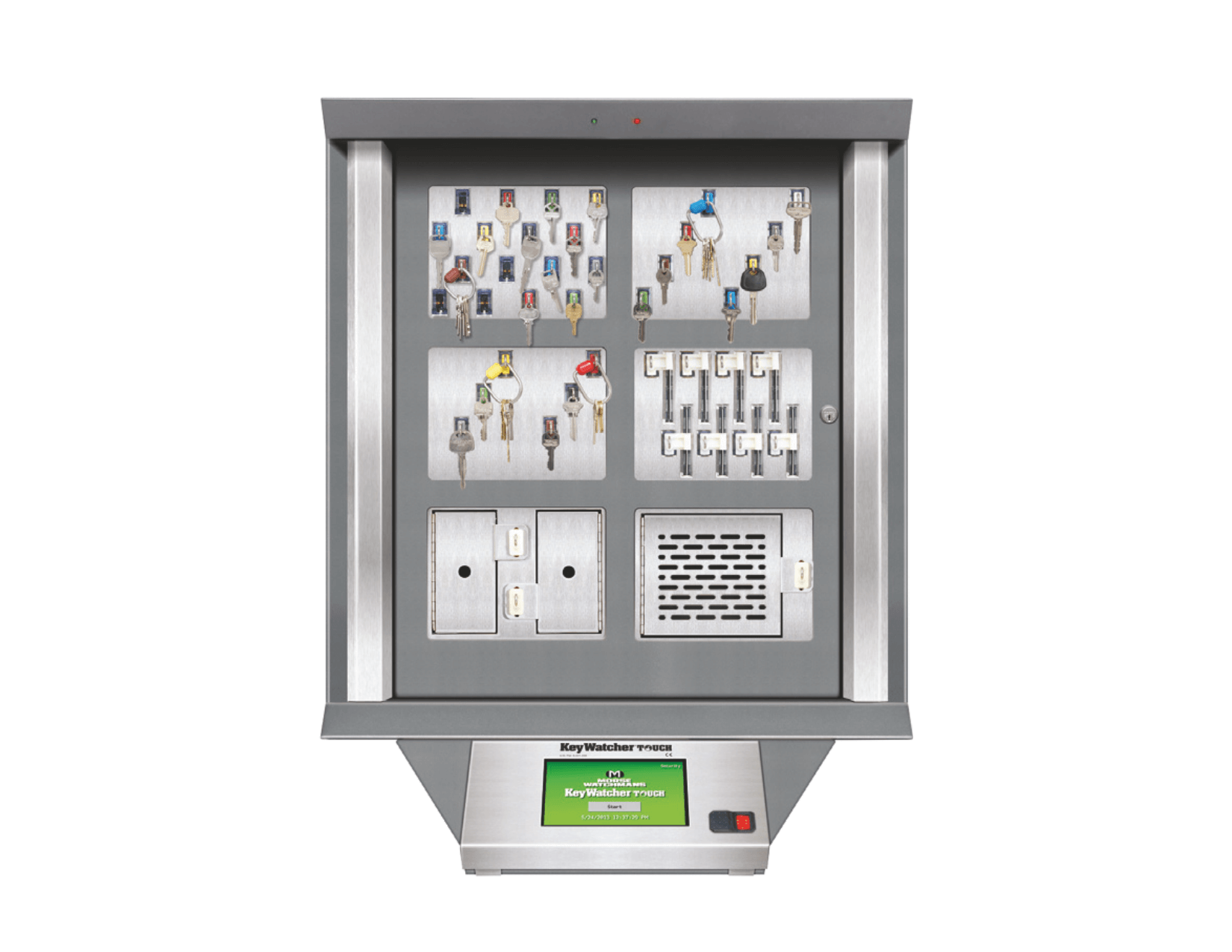 Key Control
Morse Watchmans, Inc., can help customers reclaim misplaced and lost keys by tracking them with its patented KeyWatcher TrueTouch software and Touch system. This solution displays which keys are in use, who has them, and when they are returned or due back. Users can customize a KeyWatcher Touch system with options for keys, credit cards, and single and dual-door locker modules for cell phones, wallets, and other personal items. Visit www.morsewatchmans.com to learn more. Booth #1714
ID Readers
HID Global offers an access control solution that supports a wide range of credential technologies, with OSDP support for secure bidirectional communication and remote management. The Signo Readers have an optimized read range with metal detection for automatic recalibration, as well as an integrated mode for more consistent and faster transactions, while the energy-saving Intelligent Power Mode can reduce energy consumption while not in use. The readers also feature an illuminated keypad, with 49 different color combinations, plus a separate mode for users who are visually impaired. Visit www.hidglobal.com to learn more.
Lock Controllers
Dortronics Systems, Inc.'s 48900 PLC Interlock Controller is a fully integrated single-board solution for implementing door interlock systems with up to nine doors. The device provides installers with control of all operating and configuration options without the demand or cost of complex software. This solution also integrates with virtually any access control system using dry contacts, providing outputs for traffic lights, door violation alarm, and offers three individual timing sequences for propped doors, emergency overrides, and request-to-exit unlocking. Visit www.dortronics.com to learn more. Booth #1045
Visitor Management
AlertEnterprise's Visitor Identity Management offers control of the full visitor lifecycle, with fast and efficient on-site registration. This facility access solution includes COVID-19-specific attestation, email, and Web pre-registration; self-service kiosks; and optional facial recognition technology, creating a more frictionless customer experience. Real-time vetting against watch lists and automated background checks validate guests prior to access, while integrated audits and processes offer automatic compliance with all standards and regulations. Visit www.alertenterprise.com/products/enterprise-visitor-identity-
management/ to learn more. Booth #2118



Enterprise Security
Maxxess Systems offers complete enterprise security solutions with increased
situational awareness and coordinated responses for all markets. These solutions deliver features such as COVID control, integrated mass communication, situation assessments, monitoring at-risk users, multiform panic buttons, and more within a unified security management platform. The open architecture solutions integrate with more than 70 third-party manufacturers in video surveillance, fire systems, intrusion detection, and other industries to meet project requirements. These solutions are customizable with no code changes, and implementation is fast and easy. Visit www.maxxess-systems.com to learn more. Booth #8077
Firearms Detection
As a deterrent to mass casualty shootings, CEIA USA announced its new generation of weapons detection systems, CEIA OPENGATE, characterized by an open structure with automatic screening of people carrying purses, backpacks, and luggage. Weighing only 25 pounds, the device is portable and installs in less than one minute, requiring no setting or assembly of mechanical or electrical parts. Its passageway does not require any mechanical or electrical connection, so there are no cords or obstacles to step or trip over. Customers can set detection and signaling parameters on the device from an Android or iOS smart device with the OPENGATE app. Visit www.ceia.net to learn more. Booth #1019
Perimeter Management
The Pro-Watch Integrated Security Suite from Honeywell enables an enterprise to benefit from the integration of all of its security solutions, offering complete visibility of connected systems and mitigating business risks. The suite offers video monitoring, access control, and intrusion detection solutions on a single user interface. Visit www.buildings.honeywell.com/security to learn more. Booth #1801
Weapons Detection
CEIA USA FERROMAGNETIC's MDSi is a ferromagnetic weapons detector specifically designed for easy integration while dealing with covert access control. The detector's small footprint means the technology can be concealed inside of ornamental structures or doorframes. It combines MSD and MSD EVO features into a single and compact device, as well as using heightened sensitivity to detect ferromagnetic contraband and cell phones while ignoring non-threat, nonferrous metals. Using the CEIA FMD app from a smart device running on an Android platform, customers can monitor the device and set operational parameters. Visit ceia.fmd.com to learn more. Booth #1517






Event Management
Everbridge helps manage critical events for more than 5,600 customers across the world, reaching more than 700 million people in over 200 countries, reservations, and territories. Visit www.everbridge.com/platform/critical-event-management/ to learn more. Booth #530
Video Management
Increasingly higher pixel resolution, a growing number of cameras, and demands for longer video retention are some of the key challenges many organizations currently face throughout the massive transformation in the safety and security industry. Dell Technologies provides an open, flexible, and centralized infrastructure, enabling organizations to meet these challenges for video data sets while also reducing risk and cost of ownership. Visit www.delltechnologies.com to learn more. Booth #757
Alert Messaging
LiveSafe from Vector is a mobile platform for two-way safety and security risk communications, emergency notifications, safety tools and resources, and COVID-19 health assessments and mitigation. The platform is used by hundreds of Fortune 1000 organizations and educational facilities throughout the United States, assisting with physical safety and security threats, risks to lone workers, sexual harassment and assaults, or health considerations. Visit www.vectorsolutions.com/solutions/vector-livesafe/
to learn more. Booth #1868





Remote Access Management
New from Continental Access, the E-Access platform is easy to use and offers self-contained controllers with embedded software. Ready as soon as it comes out of the box and with no software to upload, this system can assist facilities with up to 128 doors and 64 panels, or up to 512 doors and 256 panels by adding a second server. Available in one-door, two-door, and four-door controller models, it offers users hybrid access control in a cloud-based system with the advantages of an on-ises access system. The platform also features secure cloud-based remote management and mobile app management, as well as no-touch Bluetooth mobile credentials and automated credential issuance. Visit www.cicaccess.com to learn more. Booth #1218
Surveillance Cameras
Hanwha Techwin expanded and updated its series of pan-tilt-zoom (PTZ) cameras with six new models, including the XNP-9250R. These new cameras are 65 percent lighter than conventional PTZ cameras and include an updated twist-lock mounting feature for easier installation. A single HPoE RJ-45 is required for power and data, and the camera's Wise IR provides crisp detail even in complete darkness for objects up to 200 meters away. Visit www.hanwhasecurity.com to learn more. Booth #1641
Incident Management
Singlewire's InformaCast Incident Management offers organizations access to all their notifications and resources when an event occurs. This includes initial alerts, follow-up messages, and "all clear" messages. Safety checklists, building floor plans, and links to external resources—including surveillance camera feeds—can also be uploaded and shared with relevant team members, giving them additional data and tools to help resolve an incident quickly and effectively. Once an incident is over, a generated report offers insights into how the event was handled, providing actionable feedback. Visit www.singlewire.com to learn more. Booth #1765
Holistic Management
TEAM Software's solutions can increase an organization's efficiency and streamline operations, offering users the ability to keep an eye on guards' locations, manage rising labor costs, and gain overall visibility over the entire business. With an investment in software, a customer can grow his or her business, even in a competitive market, while remaining accountable to clients, employees, and leadership. Visit www.teamsoftware.com/gsx to learn more. Booth #1040
Alarm Platform
Samdesk offers clients AI-powered crisis alerts and asset monitoring with real-time notifications of disruption events, even ones occurring near an asset. Feature notifications include updates on local traffic, weather, air quality, and more, and the user can customize alerts by event type, region, and severity level. Visit www.samdesk.io to learn more. Booth #414
Fire Alarms
Napco's new FireLink FACP with cloud programming offers more convenience and flexibility through remote programming from smart devices or tablets, using easy drop-down menus without the need for any specialized software or training. The FireLink Integrated 8-32 Pt Fire Alarm Control Panels start off as an 8-point, all-in-one cellular out-of-the-box solution. And now, cloud-programming offers additional ease with the expansion and ability to customize the programming and panel across a maximum 32 zones, using any combination of conventional, addressable, or wireless devices. Visit www.napcosecurity.com to learn more. Booth #1218
Mail Scanners
RaySecur's MailSecur 300 scanner is able to detect 95 percent of mail-borne threats, including traditional threats, such as explosives, plus the most common and contemporary threats like small amounts of powders, liquids, and drugs that X-ray scanners cannot pick up on. Now, RaySecur is expanding its line with MailSecur 500, which offers 2x higher resolution, machine vision for better threat detection, one-click access to EOD support, and more. Visit www.raysecur.com to learn more. Booth #608
Access Control
The new access control ecosystem from Napco AirAccess is a scalable, cellular cloud-based system that is easy to install and operate. Built on the foundations of StarLink and Trilogy Networx, this Alarm Lock solution offers hassle-free connections outside of an organization's network or IT department. There is nothing extra to buy and no software to upload or upgrade—instead, the AirAccess smart device application offers mobile connectivity and control, plus SMS notifications, without a large hardware or personnel investment. Visit www.airaccesscontrol.com to learn more. Booth #1218
AI Cameras
Hanwha Techwin's eWisenet X-core AI camera, XNO-C9083R, can detect and categorize people and their faces, as well as vehicles and their license plates, improving the accuracy of video analytics. The camera's algorithms can sort a person from his or her surroundings and can improve operator efficiency, able to do so at any angle without the need for an inflated number of additional cameras. Visit www.hanwhasecurity.com to learn more. Booth #1641
Compact Turnstiles
From Boon Edam, the Speedlane Compact presents a security turnstile with a small footprint. The short V-shaped cabinet with an ergonomic design and swing-motion glass barriers can unobtrusively blend into a building's existing design. The turnstile offers standard tailgating, safety, and object detection sensors to assist security and reception staff, as well as flexible lane configurations, an easy installation process, and user-friendly guidance. Visit www.boonedam.com to learn more. Booth #1700
Event Screening
Evolv Technology offers enhanced security without sacrificing an event experience for attendees, students, and employees. Its patented, industry-first solution allows venues to deploy touchless screening technologies for weapons detection, identity verification, and health-related threats. Built on top of the Evolv Cortex AI platform and powered by advanced sensors and artificial intelligence, the Evolv Express is 10 times faster than metal detectors—improving visitor flow—while also instantly differentiating between personal items and concealed threats like weapons and explosives. Visit www.evolvtechnology.com to learn more. Booth #523
Workforce Management
Trackforce Valiant's Trackforce Valiant is a leader in providing secure productivity tools for the trusted workforce. More than 300,000 professionals at over 30,000 customer sites in 45 countries use Trackforce Valiant every day to ensure the delivery of reliable services, improve operational efficiency, and optimally manage their human capital. For nearly 30 years, Trackforce Valiant has provided fully integrated workforce management solutions to businesses employing hourly workers. With extensive industry expertise and state-of-the-art information systems technology, Trackforce Valiant proudly offers security professionals some of the most effective solutions on the market.. Visit www.trackforce.com to learn more. Booth #1321

Locksets
Marks USA offers new Lectra Locks, which can easily retrofit standard locksets with Quick-Connect harness for easier wiring, fitting right through the hinges and avoiding the need to cut into filled frames, making latches more secure by not exposing them. This solution features fire alarm integration and enterprise access control, making it applicable to stairwell doors, mantraps, receptionist desks, and hospitals. It can also be wired to touchless or ADA pads for entry through locked doors, all while being compatible with 12- and 24-volt DC. Visit www.marksusa.com to learn more. Booth #1218
Access Control
Brivo offers users a mobile, cloud-based access control solution for commercial real estate, multifamily residential, and large distributed enterprises. Its product ecosystem and open API offer businesses powerful digital tools to increase security automation, elevate experiences for employees and tenants, and improve the safety of a facility's residents, guests, staff, and assets. Visit www.brivo.com to learn more. Booth #713




AI Cameras
With its PNV-A6081R, Hanwha Techwin expanded and updated its P series AI cameras. This latest addition presents a more affordable entry level into AI-based camera technology, with features that include license-free video analytics based on deep learning. This allows the camera to detect and differentiate between object types, including people, vehicles, faces, and license plates—plus identify object attributes like an individual's age group, gender, and clothing color or an automobile's type and color. Visit www.hanwhasecurity.com to learn more. Booth #1641
Access Management
With Synergis, Genetec now offers customers a way to modernize an outdated or legacy access control system. With an open architecture, this solution minimizes the amount of hardware that needs to be
replaced, allowing clients to update the system at their own pace while protecting people and assets and minimizing new threats. Visit www.genetec.com to learn more. Booth #1363
Perimeter Fencing
Ameristar's Matrix Alpha security fence is a curtain wall system designed to expand to the level of the required site security. The fence's framework structure allows the user to define the level of security needed by selecting a preferred mesh option that details the degree of delay and site visibility. Available in hot dip galvanized (HDG) or PermaCoat, the system is a baseline for perimeter security. The curtain wall architecture allows for variable post spacing, resulting in reduced installation times. Visit www.ameristarfence.com to learn more. Booth #1363