Book Review: The Professional Protection Officer
Edited by Sandi J. Davies and Lawrence J. Fennelly. Butterworth-Heinemann; Elsevier.com; 546 pages; $59.95.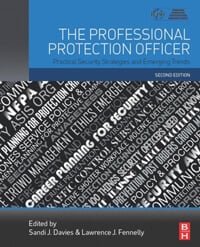 The duties of today's professional protection officer are complex. They can be found conducting a wide range of activities: loss prevention, fire prevention, traffic control, access control, active shooter prevention and response, and emergency management—to mention just a few.
The one single factor whose presence or absence can predict the success of a professional protection officer is training. Diverse training requires diverse resources, however, and that can be prohibitively expensive.
The Professional Protection Officer: Practical Strategies and Emerging Trends provides an up-to-date collection of the knowledge and skills required of protection officers in today's environment. It is readable, organized, and should be issued to all protection officers by their employers as an investment in the officers' and their companies' futures.
The book is organized into three parts: foundational knowledge that applies across the security profession; practical and operational concepts—which provide details on specific tasks or issues, such as traffic control, officer safety, use of force, or patrol principles; and career development.
Protection officers who read and use the information and concepts in this book will provide superior performance. They will impress clients and enhance their employer's reputation. They will also be exposed to a wide array of subjects, such as emergency planning, UAV operations, HAZMAT, and information security.
This is the second edition of this book, and it serves as a good signpost showing where the industry is today. As anyone who has attended GSX can tell you, the security industry is going through a technological and doctrinal revolution of its own, with automation and artificial intelligence pushing us into the future.
This book is strongly recommended for protection officers at any career stage, their managers, and security professionals who need or use their services.
Reviewer: Ross Johnson, CPP, is the president of Bridgehead Security Consulting, Inc. He is the co-chair of the Electricity Information Sharing and Analysis Center (E-ISAC) Physical Security Advisory Group and is the author of Antiterrorism and Threat Response: Planning and Implementation.