Artwork as Security Enhancement
In the last bank of sessions at GSX+, Art Hushen, president of NICP, Inc., delivers a visually interesting and engaging session on incorporating art into an organization's security posture.
In "Using Corporate and Public Art as a CPTED Strategy," Hushen lays out how artwork can complement security goals. He provides numerous examples, explaining how each art installation performs the dual task of aesthetic appeal and security enhancement as part of crime prevention through environmental design (CPTED).
"How will we use this art?" Hushen asks in the session. "Understand, we're not using it just for the sake of saying, 'Hey, we have art. We must put it on the wall, set it up as a statue out in front of my business, and we're good to go.' No, there's a reason why we do it a certain way. …When we look at CPTED, we have to ask, 'What is it, and what can it do for us?'"
The main CPTED principles are natural surveillance, territorial reinforcement, natural access control, and maintenance. In his discussion of artwork, Hushen points to the following supporting CPTED principles:
Celebrated entryways
Focal points
Wayfinding and signage
Transition zones
Landscaping
Safe activity/unsafe location
Traffic calming
Positive activity generators
As an example, consider the entryway to the Marshall Student Union at the University of South Florida, pictured below: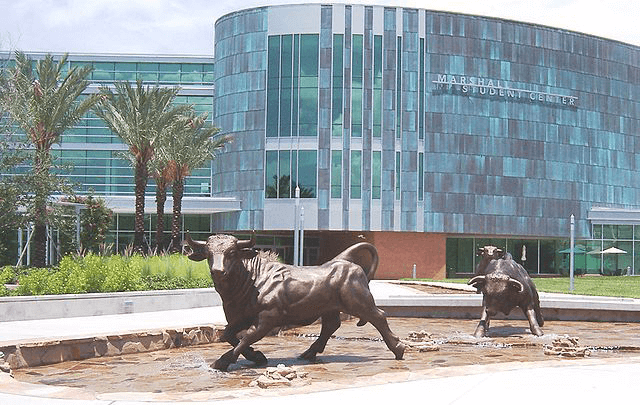 Hushen describes the multitude of ways the sculpture accentuates the site's security. Number one, it's a celebrated entryway and a focal point—it catches the eye and signifies it as an entryway. And because it does that, it aids in wayfinding. By ushering traffic through this location, the sculpture increases natural surveillance and—together with the design of the sidewalks—access control; these two elements mean people will tend to approach the building from that single vantage point. Finally, it also extends the footprint of the building into the surrounding space, creating territorial reinforcement.
All of that might make sense… but traffic calming? How does that work? Public displays could be distracting to drivers, perhaps, but adding to safety? Behold: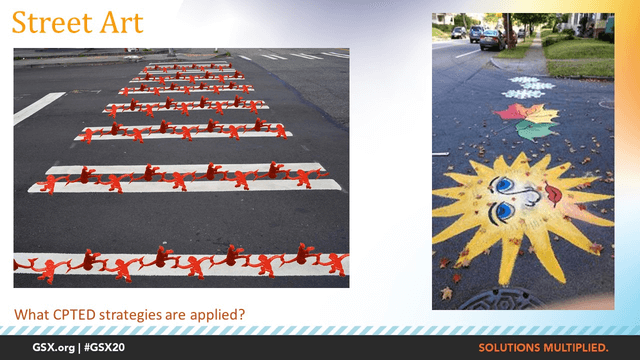 "Many cities are involved in these initiatives," Hushen says. "Let's say you don't have the money to put in LED strobe lights here. If we add in the color and have my street lighting, the driver sees that and they identify that as pedestrian space. It engages the community to place the artwork there that reflects the neighborhood."
And here's an example that makes too much sense not to replicate. In the example below, big, colorful artwork is placed directly below a surveillance camera, greatly increasing the likelihood of getting a good shot of people's faces as they walk down this hallway.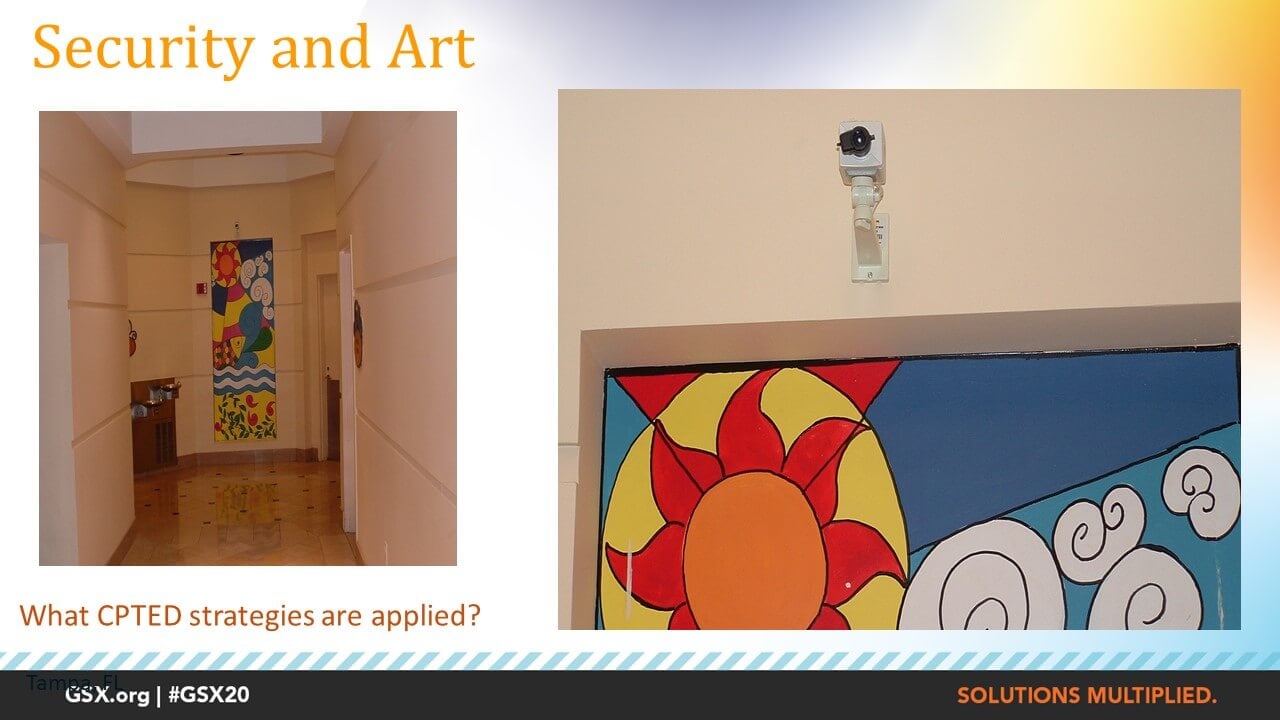 Learn more about how to use public art for public safety at GSX+. The session is streaming live on 25 September from 11:20 a.m. to 12:10 p.m. EDT, and will be available on-demand for GSX+ All-Access Pass holders for the rest of 2020.