Book Review: Legal Liabilities in Safety and Loss Prevention: A Practical Guide, Third Edition
Legal Liabilities in Safety and Loss Prevention: A Practical Guide, Third Edition. By Thomas D. Schneid. CRC Press; 390 pages; $119.95.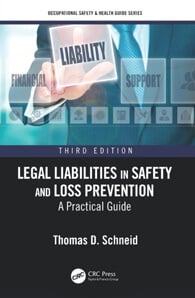 In 1985, three company officials were convicted of murder in a trial regarding the death of an employee who inhaled cyanide fumes during the workday. This was a landmark workers' safety case, and it is one of many case studies examined in the third edition of Legal Liabilities in Safety and Loss Prevention: A Practical Guide.
This book does a superior job of explaining the purpose and history of certain acts, such as the U.S. Occupational Safety and Health (OSH) Act of 1970, which played a major role in enforcing standards and ensuring that employees are protected from hazards that could impact their well-being. Other sections address legislation, trends, safety, and loss prevention, as well as the Americans with Disabilities Act, legal liabilities under workers' compensation laws, and personal liability for safety and loss prevention professionals.
Those who have or will have responsibility for safety will gain insight into the importance safety plays in the overall well-being of organizations: good safety practices can enhance profits, and the lack of good practices may result in loss of profits and the imprisonment of those who willfully and recklessly endanger the lives of their employees.
In addition, the book does a great job providing an overall view of occupational safety and health, the importance of the OSH Act, the seriousness of compliance failure, employers' rights, and the fairness of the act in the issuance and processing of violations. A handy checklist will help practitioners prepare for safety inspections.
This third edition offers a wealth of knowledge that cannot be addressed during this brief review, but it is worth the read. Each chapter notes the key objectives contained within. For those with limited time, there is a good index to assist in locating particular topics of interest. The book focuses heavily on U.S. law, but many of its lessons could be applied in other countries.
Reviewer: Jim McGuffey, CPP, PCI, PSP, has been an active ASIS member since 1981, serving on several councils, as chair of the Savannah Low County Chapter, as an assistant regional vice president, and as a technical reviewer for ASIS standards. In his 26 years of holding senior positions, he has been responsible for the safety of several thousand employees.