Book Review: From Sheepdog to the C-Suite: A Practical Guide for the Transitioning Cop or Vet
By Kevin Rice and Phil Carlson. Book Baby; bookbaby.com; 200 pages; $15.99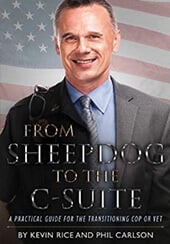 Transitioning from one career to another can lead to high stress and uncertainty, but also to personal discovery for many individuals, including those who have taken an oath to serve and protect their fellow citizens and countries. The focus of From Sheepdog to the C-Suite: A Practical Guide for the Transitioning Cop or Vet is to help readers understand the dynamic environment they may face when leaving public service and entering the private sector.
Authors Kevin Rice and Phil Carlson address multiple aspects of the process: preparation to exit public service, making the transition, and what to expect when new to the industry. While at times the authors present a pessimistic view of the security industry and private sector in general, they succeed in highlighting real-world situations and circumstances some job applicants face. Great advice is offered in character development, improving knowledge, networking, and other disciplines. The authors show courage in acknowledging that some organizations still acquire talent through personal recommendations from individuals the applicant has previously worked with.
The book is effective in delivering the message to the reader by presenting the information in a personal manner, which mimics the feeling of receiving advice from a longtime friend. Most readers will enjoy reading the last section of the book, which discusses the results of a survey the authors conducted while researching the book. The survey engaged senior-level security leaders across multiple industries and sectors, and its results provide unique insight into what these security professionals are looking for in their future and current staff members.
Absent from this book is practical advice on how to translate skills from public-sector jobs and apply them to private-sector jobs. While transitioning service members and law enforcement will find this book useful, others entering or progressing within the industry will also find value in its message. This book will provide the reader with an advantage over those who have not prepared for their transition. Overall, the book succeeds in its focus, and readers can glean advice they can implement in their own careers to achieve greater levels of success.
Reviewer: Danté I. Moriconi, CPP, PCI, PSP, CFE (Certified Fraud Examiner), is physical security manager for L3Harris. He is a member of the ASIS Salt Lake Chapter.