Book Review: Preventing and Managing Violence in Organizations
Preventing and Managing Violence in Organizations: Workplace Violence, Targeted Violence, and Active Shooters. By Marc H. Siegel. CRC Press; CRCpress.com; 182 pages; $83.95.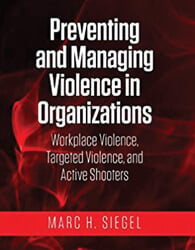 For security practitioners looking to develop a violence prevention program, Preventing and Managing Violence in Organizations: Workplace Violence, Targeted Violence, and Active Shooters is an exceptional tool. While the information in it is applicable to virtually any organization, it is invaluable for companies that may lack the in-house knowledge to develop these programs on their own.
Security novices will receive an excellent overview of workplace violence and risk concepts so they can build a foundation of understanding before being exposed to a variety of options for their consideration.
In Preventing and Managing Violence in Organizations, veteran security practitioners will find numerous practical examples of policies that can be adapted quickly to their own organizations, with deployment-ready drafts of documents and forms necessary in the process.
Many of the options and ideas are business-oriented and written in a business-friendly manner. This means that the C-suite executives and those pitching to them can offer critical violence prevention solutions and ideas in the language of business.
Comprehensive and well-researched, the book lays the groundwork for building a risk-aware culture in the workplace that is augmented by solid doctrine, interoperability among internal customers, and critical information sharing. Author Marc Siegel served as commissioner of the ASIS Global Standards Initiative and is well-qualified to discuss this topic.
The book is well organized and relatively easy to read, serving as a course textbook or instruction manual. There are diagrams illustrating more complex concepts, and a long list of additional resources for those interested in further research on their own. Like any good study of active threats, it also includes a healthy discussion of testing and drilling plans.
Overall, the book is a worthy read for any professional who is interested in or has been tasked with implementing or maintaining a workplace violence strategy. Security and business managers and practitioners, law enforcement professionals, and even emergency managers will find this book both relevant and timely for themselves and their organizations.
Reviewer: Yan Byalik, CPP, is the security administrator for the City of Newport News, Virginia. He also serves as assistant regional vice president for ASIS Region 5A.