Certification Profile: Bedros Ohanian, CPP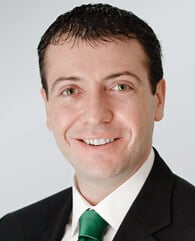 As director of security for The Music Center—a performance arts center in Los Angeles serving 1.3 million visitors annually—Bedros Ohanian, CPP, manages an in-house armed security staff of more than 90 full-time personnel. He credits his success to his devotion to protecting people, a trait he picked up early in his career.
Ohanian enlisted in the U.S. Army in 1998. During his service, he completed tours in Bosnia and the Middle East. When he transitioned out of the Army, he initially became a reserve police officer for the city of Glendale, California.
He considered a career in security the "logical next step," and began working at The Music Center in 2006, serving in various security and management roles.
As Ohanian was making the leap to a private security career, he joined ASIS International in 2009—looking to leverage the network of security practitioners and the respected educational programs offered by the internationally recognized security association.
"My ASIS membership has provided me an in-depth look into security fields such as physical security, investigations, business principles, and protection of assets and people," he shares. "In addition, there is the added benefit of networking with like-minded security professionals."
He made the "no brainer" decision to pursue the Certified Protection Professional (CPP®) certification when looking to take the next step in his security career.
"The CPP is the highest level of certification a security professional can strive for, recognized nationally and internationally," Ohanian explains. "My CPP certification has expanded my knowledge of the security universe, which has been instrumental as I aim to excel in my role."
The Music Center encouraged Ohanian's certification and paid for his preparation and exam. After obtaining his CPP, the Center promoted him to security director in 2016.
Just a month before Ohanian assumed that title, a boy on a field trip was accosted and held hostage near one of the campus's theaters. Ohanian's team responded to the call in less than a minute, saved the child, and apprehended the suspect.
"I credit such success to the courage of our security officers, who receive in-depth security response training," Ohanian reflects. "This incident received national news coverage, and our security force was praised by both the media and the Los Angeles County Sheriff's Department. Needless to say, this was the most memorable moment for me on the job."
Ohanian is well versed in business and security management principles, having earned his master's degree in that subject. He commits himself to volunteering as well, seeking to give back to the security community. He recently served as a committee member for the revision of the ASIS International Private Security Officer Selection and Training guideline, which was published in 2019.
"The security management field is both challenging and rewarding, and there will always be a need to keep others safe," he says. "When people ask me about my line of work, I often say that this career offers a degree of stability as well.
"There is always security in security."
Profile by Steven Barnett, ASIS communications specialist