Book Review: You're It: Crisis, Change, and How to Lead When it Matters Most
By Leonard J. Marcus, Eric J. McNulty, Joseph M. Henderson, and Barry C. Dorn. Public Affairs Books; available from Amazon.com; 304 pages; $28.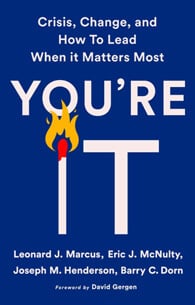 A manual for cross-sectional leadership and emergency management, You're It: Crisis, Change, and How to Lead When it Matters Most offers advice from faculty members of Harvard's National Preparedness Leadership Initiative (NPLI) Executive Crisis Leadership Program. Their meta-leadership framework is a learned method that can be used to supersede organizational lines, thus contributing to a single shared purpose among stakeholders. The authors demonstrate throughout the book how this method goes beyond the no-compromise level of traditional leadership roles.
As we have seen during the current COVID-19 pandemic, crisis leaders must be psychologically and physically ready to take action at a moment's notice. Even if you are not the initial commander, a situation may determine that you take charge of a necessary response. During the moment of crisis, an integral pivot must happen to bring your thinking forward from your basic survival instincts to the techniques honed through training and self-discipline so you can adapt to the crisis at hand.
Crisis scenarios come in many forms, including terror attacks, pandemics, oil spills, and sexual harassment accusations; the leader must be prepared for any of these. This book analyzes historical crises, both those with suc­cessful outcomes and those with poorly executed responses. These case studies create an enhanced learning perspective on how to pivot to the most optimal response for the leader in a situation that requires action. The book explores ways to look at events leading to crises and discover opportunities and solutions via the meta-leadership framework. This framework is illustrated with easy-to-understand pictographs, allowing the reader to grasp the overall cycle of a crisis.
This information is intended to lend understanding to the chaos and one-sided perspectives that may be encountered during crisis scenarios. The authors provide examples of practical exercises useful in expanding thoughts and reactions on collaboration and response.
Overall, this book is well written and researched. Readers who take the time to implement the suggestions in the book and begin the necessary work on their own crisis response toolbox should find themselves ready to successfully respond when facing a "You're It" crisis.

Reviewer: Dawn M. Wilkes is a U.S. postal inspector seconded as the security program manager to the Universal Postal Union in Berne, Switzerland. She is a member of the ASIS Investigations Council.