Certification Profile: David Goetz, CPP, PSP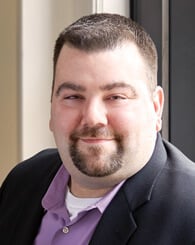 David Goetz, CPP, PSP, wants to keep people safe and secure. In 2008, he worked as a teacher's aide while pursuing a degree in education. Working with children with behavioral and emotional disabilities, he trained in crisis intervention and assisted in supervising the children.
Thinking he may have caught a glimpse of his passion, he set his sights on a career in security management. "A security career gives you a hand in designing policies, procedures, and systems that help ensure the protection of assets—including, most importantly,
human life," Goetz explains.
While working as a loss prevention operations coordinator for a large retail outlet, he took classes leading to a bachelor's degree in Homeland Security and Emergency Management. He graduated in 2013 with a near-perfect grade point average.
As his graduation date neared, he began a new role with New York-based consulting firm Shen Milsom & Wilke (SM&W). There, he designed physical security systems, performed risk and vulnerability assessments, and prepared reports for clients.
Goetz's boss and coworkers within SM&W's security department were avid members of ASIS International, and they advised him of the professional development benefits of becoming a member of the ASIS community. He joined ASIS the same month he joined SM&W.
That December, he passed the Physical Security Professional (PSP®) exam. "Preparing for the PSP exam provided me with technical skills and knowledge I need to complete my security designs with accuracy and confidence," he reflects. "The certification challenges you to learn security standards and best practices, but to also understand how to apply them."
In 2015, Goetz received an ASIS Foundation scholarship for continuing security education, which he applied towards a Master of Science degree in Administration of Justice and Security.
In one fell swoop in early 2017, he completed his master's degree, passed the Certified Protection Professional (CPP®) exam, and was promoted to senior consultant and facility security officer at SM&W.
"The CPP aided my professional growth by helping me envision security from a leadership perspective and giving me a more holistic view of security management," Goetz shares. "Attaining my certifications and master's degree have not only advanced my career, but also allowed me to fulfill both personal and professional milestones that I would not have been able to achieve without these incredible opportunities from ASIS and the ASIS Foundation."
When Goetz is charged with designing security systems for schools, he is reminded of the time in his life that led him to work in security. Eager to give back to ASIS, he became a member of the ASIS School Safety and Security Council in late 2017.
"As you become a tenured member of the security profession, it's important to become a mentor to those coming behind you," he concludes. "I have been fortunate to learn from some of the best subject matter experts in the business, and I have in part done my duty to pass that knowledge on.
"When someone I helped mentor gets promoted or earns industry accolades and recognition, it's one of the most fulfilling moments of my professional career."
Profile by Steven Barnett, ASIS communications Specialist