Global Management: How Security Is Changing in West Africa
Security management is truly a global profession. Every region of the world has threats that need mitigation; every organization has people and assets that need protection. But the practice of the profession is also influenced by local conditions—culture, business practices, economic conditions, type and severity of threats—that differ from region to region. With that in mind, this new Global Management series from Security Management will highlight security managers from different regions to learn about the challenges they face and the management strategies that help them succeed.
In this first of Security Management's Global Management articles, we interview two security managers from West Africa.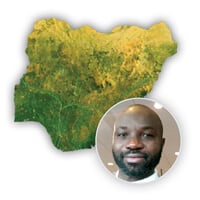 McLean Essiene, CPP, PCI, PSP, is a seasoned security management consultant and trainer in Nigeria. He has worked for the Nigeria Immigration Service and in private security with both a multinational company and a local security firm. He now heads his own firm, Essimacs International Security Ltd. He serves as second vice chair of the ASIS Human Threat Management Council and is vice chair of the Global Outreach Subcommittee of the ASIS Young Professionals Council. In 2019, he won an Outstanding Security Performance Award (OSPA) as the Nigeria Outstanding Young Security Professional. He is currently pursuing a Ph.D. with research interests in the links between environment and security.
You hold several credentials, including the CPP, PSP, and PCI. Is the recognition of security credentials growing in Africa?
ME. The recognition is growing gradually. Many organizations, particularly the multinationals, now align roles to appropriate credentials within teams, and see them as a benchmark for the demonstration of professionalism, knowledge, and skills. Many top managers at these multinationals are credential holders, so this gives the credentials heightened visibility.
However, many local organizations are still oblivious to the benefits of employing credentialed professionals. In part this is due to a lack of awareness of such credentials among recruiters. In addition, the leadership of many local companies is dominated by ex-law enforcement personnel, and so recruiting practices favor the same. This dichotomy can be frustrating for young and aspiring security professionals.
You have worked in several different verticals, including immigration, healthcare, and others. Have you noticed any commonalities when it comes to working in security in these different fields?
ME. My background is a mix of private, public, and corporate sector experience. A primary commonality is the main objective: asset protection. To fulfill this objective, the public sector employs the use of force, and the private or corporate sector adopts risk management strategies.
However, another challenging commonality is that many security departments in the region remain largely underfunded, which negatively impacts security programs and leads to increased organizational liability. To make things worse, in some of the organizations I worked with, the security department was placed under the human resources department or merged with the safety department.
There is a saying in my local parlance that goes "better soup na money kill am." In the security context, it simply means that to cope with underfunding, the program must prorate the available budgetary allocation the best it can.
What are a few of the common challenges that a security manager may face working in Nigeria?
ME. Business-wise, common challenges include funding shortfalls for the security department. Often, these shortfalls arise from the old paradigm that company leaders view security as a cost center, as opposed to a business partner. Sometimes this challenge is exacerbated by the lack of good security metrics to measure success.
There are exceptions to this. Many multinationals, particularly the leading upstream oil and gas companies, have strong and visible security teams that use solid metrics and are considered business partners. In some cases, they even have representation on the Board, and those reps drive professionalism from the top.
Outside business factors, there are the challenges of rigorous daily tactical and operational security planning, due to the myriad threats in the region.
Let's say I am a security manager for a multinational firm, and I am being transferred to the Lagos office. What advice would you give me about how I can avoid making mistakes when it comes to cultural issues that influence employee relations and the workplace?
ME. Do your best to learn the ethical code of the particular workplace, and let it serve as a guide.
However, there are companies where ethical codes are nonexistent, or at least not robust and explicit enough. In those cases, heightened cultural awareness and emotional intelligence are required soft skills of every professional looking to succeed in a global and diverse security workplace.
Avoid any displays of "cultural correctness" in the work environment. You should recognize and, if possible, celebrate the different types of diversity, but do not force your belief systems and customs on others. For instance, remarks that could be construed as racist, or showing contempt for religion, are always best avoided. Also, keep in mind that gender identity can be a sensitive subject; many Nigerians have little to no tolerance for the LGBTQ community. You could say that the country is religious- and gender-sensitive.
It would also be helpful to seek advice from older coworkers in the workplace.
In terms of threats, is Boko Haram still a day-to-day threat in the north? Are executive kidnappings a threat in the big cities? Is piracy still an issue for maritime security teams?
ME. Yes! Boko Haram is still a day-to-day threat in some of the northern states, executive kidnappings remain a huge threat everywhere, and piracy is still an issue in the maritime domain.
The day-to-day life for security managers working in Nigeria is also location-specific. Localized conflicts vary in scale, from mass protests to clashes between different local groups. Another threat would be banditry.
However, the good news is that the military and sister agencies are gradually winning the war against terrorism.
A recent United Nations report found that more than 14 percent of Nigerians (aged 15-64) abused drugs, which is more than twice the global average. Has this become an issue for security there?
ME. Drug abuse and crime are directly related. Drug use leads to crime; crime leads to drug use. This is a global issue. For instance, ISIS fighters were said to be using Captagon (fenethylline), dubbed "chemical courage."
However, besides drug use, poverty is a huge contributing factor to the level of crime in Nigeria. A 2018 report by The World Poverty Clock found that Nigeria recently overtook India as the country with the most extreme poor people in the world (approximately 87 million).
In your view, is the relationship between manager and employee changing in Nigeria? Are newer workers—such as young people in their 20s—looking for a less traditional relationship with their managers?
ME. Workplace practices here are often sector specific. For instance, while the public sector is largely driven by statutory service rules and codes of conduct, the private sector is driven by targets and tasks. Both impact the manager–worker relationship.
However, on a general note, young people in workplaces are seeking less of a traditional bureaucratic environment, and more of a millennial-friendly one. This is especially true in the fast-paced and dynamic security industry.
From what you have seen recently, is the role of the security department changing with some Nigerian companies? Is it becoming more involved in business activities, such as strategy?
ME. Absolutely. In fact, some companies are informally implementing principles of enterprise security risk management (ESRM) philosophy. Among these companies, it seems that the general maturity level of their ESRM framework would be "Repeatable," on average. Hopefully and thankfully, ESRM will be a game-changer here, and that is a campaign I hope to help lead.
But in some companies, there is still a knowledge gap. Often in these firms, security leaders do not have the ability to speak the language of business.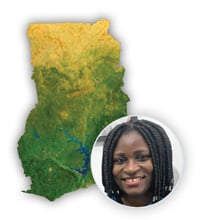 Grace Takyi Appiah, CPP, is the first Ghanaian woman to receive the CPP designation. She is executive director of Magnate Unit Limited and specializes in physical security systems and integration. She has consulted for and supervised several projects in Ghana and Nigeria involving video surveillance, GPS tracking, and access control systems in both the public and private sectors. She is also involved in security education and training in churches and organizations in Ghana.
You now are the first Ghanaian woman to achieve the CPP credential. Congratulations! In your view, is recognition of security credentials growing in Africa?
GTA. The recognition of security credentials is growing tremendously in Ghana and Africa at large. It proves your skills and knowledge in the security industry, which adds value to what you do. It serves as evidence of what you know. People have great respect.
However, the security industry is still green in Africa, and there are few institutions that train on various domains of security. This has brought about the need for security experts to improve their knowledge on the imminent threats in Africa. Therefore, organizations request certifications from security professionals to prove their requisite knowledge in various domains of security.
The international link associated with certifications also increases the chances of being listened to in some circumstances, which widens your scope of interactions. So overall, there is a growing demand for people with these internationally recognized certifications.
What is it about your life experience, your personality, and your background that helps make you an effective security manager?
GTA. My interest in the security industry grew tremendously over the years as I learned and expanded my knowledge of various security systems. I never stop learning and improving myself because it's my philosophy that learning is an ongoing process. I always challenge myself to take up roles that are difficult. Growing up, I saw the need to use little resources to accomplish big tasks. That enhances my ability to manage with limited resources.
I have an inner passion to always strive for the top. I heard about ASIS in December 2018 for the first time, and I decided to take the CPP exam. I was told I would be the first female to take it in Ghana. I challenged myself to get the certification, and it took me three months of review and preparations to pass the exams.
As a business leader, the ability to communicate with staff is also an important factor. Today I handle 25 staffers and a number of clients. Inasmuch as I delegate, I also make sure I follow up on assignments because the security of clients should not be compromised in any way.
What are a few of the common challenges that a security manager may face specific to working in Ghana?
GTA. One great challenge is the lack of orientation of the average Ghanaian on security; many are security unaware. This means that implementing some policies and procedures becomes difficult.
Also, the acceptance of the concept of security manager as an essential business component is not widespread. A lot of times security managers are placed under IT departments, which means the IT manager is the head of security, even though he or she might have little or no knowledge in security.
In addition, in some instances the work of the security manager is not appreciated. Even when there are very few security incidents, management tends to believe that the security manager is not effective.
Another great challenge is the lack of, or limits on, budgetary funds to implement some security measures. This is often due to a lack of understanding of the need for some security measures and strategies.
If I am a security manager for an international firm being transferred to the Accra office, what advice would you give me about how I can avoid making mistakes when it comes to cultural issues that influence employee relations and the workplace?
GTA. First and foremost, Ghanaians adore handshake greetings, and they should be done with the right hand.
Ghanaians also hold a strong passion for funerals; shared responsibility for extended families has consequences in the workplace. These events can reduce the availability of employees, especially on weekends when workers have to attend such events.
Carefully choosing one's words and intonation is important; both can even be interpreted as insults. Respect for old age and traditional rulers cannot be overemphasized. Knowledge and appreciation of these cultural issues lays the groundwork for a successful work environment without unnecessary mistakes.
I would also advise a link to a local consultant. In many cases, those who have succeeded here have collaborated with a local person.
In terms of threats, what is day-to-day life like for security managers working in Ghana? Are potential terrorist attacks a legitimate threat there? Can potential political or social instability be considered a
pos­sible risk?
GTA. The major threat a security manager may face in his day-to-day operations is theft and robbery. Cyberbreaches, espionage, and information security issues are also problems to deal with.
Political instability and socioeconomic issues can cause prolonged demonstrations, which tend to affect work and productivity. Another threat that is gradually gaining ground is kidnapping and abductions.
The probability of a terrorist attack in the future is very high. Our neighboring countries of Burkina Faso, Ivory Coast, Togo, Mali, and Nigeria all have their fair share of terrorism. Ghana is a likely site for an attack; we don't have tight immigration regulations, and our borders are so porous that the flow of arms and weapons is easy.
How are private companies addressing this terrorism risk?
GTA. Private institutions have increased their awareness and training for their staffs. Also, in part because of the emergence of and exposure to international certifications and counterterrorism programs, some private organizations are working toward finding new ways of mitigating the effects of such occurrences.
In your view, is the relationship between manager and employee changing in Ghana?
GTA. Yes, it is changing tremendously. The supportive management style is becoming preeminent over the autocratic rule. Managers are embracing the need to include vibrant and energetic young employees in strategic planning. Unfortunately, it is not so in the public sector because of the bureaucratic nature of those institutions.
Do you see the role of the security department changing with some companies in Ghana?
GTA. The overall perception of security in relation to organizational strategies is changing in Ghana. There is growth in the involvement of security in organizational strategies because there are security implications in other departments of the organization. This may involve emergency prevention or mitigation, the protection of company assets, or efforts to improve productivity.
Mark Tarallo is senior content manager for Security Management. Connect with him on Linkedin or email him at [email protected].
What unique management challenges do you face in your region? Share them with us on LinkedIn or email Mark Tarallo.