GSX 2020 Call for Presentations
Global Security Exchange (GSX) 2020—formerly the ASIS International Annual Seminar and Exhibits—will take place in Atlanta, Georgia, USA, 21–23 September 2020. In an annual effort to attract the very best thought leadership in security from around the world, ASIS invites experts from the entire security spectrum to share their knowledge and expertise with the global community of 20,000 GSX registrants.
From the fundamental to the bleeding edge, the GSX education program menu will consist of hundreds of learning experiences in a variety of formats, offering security professionals at every stage of their careers a full portfolio of quality content delivered in an immersive and interactive environment.
You can be part of this premiere knowledge sharing event! The GSX Call for Presentations opens on 9 December. Visit GSX.org for more information about submitting your session proposal. Proposals are due by 13 January 2020.
A Look Ahead: ASIS Europe 2020
ASIS Europe heads to Prague, Czech Republic, 1–3 April 2020. The event will bring together a unique gathering of established and aspiring security leaders, expert advisors, and innovators in security and risk management. Best known for its historic beauty and rich cultural life, Prague is one of Europe's most dynamic hubs for innovation and start-ups.
Bernhard Maier, CEO, ŠKODA Auto, will deliver the opening keynote address. Since taking the helm as CEO in November 2015, Maier is driving ŠKODA's reorientation under parent company Volkswagen's sustainability initiative, Strategy TOGETHER 2025+. In addition to electromobility and digitalization, key aspects of the strategy include new mobility services and connectivity, implementing a large-scale product campaign, and the brand's internationalization. ŠKODA delivered 1.25 million vehicles in 2018, making it the company's most successful year.
The ASIS Europe 2020 education program will employ a variety of learning formats to cover a wide range of cyber–physical security risk outlooks, leadership and management topics, case studies, and analyses. New for 2020, session recordings will be made available after the show for attendees with the Leadership Pass. Access to Maier's keynote presentation is included in the Leadership Pass and the Professional Pass. Early registration rates are available until 12 December.
Learn more about ASIS Europe 2020 and register at asiseurope.org.
ASIS Mexico West 2019 Congress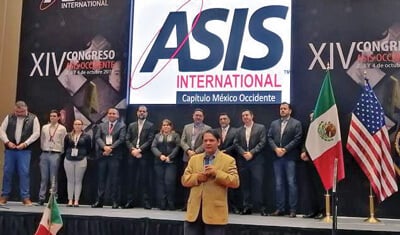 More than 100 attendees gathered in Guadalajara, Jalisco, Mexico, 2–4 October for the ASIS Mexico West Chapter's intensive and collaborative Annual Congress.
The chapter assembled speakers from all over the world for the event—including ASIS volunteer leaders from Latin America, guests from the FBI, and ASIS Investigations Council Chair Sandra Stibbards.
The event kicked off with acted-out examples of the event's four main focuses:
1. Kidnapping and Extortion
2. Identity Theft and Fraud
3. Public–Private Partnerships
4. Crime Prevention
The opening keynote, delivered by Roberto Alarcón Estrada, deputy general of public security for the City of Zapopan, Mexico, focused on Zapopan's Pulse of Life system, which helps protect vulnerable women from attacks and violence within the community.
Guillermo Salas, director of continuing education for private security firm Trust Group, delivered a session examining neurocriminology.
Between sessions, attendees enjoyed exhibit hall breaks to network with sponsors, exhibitors, and their peers.
Chapter Chair J. Naim Escalante Felix delivered awards for the chapter's "Do More with Less" program, honoring chapter patrons:
TPS Armoring, recognized for its role in keeping children safe;
ALMABA and IPS Private Security, for best practices in employee care; and
GIA Private Security, for its learning programs.
Attendees enjoyed a networking dinner and Casino Night during the evenings. The event concluded with a closing cocktail reception in the exhibit hall to thank the vendors.
By ASIS Volunteer Engagement Manager Alyson Freitas
Life Member
ASIS congratulates Steven J. Kristovensky, CPP, on becoming a life member. He has been an ASIS member for 31 years. During that time, he has been active in the Central Pennsylvania Chapter, serving as chapter chair and in other leadership positions. He has also served as an assistant regional vice president for ASIS International. Kristovensky earned the CPP designation in 2004 and is now a lifetime CPP.