Certification Profile: Jose Barone, PSP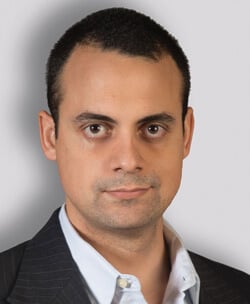 In 2006, Jose Barone ran errands at his father's security company, but he envisioned a future for himself as a security practitioner.
"It is very rewarding to help others be safer," he says. "Through security management, I can make a living while helping others deal with a very complex and primal need—security."
Not wanting to be viewed solely as the "boss's son," he decided to develop his skills, pursuing and attaining degrees in both business administration and security. Meanwhile, he took on enhanced business responsibilities with the company, working closely with clients and end users.
By 2011, he had become general manager for the firm, overseeing a force of 250 security guards. Becoming further entrenched in the world of security, he joined ASIS in 2012, seeking ways to strengthen his security know-how.
"I had the desire to advance in my security career and climb another step of the ladder," he reflects. "I consulted with fellow ASIS young professional Pablo Colombres, CPP, who advised me that becoming certified was that next step. After considering the options, I decided the Physical Security Professional (PSP®) certification was right for me."
Guided by a structured study plan, Barone passed the PSP examination in 2015. He recommends connecting with certified individuals in your local chapters as a means of preparing for this important career goal. For Barone, the process of becoming certified elevated his security practice to the next level.
"My PSP certification has helped me to better understand how to assess risks, conduct security assessments, and provide clients with informed recommendations on how to lower their exposure to risks and be better protected," he explains.
Beginning in 2016, he began to transition into a consulting role—providing security assessments to clients in Argentina, Latin America, and the United States. He credits his success in this global expansion in part to the assistance he received from his ASIS colleagues.
"ASIS connected me to the best group of security professionals from around the world, who helped me to grow my skills," he shares. "Having the opportunity to meet many of them at events like Global Security Exchange (GSX) brought me closer to industry leaders and erased the long distance and borders that separate Argentina from the rest of the world."
He now strives to pay forward the benefits he enjoys from his ASIS membership, serving as chair of the Buenos Aires Chapter and as an active member of the ASIS Law Enforcement Liaison Council and Young Professionals Council. He has also assisted in translating the PSP exam into Spanish.
Additionally, he aided in the development of the Associate Protection Professional (APP) certification, designed to serve as the first rung on a security manager's career ladder.
"It's important for professionals to become certified to back up their knowledge of how to better help and protect customers," he concludes. "Earning the Certified Protection Professional (CPP®) certification is my next major goal."
Profile by Steven Barnett, ASIS communications Specialist