Book Review: Sittig's Handbook of Toxic and Hazardous Chemicals and Carcinogens
Sittig's Handbook of Toxic and Hazardous Chemicals and Carcinogens, Seventh Edition. By Richard P. Pohanish. Elsevier; Elsevier.com; 3564 pages, $695.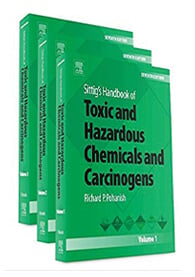 This authoritative and accessible reference on hazardous chemicals commonly used, transported, and regulated in industry and the workplace is now in its seventh edition. Sittig's Handbook of Toxic and Hazardous Chemicals and Carcinogens was first published more than 35 years ago. This three-volume edition provides more than 100 new entries and new information on how these chemicals relate to the latest technological and scientific developments, current events, government regulations, and standards.
The encyclopedic resource provides extensive data for more than 2,000 commercially important, regulated, and hazardous chemicals in a standardized A-to-Z format, which makes it easy to quickly look them up. The chemicals are listed alphabetically and classified as carcinogens, hazardous substances, hazardous waste, or toxic pollutants. This is useful in providing guidelines on preparing for or dealing with hazardous substance accidents, spillages, fires, or incidents of terror that involve such chemicals.
An introductory section. "How to Use This Book," explains how the handbook's categories of information are presented, with chemical name, formula, synonyms, CAS (Chemical Abstracts Service) registry number, regulatory authority and advisory bodies responsible for the listed chemicals, characteristics of hazardous wastes, health hazard, flammability, reactivity, and hazard classification system. Also included is a general guide to chemical resistant gloves and an extensive bibliography. The appendices include listings on oxidizing materials and carcinogens, a glossary, international hazard codes, risk phrases, safety phrases, and an extensive cross-listing index.
This handbook is an indispensable professional reference for those involved in dealing with these substances, such as chemical manufacturers; emergency incident responders involved in disaster control, including firefighters; chemical, logistical, and transportation industries; scientists; and organizations involved in environmental protection services.
Author Richard Pohanish is a prominent expert in the fields of environmental health, safety, chemistry, and engineering, on which he has published numerous books.
Reviewer: Dr. Joshua Sinai is a Washington, D.C.-based consultant on homeland security issues. He is the author of Active Shooter: A Handbook on Prevention.