Reaching the Remote with Fingerprint Biometrics
Billions of people around the world live in remote regions where they grapple with poverty, access to clean water, and ongoing shortages of essentials such as food grains. It can be extremely difficult for government support or volunteer organizations to reach these citizens, let alone confirm their identity given their surroundings and lack of access to technology.
However, many people living in underserved areas now have benefits and aid delivered directly to them—and the only proof of ID they need to provide is a through the touch of their finger.
Biometric solutions such as fingerprint readers are changing everyday verification processes near and far. Technologies once used only for urban applications—from banking to law enforcement to healthcare—are now being rolled out to rural backdrops as innovation extends into the fringe to deliver critical resources off the grid and outside the bustle of cities and towns.
---
Prior to adopting the biometric proof of ID solution, the Aadhaar program was hampered by annual fraud issues of $3 billion per year.
---
India, for example, has one of the world's largest biometric identification systems. In place since 2009, the Aadhaar program is based on a 12-digit number issued to residents by the Unique Identification Authority of India (UIDAI) and was designed to create a centralized system for India based on one form of ID. Individuals enroll themselves voluntarily in the program and provide minimal demographics and biometric information—including iris scans and fingerprints. These are linked to their Aadhaar identification number and used as proof of ID when they collect government-distributed subsidies and social services.
Prior to adopting the biometric proof of ID solution, the Aadhaar program was hampered by annual fraud issues of $3 billion per year. It's coveted Public Distribution System—responsible for issuing critical items to civilians such as food grains, fertilizer distributions, banking-related disbursements, pension payments and more—was wrought with many points of failure. Duplicate identity records resulted in social security benefits being doled out to the same people numerous times—or worse, to those not eligible for payments. Identification cards were stolen or shared to access benefits. Not only were resources being siphoned to wrong people, but those in underprivileged areas suffered significant losses of their individual payments and subsidies.
The Indian government sought to overhaul its ID platform and found that an intuitive, efficient solution was just a touch away to reduce fraud and bolster this imperative component of its national project. The solution leverages a mobile POS handheld terminal from VISIONTEK that integrates proven fingerprint readers and credential technology from HID Global, paired with physical wireless connectivity networks to stretch into the nation's outer limits. Today, citizens simply place their fingers on the mobile terminal's fingerprint sensor (see the GL-11 in Image 1). It captures and encrypts the fingerprint, transports the encrypted image and verifies it against the Aadhaar database, and reverts confirmation to the VISIONTEK device. The ID confirmation process takes less than 50 seconds with an accuracy rate of 95 to 97 percent.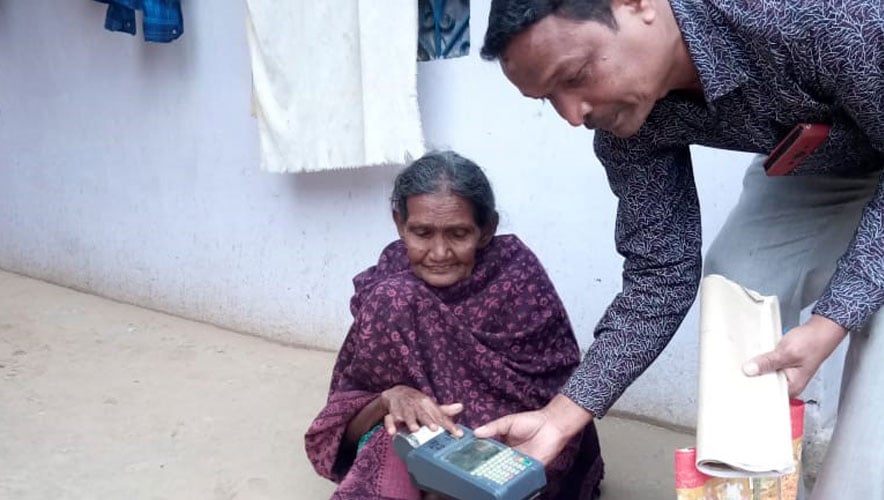 The crown jewel in this solution is based on today's most reputable fingerprint sensors. These modules reliably work across a range of outdoor circumstances, including dust, sunlight, heat, and moisture, to accurately read fingerprints regardless of dirt, rugged conditions, and frequent use. The biometric reader's flexible design easily integrates into OEM products for countless applications for identification and verifications spanning urban and rural territories.
Residents throughout India now reliably—and swiftly—identify themselves to access critical services and provisions that are earmarked specifically for them, while the government enjoys a high level of confidence in the biometric ID systems procured to serve their jurisdictions. Notable results include:
A transformed ID confirmation process that saves the Indian government approximately $3 billion annually, based on significant reductions in fraud losses.


Colossal improvements—now 99.9 percent accurate in delivering government subsidies to the right citizens by leveraging mobile biometric technologies.
People have long used trusted identities by way of card technology to verify IDs, enter buildings, or access various resources and services when moving about town. But for many people on the poverty line and residing in remote or volatile areas around the globe, biometrics are a more streamlined, secure method for confirming true identities as a user's ID cannot be copied to another card or media format, and there's no way to swap or share devices. By leveraging fingerprints, there's also no concern around lost or stolen credentials when working directly with each citizen on-the-spot.
By leveraging fingerprints, there's also no concern around lost or stolen credentials when working directly with each citizen on-the-spot.
---
There are complexities in even the simplest settings. But by incorporating fingerprint biometrics, governments and organizations can successfully evolve their systems when reaching out to people nestled in all corners of the world. Biometric technology advancements are a game-changer for not only ensuring the right resources reach the right citizens without delay or duplicity, but also allow for efficiency around logistics, ongoing reporting, and a more intuitive, streamlined, and secure manner of supporting one another across divides, distance, and dialects.
Vito Fabbrizio is the managing director, Biometrics Business Unit, Extended Access Technologies, at HID Global.