World Leaders Gather at Munich Security Conference to Discuss Russian Aggression, Global Challenges
World leaders are gathered in Germany for the annual Munich Security Conference (MSC), with all eyes on the dialogue between representatives about Russia and Ukraine ahead of a potential invasion.
On Friday, Ukrainian President Volodymyr Zelensky requested that other global powers provide Ukraine with security guarantees, saying "it's not altruism, it's about you being next." Zelensky's remarks came after a week of rising tensions, with cyberattacks on Ukraine's army and major banks and shelling of a kindergarten in Ukraine.
In response, a Russian-backed leader announced the evacuation of civilians from the Donbas region into Russia as Russian forces continue to mobilize around Ukraine. Conflict has been ongoing in the region since 2014.
Russian-backed leader announces evacuation of civilians from breakaway Ukrainian region, raising fears of imminent military action https://t.co/22jUzRApYy

— The Washington Post (@washingtonpost) February 18, 2022
"A mass exodus into Russia, which could not be immediately confirmed, would be seen as a worrisome signal that major military activities are imminent," according to The Washington Post.
The Kremlin also announced that Russian President Vladimir Putin will oversee exercises by Russia's nuclear forces on Saturday, including the launch of ballistic and cruise missiles. Belarusian President Alexander Lukashenko will join Putin for the exercises.
In an appearance at the MSC, United Nations Secretary General Antonio Guterres said that the world is likely in a more dangerous place now than it was during the Cold War. Guterres said that during the Cold War, "there were mechanisms that enabled the protagonists to calculate risks and use backchannels to prevent crises…Today, many of those systems no longer exist and most of the people trained to use them are no longer here with us," according to the Associated Press.
Missing from Munich, however, is an official representative of Russia. German Foreign Minister Annalena Baerbock said in remarks that Russia's decision not to send a delegate was a "missed opportunity," the Associated Press reported.
"Particularly in the current, extremely threatening situation it would have been important to also meet Russian representatives in Munich," she said, adding that even small steps towards peace would be "better than a big step toward war."
German Foreign Minister @ABaerbock addresses @MunSecConf with strong words on Ukraine, calling on Russia (who is absent from this year's conference) to negotiate. "We are not helpless collectively, we draw strength from acting together (in) determination, solidarity &reliability" pic.twitter.com/voNVvy0tz5

— Mina Al-Oraibi (@AlOraibi) February 18, 2022
Instead, Russian foreign minister, Sergei Lavrov, will reportedly meet with the U.S. secretary of state, Antony Blinken, next week. U.S. President Joe Biden also hosted calls with the leaders of Britain, Canada, the European Union, France, Germany, Italy, NATO, Poland, and Romania in an attempt to de-escalate the situation, according to The Guardian.
Biden has been firm in his commitment that if Russia invades Ukraine, the United States will not send in military troops. Instead, the United States continues to explore diplomatic and sanctions solutions to deter Russian aggression in Ukraine. In a speech at MSC, U.S. Vice President Kamala Harris warned of "severe consequences" if Russia invades Ukraine. She spoke after meeting with NATO Secretary General Jens Stoltenberg.
"We remain, of course, supportive of diplomacy as it relates to the dialogue and discussions we've had with Russia, but we are also committed to taking corrective actions to ensure there will be severe consequences in terms of the sanctions we have discussed, and we know the alliance is strong in that regard," Harris said.
The dialogue in Munich resonates with the overarching theme of the Munich Security Index 2022, released earlier this week and focused on a "widespread sense of helplessness" in the 12 countries surveyed.
The report argues that "just like people can suffer from 'learned helplessness'—a psychological term describing the feeling that nothing one does can effect positive change—societies, too, may come to believe that they are unable to get a grip on the challenges they are facing. This belief…may turn into a self-fulfilling prophecy, and prevent the world from addressing the most important crises before it is too late."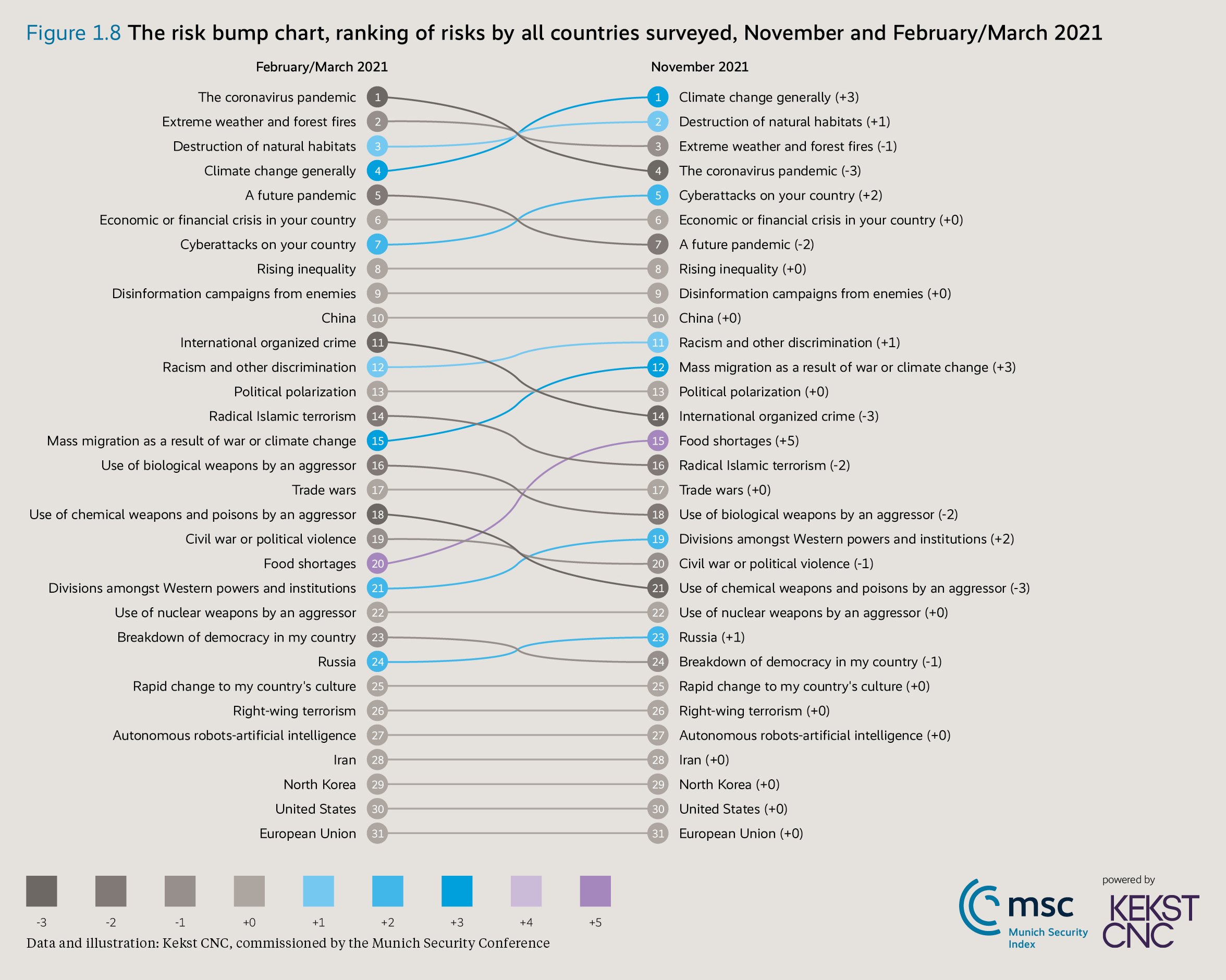 The 2022 index examines the situation in Afghanistan, Mali and the Sahel, the Horn of Africa, technology and supply chains, global inequality, and Eastern Europe and the threat of outright war.
"In recent months, Moscow has made it abundantly clear that it is looking for a revision of the European security order," according to the index. "As the Russian draft proposals for new security treaties demonstrate, Russia insists on a 'sphere of influence' in its neighborhood, effectively limiting the sovereignty of countries like Ukraine. Russia's rhetorical escalation and military buildup have raised profound security concerns across Europe. While analysts disagree on what President Vladimir Putin's specific goals are, the debate about the basic principles of European security—and how to defend them—will only intensify in the coming months, posing difficult political and military questions to European leaders who are forced to take a stand and reconsider their strategic posture."
In his foreword in the 2022 index, Ambassador Wolfgang Ischinger, chairman of the MSC, wrote that helplessness and a "perceived lack of control" is "particularly palpable" in Europe.
"Despite its significant economic power, Europe often seems to have lost faith in its ability to share global events," Ischinger wrote. "Nineteen years ago, three EU member states initiated negotiations that eventually led to the Iran nuclear deal. Today, European initiatives for addressing shared global threats are rare. As if dominated by a sense of impotence, Europe appears like a political dwarf in the global arena."