Preparations Ineffective as COVID-19 Cases Spike on Campus
The college experience is as much social as it is academic. That poses a problem, particularly in the United Sates where many campuses reopened despite new confirmed case rates across the country at around 40,000 per day.
Access any regional U.S. news outlet over the past couple of weeks and there will likely be a report of an outbreak at a college or university. The University of Alabama's main campus in Tuscaloosa has more than 1,000 cases two weeks after students returned, with more than 400 violations of student COVID-19 regulations being reported. The University of Alabama is hardly alone:
These and the dozens of other colleges with eye-opening outbreaks did not necessarily come as a surprise. Most colleges shut campuses down and transitioned to online-only classes during the spring semester, continuing through the summer term, giving them months to try to prepare for a return in fall.
There were temperature screenings, hybrid learning models to cut down class sizes, quarantine space planning, outdoor classrooms, online dashboards like the one below from Virginia Tech (note the most recent weekly positive test result, on 30 August, jumped from 0.3% to 15%), and many, many tests.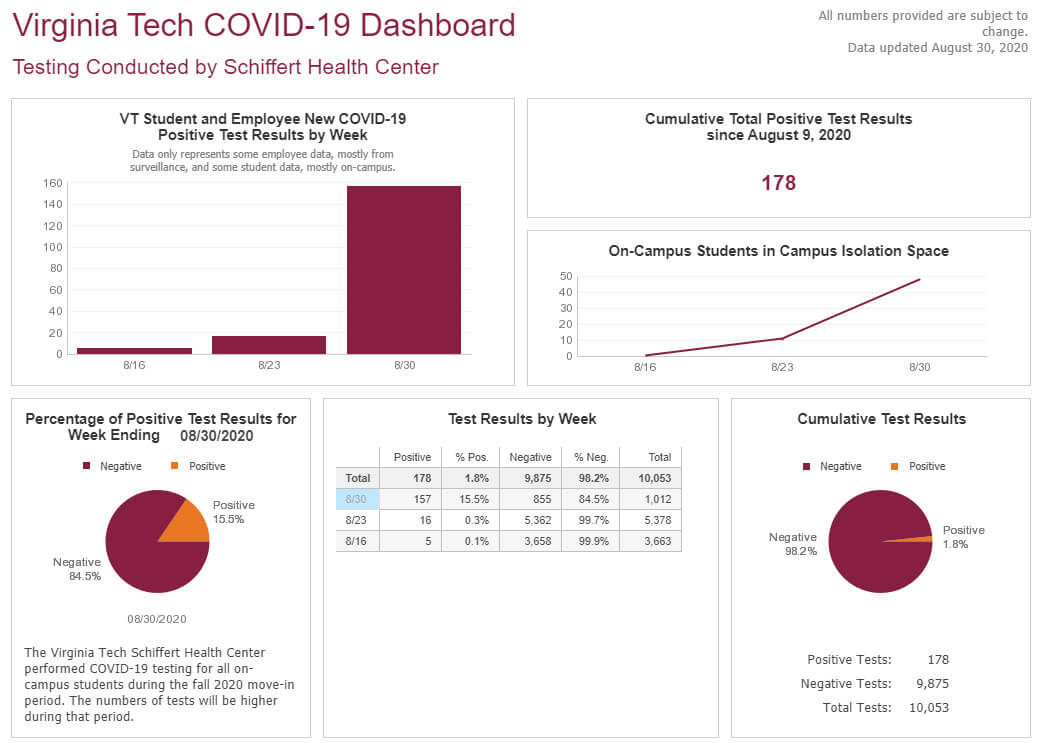 It didn't matter. COVID-19 came to the party anyway because the United States was not able to get any semblance of control over the pandemic after campuses shutdown in spring.
A report from Reuters on procedures being employed at Chinese universities shows a remarkable difference when compared to the U.S. approach, a contrast in part that highlights the cultural differences in the two countries. With 20 million students, China has the largest university population, most of them living on campus. Universities in China have largely become locked down fortresses. Students are tested and screened before being allowed on campus, and, once there, they are not allowed off campus without authorization. Student movement is monitored and facial recognition-controlled gates ensure only those allowed on campus get inside university gates. From the report:
Procurement documents posted online in the past two months by dozens of Chinese universities give insight into campus life in the COVID era, detailing technology systems designed to bar outsiders and collect students' data.
Many systems call for dozens of cameras that can collect facial data and temperatures, as well as notification systems that require students to enter information multiple times a day.
"All of a sudden we found dozens of cameras in our dorm building, six on each floor," said a student at Peking University, who asked to remain anonymous.
"It's like someone is watching you from when you wake up to when you go to sleep," said another Peking University student surnamed Mei, who found cameras in her dorm when she returned this month.
It should be noted that China enacted these policies despite being able to largely thwart domestic spread of COVID-19 after the disease originated in the country and spread to the rest of the world.
Europe will be another test as the institutions that decided to try to hold in-person education will be starting winter terms later this month.