Robot Dogs Set to Augment U.S. Air Force Base Security
The Vision 60 is a quadrupedal tele-operated and autonomous unmanned ground vehicle, a.k.a, a robot dog. Next month, the creation from Ghost Robotics will be full-time addition to the security function at the Tyndall U.S. Air Force Base outside Panama City, Florida.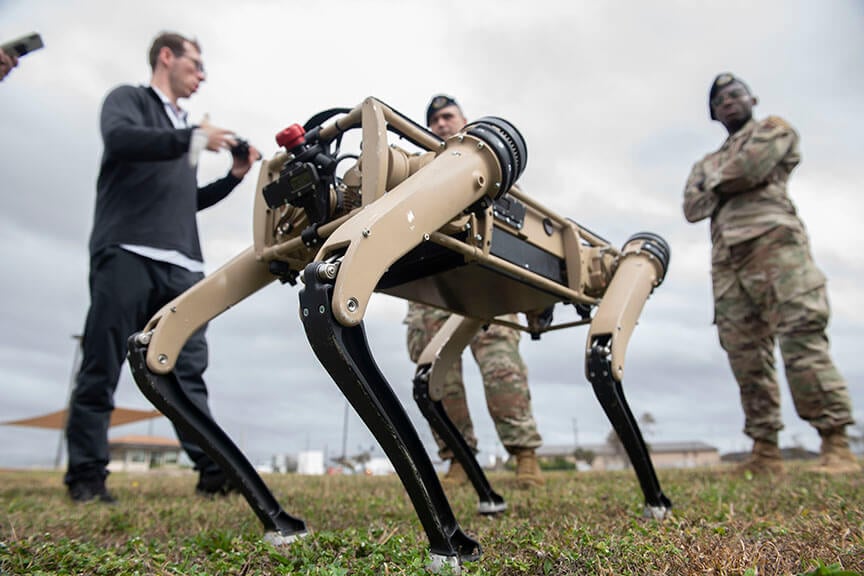 In a press release from the Air Force describing a 10 November demonstration of the machines, Squadron Commander Major Jordan Criss said the dogs would be used to patrol areas that are difficult for people or wheel- or track-based vehicles to access.
"We will be able to drive them via a virtual reality headset within our Base Defense Operations Center," he said. "We will be able to see exactly what the robot dog is detecting through its mobile camera and sensor platform if desired, we will also be able to issue verbal commands to a person or people through a radio attached to the dogs."
According to a Washington Post report, the dogs can climb steps, remain balanced when patrolling in shallow water or tall grass, and right themselves if knocked over. They can operate for more than seven hours on a charge, and are designed for easy, quick maintenance.
At Tyndall, the dogs will be programmed with a patrol route and will operate semi-autonomously, sending sensor information back to the base's virtual security operations center powered by Immersive Wisdom. There controllers can monitor the information and control the dogs as necessary.
The dogs were also part of a battle simulation in October, reports Task and Purpose, an online news organization covering the U.S. military. In the exercise, a team flew from Buckley Aire Force Base in Colorado to Nellis Air Force Base in Nevada and secured a remote airfield. The "robot dogs provided visual assessments of the area, allowing airmen to maintain a tighter perimeter to the aircraft."