Book Review: The Psychology of Extremism
12 January 2023
Book Review
The Psychology of Extremism: A Motivational Perspective. Edited by Arie W. Kruglanski, Catalina Kopetz, and Ewa Szumowskaby. Routledge, https://www.routledge.com/; 328 pages; $43.96.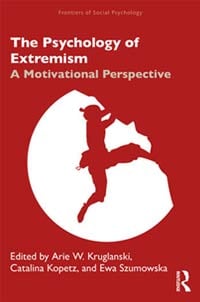 Since 2000, worldwide deaths perpetrated by violent extremists have risen from 3,300 to 32,000 annually worldwide, the United Nations reported in 2016. The cost of non-lethal extremism is also rising; a 2021 survey of a range of U.S. industries showed that 89 percent of respondents reported dealing with some level of conflict and disagreement resulting from polarized viewpoints for an average of 3.5 hours per week.
To prevent the devastating consequences of violence or mitigate the disruptive impact of conflict, security professionals must understand the dynamics of extremism to formulate strategies and engage in tactics that will effectively support the safety of employees and consumers. The Psychology of Extremism: A Motivational Perspective is a compilation of research on humans' engagement in extremism.
The position taken in the book is that extreme behaviors share a deeper psychological dynamic, which results in a single focus of a person's mental resources on an overly prioritized need—a perspective that has important consequences for motivation, cognition, behavior, affect, and sociality. Thus, this book has relevance for many fields of study, security included.
This psychological perspective is complemented by an array of research from varying disciplines which offers a wide lens from which to examine the impact of extreme motivational imbalance—the trigger to extreme behavior—at the individual level, as well as within groups, cultures, and nations. Extremism is treated agnostically, and its potentially constructive as well as destructive consequences are explored.
Throughout the volume, readers encounter many extremes: Extreme greed and extreme humanitarianism, extreme sports fanatics and substance abusers, suicidal terrorists and video gamers who play until they die. This provides an opportunity to connect with the topic through a variety of real world, relatively relatable examples, and to challenge the reader to see a consistent thread across different forms of extremism.
The diverse examples also support the authors' stated purpose, which is to motivate additional theoretical and empirical research into the psychology of extremism. This is consistent with the style throughout the work.
Some may find the use of jargon such as "cognitive closure," "harmonious passion," "irrational miswanting," and "mesolimbic dopamine transmission" to be distracting or off-putting. The Psychology of Extremism is an academic book, but despite the extra effort that may be required to engage with some of the content, there is much operational relevance contained within.
Some chapters detail the psychological motivations of extremist groups and the effect of global exploration/exploitation on extremism development, while others review extreme greed from the individual and organizational perspective and the tactics used to groom extremists. These chapters are particularly helpful in offering insights into the "why" and "how" humans succumb to extremist behaviors.
For the security professional, this knowledge can become a prevention and mitigation tactic if used as part of a behavioral threat assessment and management strategy.
Reviewers: Sheelagh Brady has approximately 20 years of experience in policing and security. She began her career with An Garda Siochana, the Irish Police Force, where she worked for 14 years. Brady then moved to the international security arena, working with in European Union Common Security and Defence Policy missions and the United Nations in Bosnia Herzegovina (BiH), Nigeria, and Libya. Since 2014, she has combined this experience with her academic knowledge, providing a unique perspective on security and risk to business, governments, and non-profit organization. Brady recently was awarded a PhD from Dublin City University.
Diana M. Concannon, PsyD, PCI, is the dean of the California School of Forensic Studies at Alliant International University, where she also serves as associate provost for strategic initiatives and partnerships. She is a forensic psychologist and maintains a threat assessment and management consultancy. Concannon is author of Kidnapping: An Investigator's Guide and Neurocriminology: Forensic and Legal Applications, Public Policy Implications. She is the 2023 chair of the ASIS International Extremism and Political Instability community.