Book Review: The Decency Code: The Leader's Path to Building Integrity and Trust
The Decency Code: The Leader's Path to Building Integrity and Trust; By Steve Harrison and James E. Lukaszewski. McGraw Hill; mhprofessional.com; 240 pages; $32.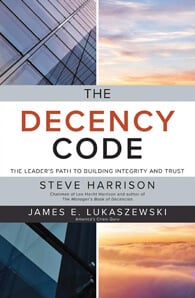 Professionalism, courtesy, and decency create an environment that stimulates respect, particularly in these turbulent times. Authors Steve Harrison and James Lukaszewski explain how that works in their book The Decency Code: The Leader's Path to Building Integrity and Trust.
In the foreword, Ranjit de Sousa writes that The Decency Code is intended to remind us that repetition and recognition of small decencies are two key elements of building resilient corporate cultures. He goes on to say that if organizations focus on the small things every day, over time, behavioral shifts will occur. While this sounds idealistic, it's not!
The authors discuss how leadership within any organization is required to set the tone of that organization. Organizational changes in today's corporate world are the norm. The authors effectively explain how management can navigate periods of upsizing, downsizing, rightsizing, and capsizing and what type of impact their actions will have on the corporate culture. Although the book discusses how organizations can model leadership grounded in decency and provides tools to help integrate a culture of decency into any organization, it does not sufficiently provide examples to support these strategies for employees.
The book provides examples of organizations that failed employees and customers by discarding decency and ethics. Two examples are Volkswagen (caught cheating on emissions tests) and Wells Fargo (whose employees opened accounts without customers' knowledge). It also points to companies such as The Principal Financial Group and Baxter International for exemplifying strong leadership, social responsibility, and sustainability.
In Chapter 7, "Employee Engagement in Action," the book examines data from Gallup's 2017 State of the Global Workplace Report, which paints a bleak picture of corporate cultures. This chapter reinforces the concept that employee engagement matters.
"The Decency Code is written for a new generation of leaders who are looking for inspiration and tools to create workplaces where honesty, civility, and ethical behavior are the norm rather than the exception," says the cover. Business and industry professionals will find this book an interesting read and moral compass.
Reviewer: Kevin Cassidy is an adjunct professor at John Jay College of Criminal Justice in New York City and Slippery Rock University in Pennsylvania. He is a member of ASIS.