Book Review: The Chief Security Officer's Handbook
The Chief Security Officer's Handbook: Leading Your Team into the Future. By Michael Allen. Academic Press; available from asisonline.org; 254 pages; $106 (ASIS members); $111 (nonmembers).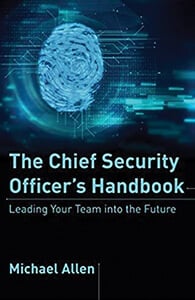 Reading through The Chief Security Officer's Handbook: Leading Your Team into the Future is like reading the menu for success in the field of security. The book provides insightful and meaningful direction for a CSO or anyone aspiring to grow and lead within the industry. While the author highlights the CSO's responsibility in planning and managing critical security programs across a wide area, so too does he give emphasis to the most important part of the position—leadership.
Because security programs can vary widely between industries, this book delineates those industries while creating a composite of the complexities of the security field. A sizeable chunk of the book is devoted to emerging issues that, until recently, seemed to read like science fiction. These include the use of artificial intelligence and drones, which not only enhance security practices but serve as force multipliers to budget-thin operations. The author addresses the questions "How will this help my company?" and "How can I use, embrace, and deploy…?" to accept and not shy away from the paradigm shift created with these new advances.
While the book has many positive elements, its high point is the author's focus on Chapter 7's "Roadmap for Success." Here is where the author explains that leadership advances not only a CSO's professional capabilities but also the skills and performance of security team members. The CSO must network with organizational leaders and liaise with members of critical organizational departments to create buy-in, while finding balance and sharing the security responsibilities with team members. That not only frees up the CSO but also builds the professional growth of team members.
A section called "helpful checklists" provides insight into a variety of developmentally related processes including achieving certifications, specializing, and becoming an expert, as well as tips on working with and motivating teams—all crucial in the ever-changing and dynamic field of security.
The author does a superb job of translating complex information into practical prose. The Chief Security Officer's Handbook would be a solid addition to any security practitioner's professional library—especially for those who aspire to leadership roles.
Reviewer: Terry Lee Wettig, CPP, is president of Pegasus Learning Systems, Inc. He owns and directs a Sylvan Learning Center in Prattville, Alabama. He spent more than 11 years as director, risk management, with Brink's Incorporated and recently earned his doctorate in Organizational Psychology.