Book Review: Hateland: A Long, Hard Look at America's Extremist Heart
By Daryl Johnson. Prometheus; Rowman.com; 288 pages; $24.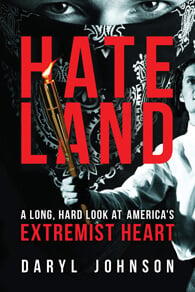 Incidents of mass violence and terrorism are all too common in modern life. They make us wonder: What leads an individual to become radicalized? How can we prevent these incidents? What is being done to save lives?
In Hateland: A Long, Hard Look at America's Extremist Heart, author Daryl Johnson takes on these questions, offering outstanding evidence and discussion to inform readers and make them think. Johnson is the former lead analyst for domestic terrorism at the U.S. Department of Homeland Security, so his words have authority.
Using case studies, Johnson examines the interplay between destabilizing personal and psychological factors and those that act as inhibitors to radicalization. A well-supported theory on how personal elements such as psychology, friends and family, employment, and self-worth prevent or enhance an individual's attraction towards violent extremism is interwoven throughout an in-depth and insightful review of the genesis of numerous homegrown extremist groups.
Individuals, organizations, and ideologies from all sides of the social and political spectrum are discussed, along with the seemingly endless external factors that have contributed to the development of each individual group. Johnson examines the ways that modern groups leverage technology—such as the Internet and social media platforms—to invite new individuals into their ranks and how very recently the utilization of these tools has become a recruitment tactic.
A key point throughout this text is likely the most important takeaway from Hateland: how law enforcement currently structures its efforts to combat domestic extremism is regulated in such a way as to render it largely ineffective to handle a great many cases. Johnson provides examples of how social and political concerns have relegated domestic extremism to a "niche" area of expertise, to the detriment to the safety of the public. And Johnson proposes solutions.
Though not necessarily a picnic reading choice, Hateland is a well-written, intermediate-level introduction to domestic extremism in America, supported by unbiased reporting of events and well-documented statistics and information. Johnson brings a voice that is neither condescending nor dry, with a presentation that makes the information easy to remember and digest. Written to assist the layperson in understanding the landscape of extremism as it is and was, the book can serve security professionals as a key tool in developing a greater sense of this ever-evolving threat.
Reviewer: Courtney Klein, PSP, CIPM (Certified Institutional Protection Manager), CIPS (Certified Institutional Protection Specialist), is a consultant at T&M Protection Resources, LLC, and a member of both the ASIS Women in Security and Young Professionals Councils. She is also chair of the New York Analysts' Roundtable.