Book Review: Strategic Security: Forward Thinking for Successful Executives
By Jean Perois, CPP, PCI, PSP. CRC Press; crcpress.com; 205 pages; $69.95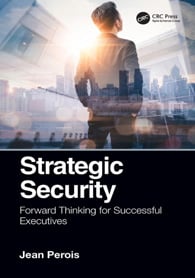 An engaging study of management from a security industry perspective, Strategic Security: Forward Thinking for Successful Executives unfolds like an academic program on strategic management. It is not surprising that this began as a college course.
Author Jean Perois, CPP, PCI, PSP, is a seasoned security manager based in the Middle East who has extensive international experience. He employs personal real-life examples throughout, giving the book a broad global appeal, while maintaining credibility and applicability domestically. The professorship roots peek out at times as the author moves from educating to mentoring, often making recommendations to the reader about personal development and career advancement.
The chapters are well structured, building on concepts both within each chapter and progressing through the book. This makes them easy to follow even when the material becomes more complicated. Each chapter ends with key takeaways and references.
The final chapter is a detailed summary of the full book—it feels less like a rehashing of what was written earlier and more like a review session before an exam. In fact, some new ideas are introduced in the summary that were not mentioned in the preceding chapters.
Overall, this book is a great read for any current or aspiring manager. The information is timely and relevant, and it provides an excellent discussion on building or being prepared to lead a successful security organization.
Reviewer: Yan Byalik, CPP, is the security administrator for the City of Newport News, Virginia. He has worked in a variety of security roles since 2001. Byalik is the ASIS assistant regional vice president for ASIS Region 5A in Southeast Virginia.