Book Review: Organised Crime Groups Involved in Fraud
Organised Crime Groups Involved in Fraud. By Tiggey May and Bina Bhardwa. Palgrave Macmillan; Palgrave.com; 140 pages; $54.99.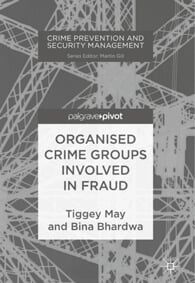 Part of Palgrave Macmillan's Crime Prevention and Security Management series, Organised Crime Groups Involved in Fraud is a fascinating and insightful look into the world of organized criminals. Authors Tiggey May and Bina Bhardwa take the reader on a journey into the mind of fraudsters, as well as into the complications of holding them accountable. They also explain how these criminals manage to make significant financial gain through collaboration with others.
The authors conducted interviews with more than 30 convicted fraudsters and dozens of law enforcement officials and other stakeholders in the United Kingdom. They provide statistical data, as well as narrative regarding what they found. The book provides national organized crime group mapping data, key findings, and predictive models, instrumental in understanding the types and impacts of organized fraud. The book includes a comprehensive glossary, footnotes, references, and an index.
No matter where in the world you live, organized crime is a global economic threat. It is often complex and undeterred by international boundaries, proving to be challenging for both law enforcement and judicial systems. May and Bhardwa capture the complexity of the organized crime groups so law enforcement can better identify behavior, training needs, resources, and ways to work across borders.
Reviewer: Inge Sebyan Black, CPP, has worked in physical security, global security, investigations, and emergency management over the last 40 years. She is also a CISM (Certified Information Security Manager) instructor for an international training authority. She is the author of The Art of Investigative Interviewing, 3rd edition, and serves as an ASIS council vice president.