Book Review: Countering New(est) Terrorism
Countering New(est) Terrorism. By Bruce Oliver Newsome, W. James Stewart, and Aarefah Mosavi. CRC Press; crcpress.com; 381 pages; $82.95.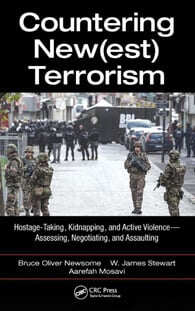 Many books cover the topic of terrorists and terrorism from basic awareness to specific counterterrorism best practices and techniques. Countering New(est) Terrorism: Hostage-Taking, Kidnapping, and Active Violence—Assessing, Negotiating, and Assaulting offers a medley of information for the reader while delving into three important variables of terrorism: comparing the methodologies of "old" and "new" terrorism; kidnapping/barricading situations; and the authority response.
Most intriguing are the discussions of the "old terrorists"—whose agendas were based on negotiations, low lethal attacks, and self-preservation—and "new terrorists"—post-1990 attackers with a higher level of lethality and objectives related to a holy war. According to the authors, "Terrorist hostage-takings, kidnappings, and active violence are increasingly frequent and deadly."
The authors use real-world situations and case examples that substantiate their content while concurrently educating the reader on the different aspects of terrorism models and psyches. Furthermore, the concise detail of authoritative response (by security and law enforcement) to practically every angle is covered and substantiated by statistics and case studies.
One weak chapter, "Negotiating for Prisoners," is too long and bland, although it offers a wealth of information on the negotiation, release, and treatment of prisoners of war.
Security, law enforcement, and military professionals will find this book very enlightening and informative. It is highly recommended for security professionals regardless of experience. Furthermore, the Global Terrorism Database (GTD), which the authors reference throughout the book, is a great resource not only for security specialists versed in counterterrorism operations but also for security coordinators and analysts tasked with assuring travel safety and security for tourists and business travelers.
Reviewer: Matthew Porcelli, CPP, has been in private security since 2009. He sits on the ASIS International Global Terrorism, Political Instability, and International Crime Council.