Certification Profile: Pamela Hosein, CPP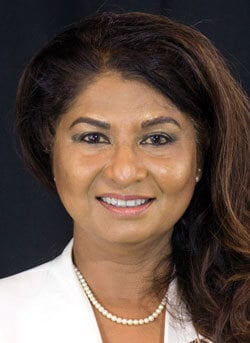 Pamela Hosein, CPP, is CEO of Amalgamated Security Services Limited (ASSL), a full-service security provider offering guarding, secure transportation, investigations, monitoring and response, electronic security, and executive services. Based in Trinidad and Tobago, ASSL operates in seven Caribbean Islands with more than 5,000 employees.
Hosein first began working for ASSL at the age of 22. With a diploma in administrative management, she started out as an executive assistant to ASSL's managing director. In the years that followed, she rose through the corporate ranks—eventually named CEO in 2016. She credits her success to her passion, training, perseverance, and mentors along the way.
In 2009, ASSL sought out globally recognized security certifications that would empower its management team and serve as a differentiator for ASSL's expertise. Ultimately, the company decided on ASIS International's board certifications—the Certified Protection Professional (CPP®), Professional Certified Investigator (PCI®), and Physical Security Professional (PSP®) designations.
ASSL mandated that all managers earn either the CPP, PCI, or PSP certification, simultaneously offering salary incentives for each certification and a lofty cash award for earning all three.
"ASSL provided in-house training for us to reach this goal," Hosein shares. "In all, 70 managers earned a certification, and eight became triple certified."
Hosein chose to pursue the CPP certification to bolster her knowledge of the security function she managed.
"The CPP bridged some gaps for me," she explains. "Where my MBA supported me as a management professional, my CPP gets me respect as a security professional. While studying for the exam, I became more knowledgeable in areas like physical security, site surveys, and due diligence—things that are directly applicable to my day-to-day job. Having earned my CPP, I was more confident in making security decisions and meeting with clients to talk security."
She knew she had turned the corner one day when visiting with clients to negotiate a contract. On the way to the conference room, she was led through the client's warehouse.
"I was able to point out security and safety risks as we walked and talked," she reminisces. "It was a moment of pride when the client asked for a detailed risk assessment—totally outside the scope of our scheduled meeting!"
Hosein, who now serves as the chair of the ASIS International Trinidad and Tobago Chapter, has won several leadership awards throughout her career, most recently being named Empowered Woman of the Year for 2019 by the International Association of Top Professionals.
She recommends CPP certification to all organization executives—even if their portfolio primarily lies outside of security.
"As you climb the corporate ladder, make certain you understand asset protection," she advises. "The CPP certification gives you a perspective bound to impact your everyday decisions. Top-level managers will find tremendous value in the ability to protect the organization and reduce risks because this is a fundamental responsibility of every senior manager of every business."
Profile by Steven Barnett, ASIS communications specialist