Book Review: Some People Are No Damn Good: On Crime, Crooks, and Cops
Some People Are No Damn Good: On Crime, Crooks, and Cops. By Steve Albrecht. Amazon Digital Services; Amazon.com; ebook; $6.99.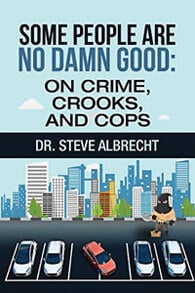 This ebook is a collection of 48 essays regarding social issues, law enforcement, and the author's interests. The collection is uneven—while some chapters are intriguing, others are insignificant. Even the best ones are shallow, leaving the reader wishing for more substance.
Author Steve Albrecht, CPP, is a former police officer and an expert in risk management and workplace violence, as well as the author of many previous books. He opens the work by discussing social media. He points out that criminals love to brag about their exploits on social platforms, while victims seek solace from online friends and contacts. This makes catching criminals immeasurably easier for the police. Another early chapter considers the issue of firearms at work. Albrecht backs up his arguments with statistics that are interesting and possess some validity, but there isn't room to really probe into the topic.
A chapter on domestic violence is a highlight of the book, as Albrecht delves into the intimacy effect of the crime and describes the actions that need to occur for the act itself to take place. The next chapter questions whether legislation regarding domestic violence actually works. These chapters provide insight into the mind of the assailant, possible triggers, and the value of a personal protection order. Other chapters on domestic violence and child safety at school and church are among the most useful in the book.
While those chapters pique reader interest, others on such issues as litigation, library safety, and political issues reflect the author's opinion and little else. A final chapter refers to James Bond and tools to keep you going, such as physical and mental fitness, learning to manage pain, and being tough. Rather than tying the work together, it seems unrelated to what has come before.
While certain sections of the book are thought-provoking and modestly useful, others seem out of place. There are simply too many topics that leave the reader wondering who the audience is intended to be.
Reviewer: William F. Eardley IV, M.L.S. (Master of Liberal Studies), has more than 30 years of experience in security and corrections. He is a member of ASIS International.