Book Review: No Off Season
No Off Season: The Constant Pursuit of More. By Steve Jones. ForbesBooks; available from amazon.com; 256 pages; $29.99.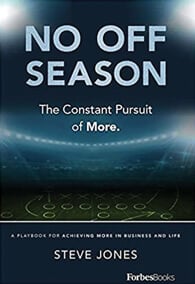 How does a person become a captain of industry? One path is described in the book No Off Season: The Constant Pursuit of More. This autobiography of Allied Universal CEO Steve Jones is a cross between a traditional self-help book and a biography, with glimpses into both his professional and personal life.
The book is easy to read, with concise chapters organized chronologically, from young adult to the author's current role as CEO of North America's largest contract security employer. Throughout each chapter the author's experiences are translated into relatable lessons. These flow well from chapter to chapter, recounting the challenges of young adulthood, as well as the complex business decisions involved in multimillion-dollar mergers and acquisitions.
Like any good autobiography, this book includes dozens of anecdotes and recollections from the author's life, many of which are framed in historical context. Readers are likely to find a story or two intriguing or relatable: decisions about his college football career and the risks of playing with injuries, or working in the security industry and the risks he took to prevent the sale of his company, going so far as using his personal assets as a guarantee.
Overall, the book is a great read and a guide to being successful in both business and personal life. The author filled the chapters with self-reflection and analysis that help to drive the points home, while providing ample ancillary stories to keep the reader interested and engaged. If you're looking for a good example of someone who stepped into a business leadership role and achieved success, you should give this book a read.
Reviewer: Yan Byalik, CPP, is the security administrator for the City of Newport News, Virginia, and has worked in the security industry since 2001. He is the assistant regional vice president for ASIS Region 5A in Southeast Virginia.