GSX 2019 Product Showcase
01 September 2019
GSX 2019
Sensor Barriers
dormakaba
Booth #333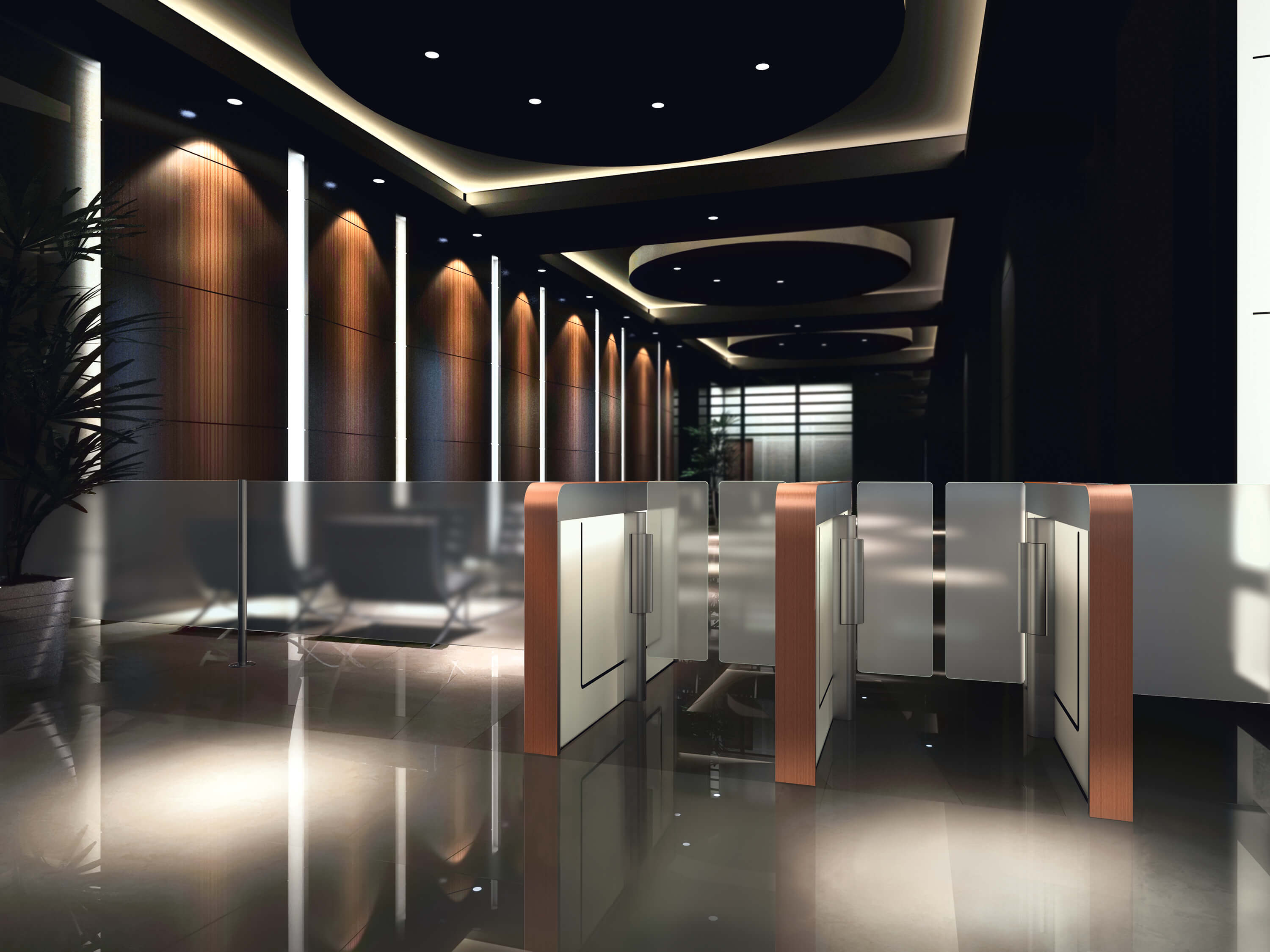 The Argus optical swing lane provides access control for buildings seeking a solution to modern and future security demands. The new sensor barriers from dormakaba offer architectural options for security. Argus 40 is the most compact model, suitable for areas with limited space for such installations. Argus 60 and 80, albeit longer versions, provide increased safety levels, including a vertical strip installed as an addi- tional scanner and the option for the barriers to reach a full door height. A user-friendly guidance system with optional intuitive cueing lights in the top cover provides additional convenience.
Access Management Systems
Genetec
Booth #1533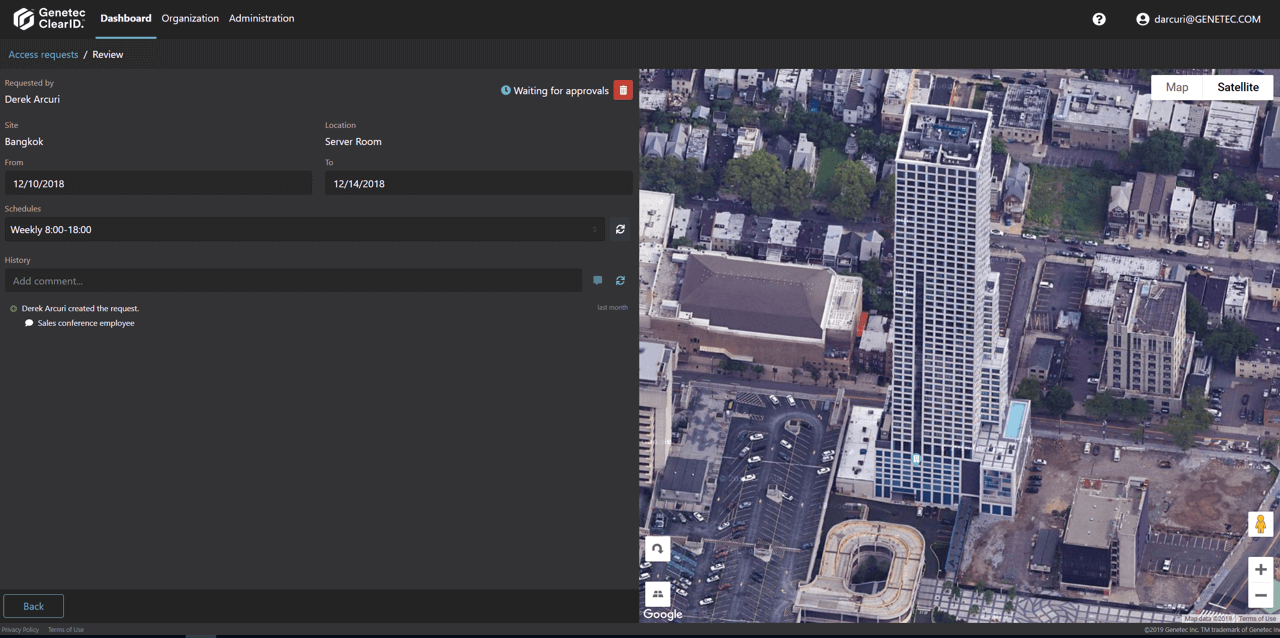 Genetec's ClearID is a self-service identity and access management system that standardizes and codifies security policies. This includes automating and simplifying access right management and providing a smoother visitor and contact management experience. This system helps organizations be more efficient, compliant, and secure. Users can deploy ClearID faster and easier than complex integrated systems because it's unified with Security Center Synergis, the Genetec access control security software. The ClearID system acts as a hub of interconnectivity that is built to work natively with Synergis.
Booths and Shelters
Safety Technology International, Inc.
Booth #851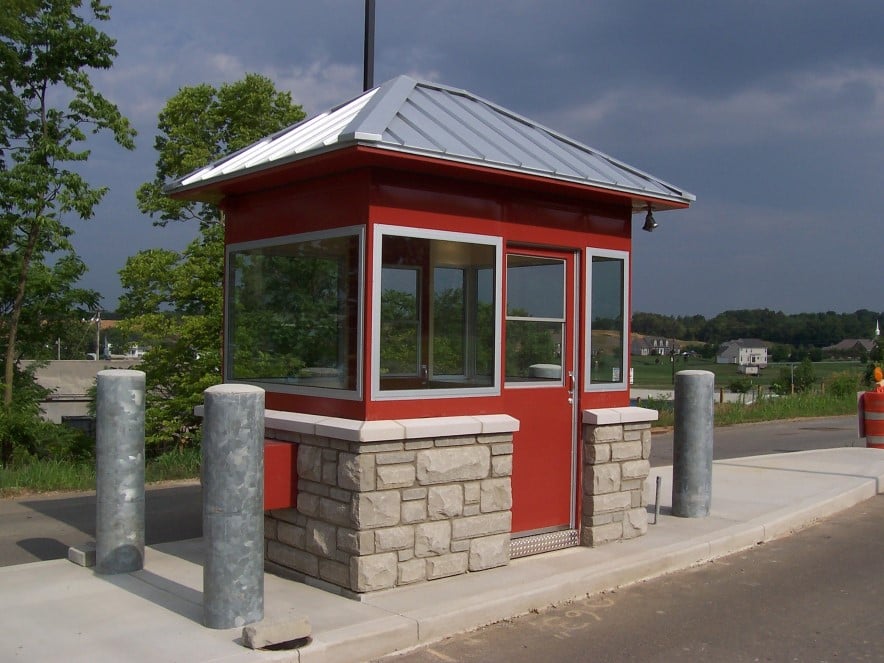 Waterproof, non-metallic, wireless-friendly polycarbonate or fiberglass enclosures reliably assist in guarding devices against tampering, weather, theft, and vandalism. Safety Technology International, Inc.'s enclosures can be used when you need protection from rain, sleet, snow, splashing water, hose-directed water, and impact. All enclosures have a removable door that is lockable or screw-down.
Waterproof Enclosures
Safety Technology International, Inc.
Booth #851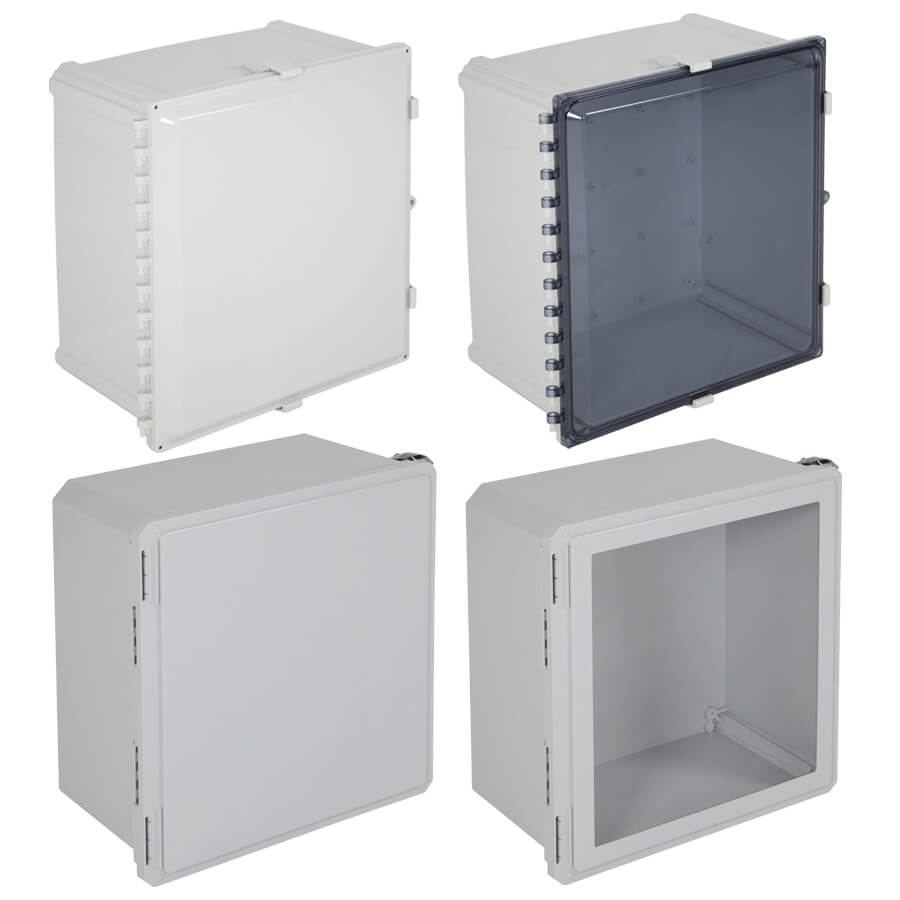 Waterproof, non-metallic, wireless-friendly polycarbonate or fiberglass enclosures reliably assist in guarding devices against tampering, weather, theft, and vandalism. Safety Technology International, Inc.'s enclosures can be used when you need protection from rain, sleet, snow, splashing water, hose-directed water, and impact. All enclosures have a removable door that is lockable or screw-down.
Perimeter Systems
Ameristar
Booth #1413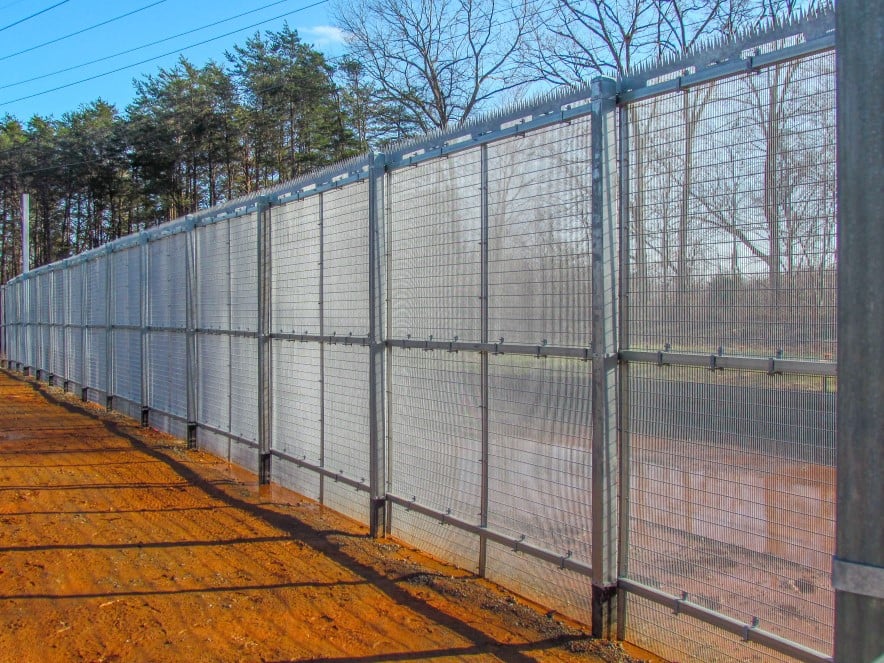 The Matrix Alpha perimeter enclosure grid is a galvanized curtain-wall fence system designed to expand to the level of site security required. Engineered for critical infrastructure, the Ameristar system unites strength with versatility to protect assets. Alpha was engineered to comply with CIP-014 physical security standards and tested to meet the IEEE grounding requirements. Ameristar offers a variety of system enhancements to improve deterrence and increase delay including barbed-wire arms, spike deterrent strips, animal mitigation shields, and technology posts.
Integrated Security
G4S
Booth #551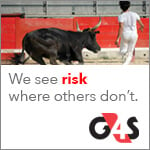 G4S is a leading global, integrated security company, specializing in the provision of security services and solutions to customers. Its mission is to create material, sustainable value for customers and shareholders by being the supply partner of choice in all relevant markets. It uses a risk-based approach to create a customized program to fit each client's needs. G4S leverages risk consulting, software and technology, systems integration and security officers to optimize customers' security programs to mitigate risk, reduce costs, and meet compliance requirements.
Access Power Supply
Altronix
Booth #933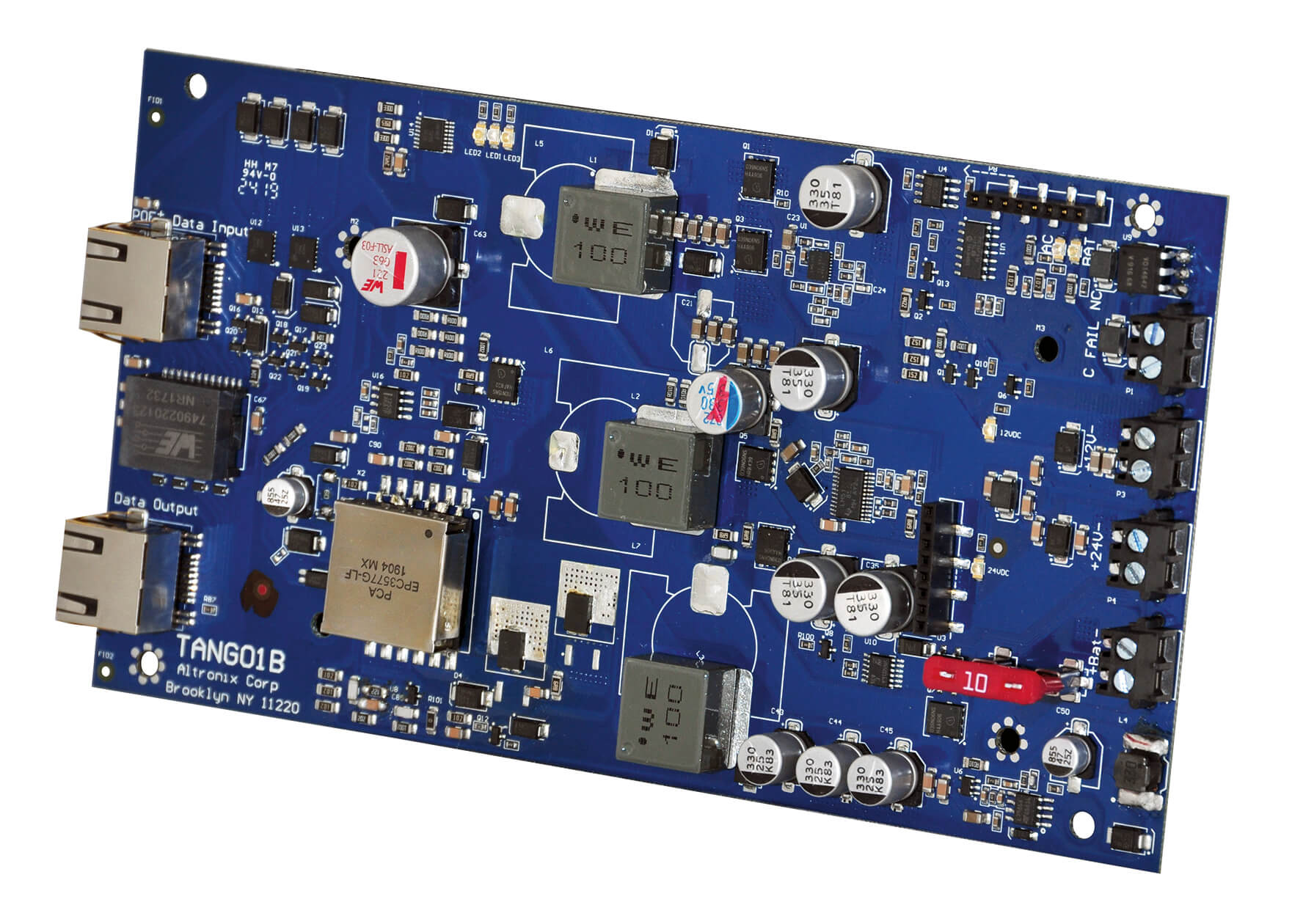 Tango1B is a PoE driven Power Supply/Charger delivering 12 and 24VDC simultaneously for deploying access control. Powered by any 802.3bt PoE power source up to 90W, Altronix's Tango1B harnesses the new IEEE standard. This solution eliminates the need for an electrician, dedicated conduit, and wire runs, providing tremendous savings by using low-voltage installers and wiring methods. This unit also provides battery charging for Lithium Iron Phosphate Batteries, adding to the system's return on investment. The unique stackable design of the Tango1B allows for the use of compatible Altronix subassemblies, utilizing a single footprint and saving valuable enclosure space.
Access Locks
NAPCO
Booth #225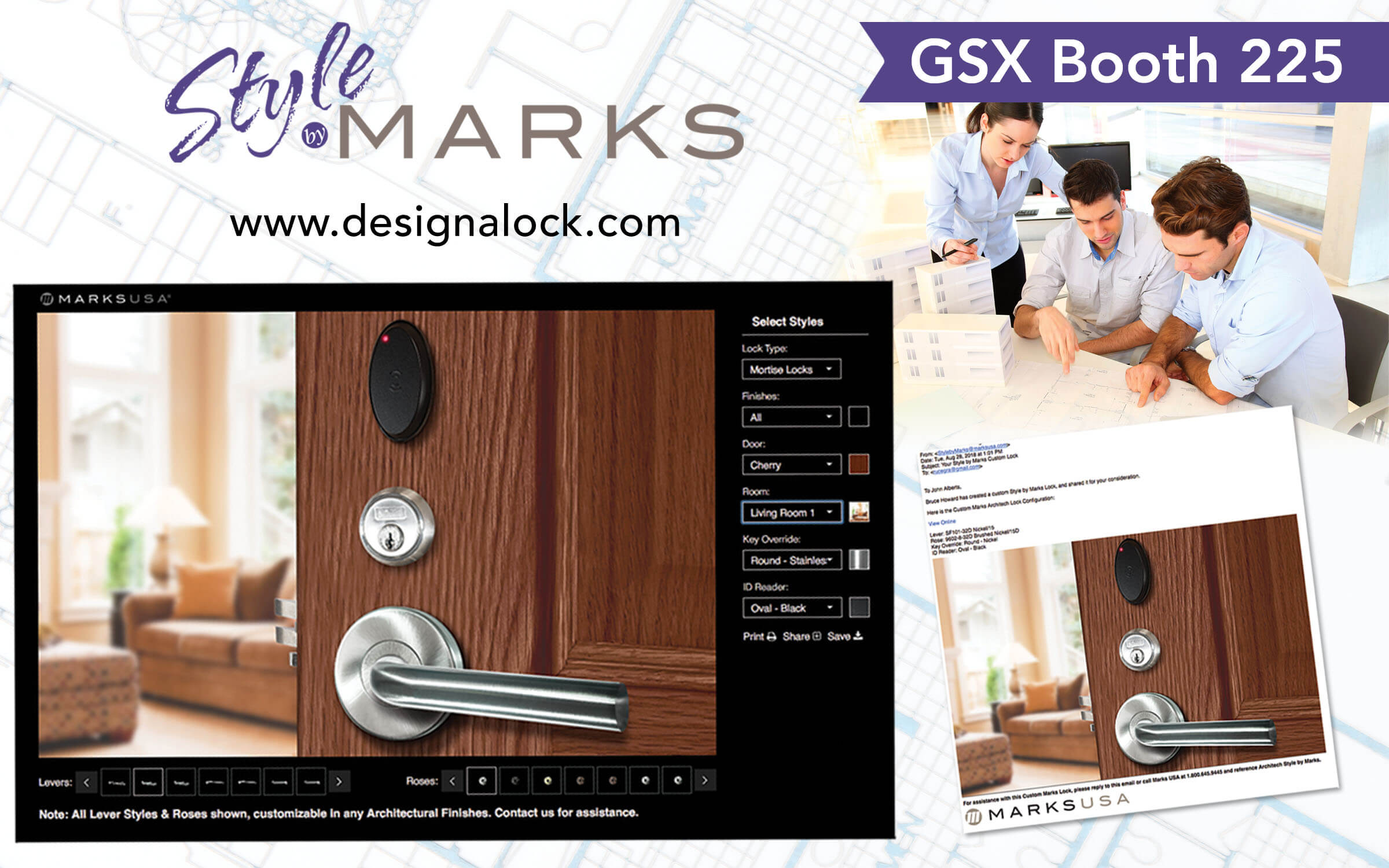 Style by Marks is a new interactive website featuring customizable Architect Access Control Locks and matching interior tubular locksets. Ideal for use with architects and designers, www.designalock.com, from NAPCO's Marks USA, allows users to design a custom lock, with more than 300 finishes, levers, trims, and applications in mortise and cylindrical locks. Users can then easily spec and share the design with other parties via email. Wireless ArchiTech Access Control Locks can be customized with a selection of multi-technology readers or new concealed readers in standalone, networked, or enterprise models all providing Networx ArchiTech battery life and Grade 1 durability for low maintenance.
Integrated Security Services
Prosegur
Booth #1145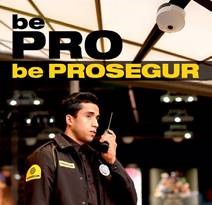 Prosegur of Madrid, Spain, is a global supplier of integrated security services. With more than 40 years of experience in managing the risk of organizations worldwide, Prosegur offers solutions that are custom-tailored to help businesses grow safely and sustainably. A team of more than 180,000 security professionals work on five continents as consultants, global risk advisors, designers, guards, technicians, engineers, and project managers to deploy high-caliber guarding services integrated with advanced technologies in CCTV, access control, alarms, fire protection, and cybersecurity. In addition, advanced monitoring centers with complete ARC capabilities are located in 17 countries.
Workforce Management Platform
TEAM Software
Booth #669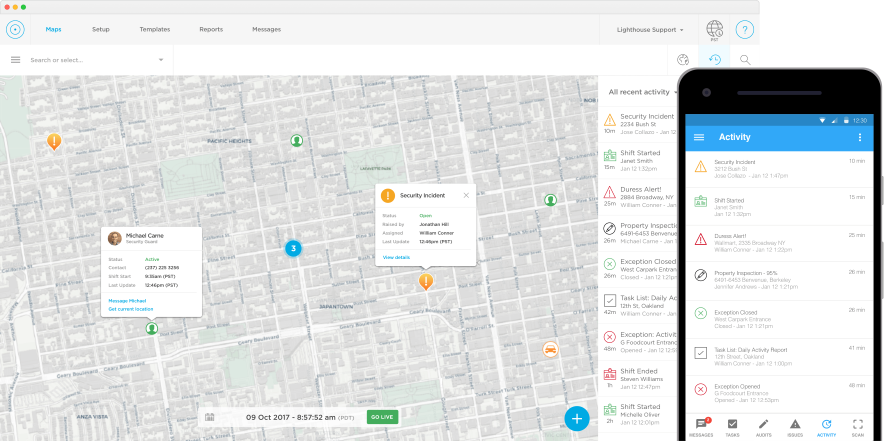 Lighthouse, powered by TEAM Software, is a workforce management platform that provides complete visibility of your security officers, mobile forms and workflows, and powerful reports that improve service delivery and reduce costs for security contrators. Lighthouse brings time-saving and cost-efficient capabilities to help you view, manage, and automate operations in the field. These capabilities include compliance tools, incident reporting, and guard touring.
Outdoor Camera Modules
Hanwha Techwin
Booth #251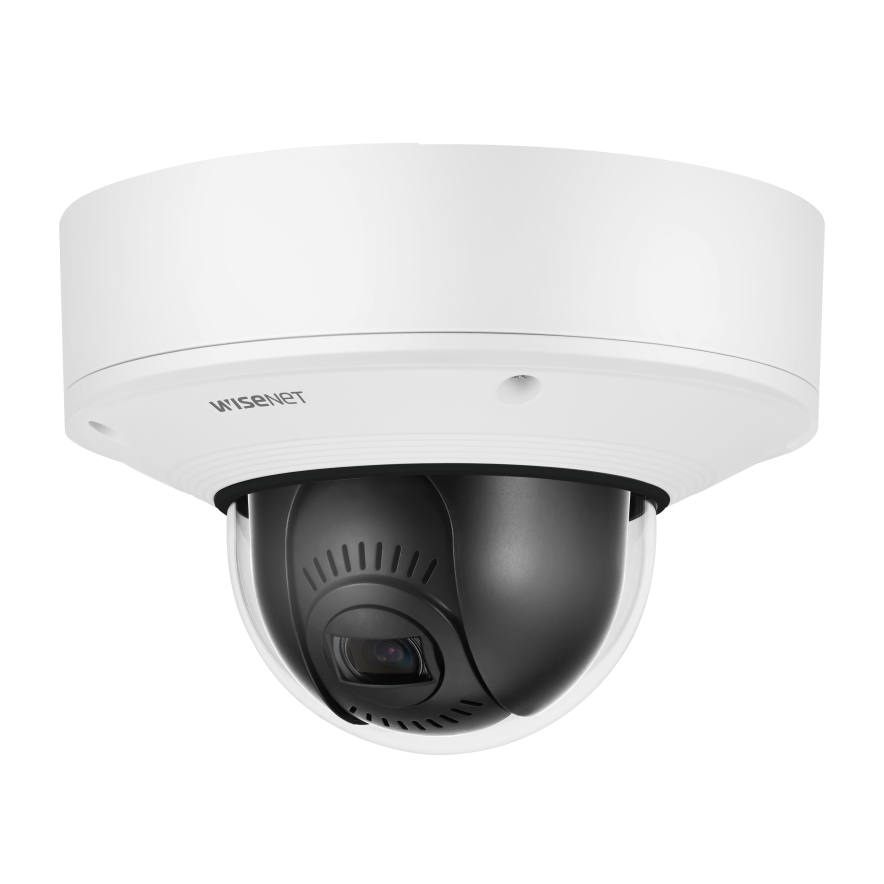 The Hanwha Techwin XNV-6081Z vandal-resistant outdoor network dome is the latest in the Wisenet X series PLUS camera line, all of which feature a unique modular design. Once installed, the magnetically mounted pan/tilt/roll/ zoom camera module allows users to
remotely adjust the field of view, allowing the camera to adapt to ever-changing environments without the need to handle the camera itself. Every X series PLUS camera comes with industry leading 4-frame, 150dB wide dynamic range and a full suite of license-free onboard video, audio, and business analytics.
Fleet Management
Morse Watchmans
Booth #1153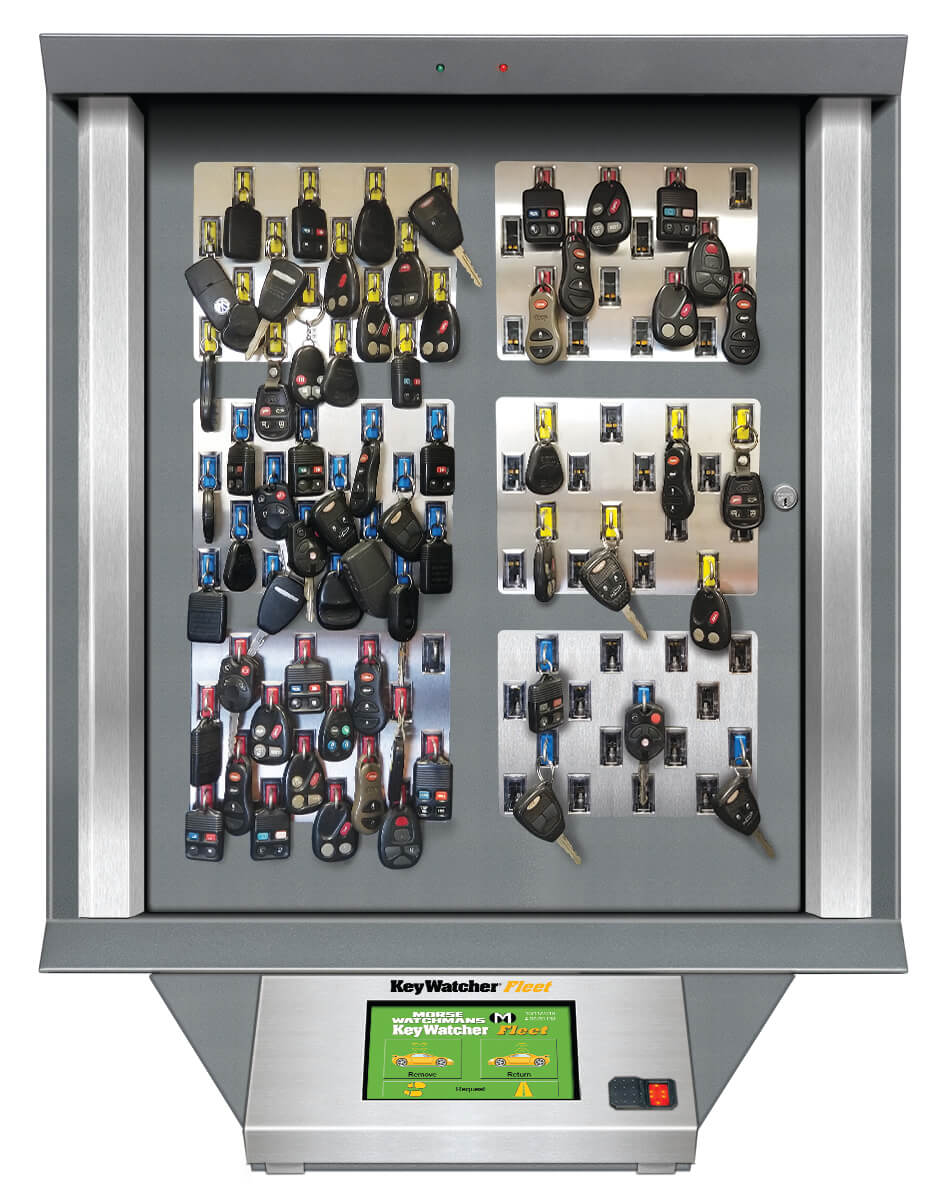 Built on established KeyWatcher Touch hardware, KeyWatcher Fleet is purpose-built for fleet management. A dashboard displays vehicle use, bookings, status, and more. Administrators can generate expedient and customizable reports, providing actionable insight on fleet utilization and operations. Morse Watchmans Smarts lets administrators create policies to enable automatic vehicle allocation. Vehicles can be assigned by lowest mileage, most fuel, priority, and other categories. Drivers can be notified automatically via email or text if a particular vehicle is unavailable, and personal PIN codes or optional card and fingerprint readers offer strong key/vehicle management.
Visitor Badges
Threshold
Booth #2147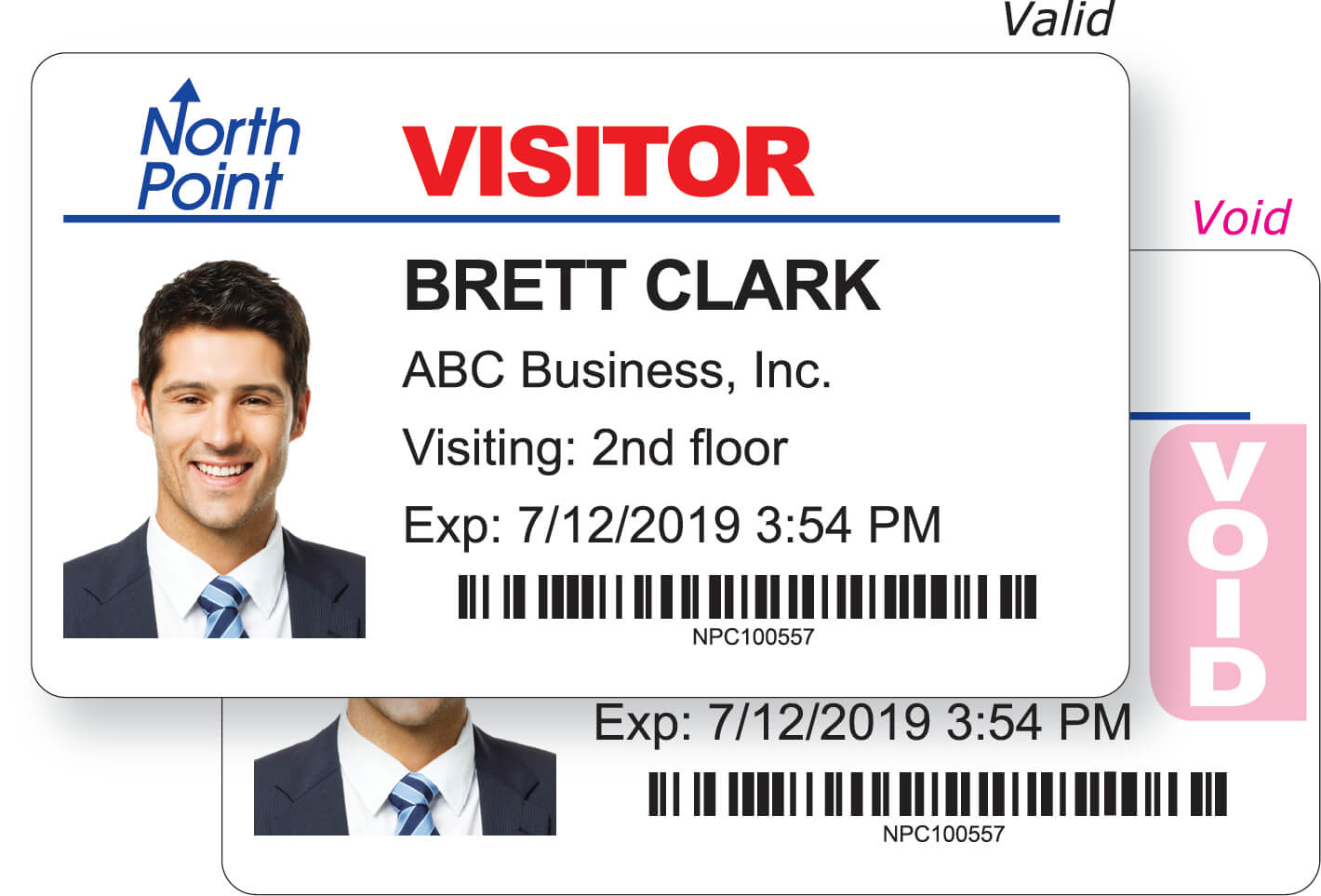 Threshold's self-expiring visitor badges change color overnight so people cannot reuse them to enter buildings without proper permission. The rolls of labels are compatible with many software applications, as well as the most popular thermal and inkjet printers, which now include Epson.
Contract Solutions
SecurAmerica
Booth #1123

Privately held and American-owned, SecurAmerica offers innovative contract security service solutions across the United States, providing uncompromising value, cost effectiveness, and results to clients. Its business model is based on creating and delivering operational excellence to each customer by selecting the right personnel, training them to exceed clients' requirements, and providing them with a culture that is focused on 100 percent customer and employee satisfaction.
Mobile Access
HID Global
Booth #1503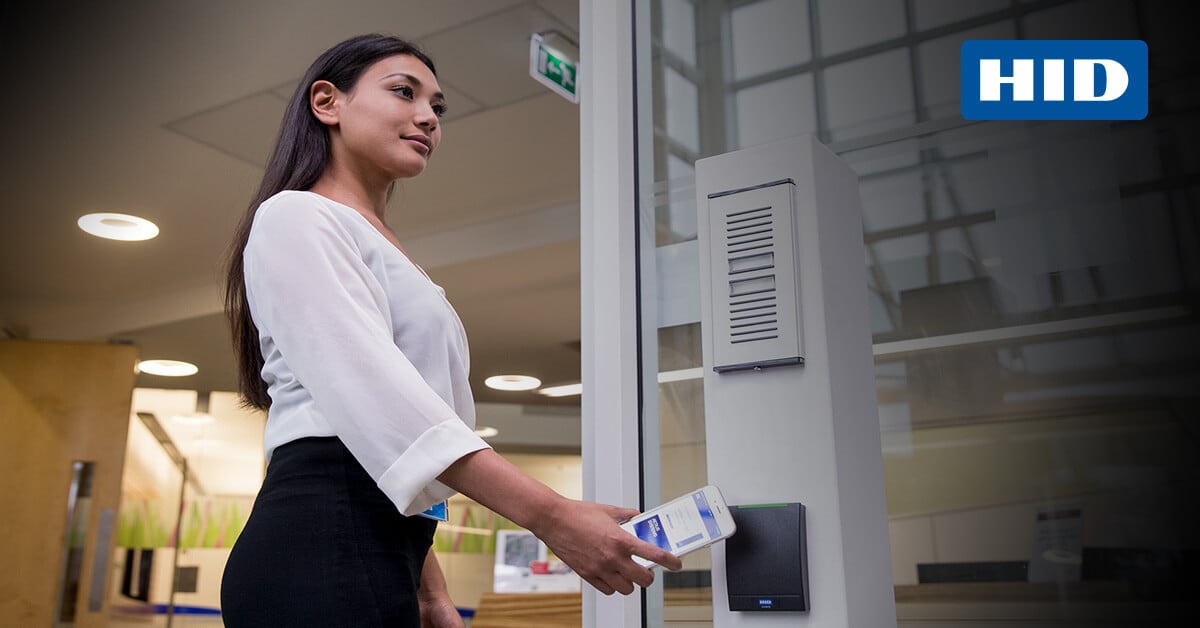 HID Global's Mobile Access offers end users convenient and highly secure access to the workplace through their smart device. Users can select the appropriate mobile experience for their organization, whether that's a pure mobile solution or integrating mobile into the facility's current card-based access control system. Mobile Access provides increased security with the ability to integrate into any workplace or organizational smart device app.
Perimeter Solutions
AMICO Security
Booth #1053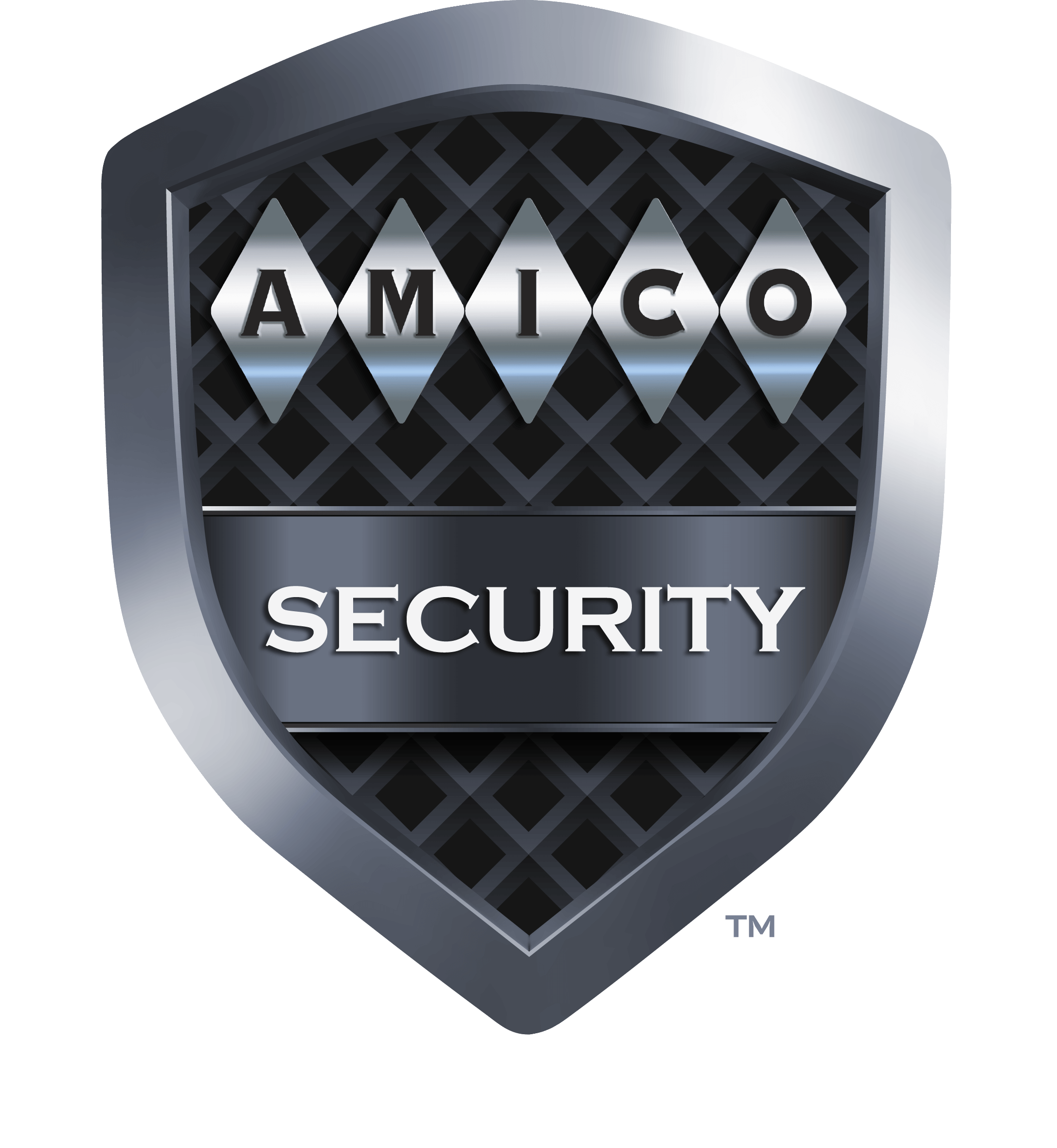 AMICO Security's advanced designs have provided medium and high security perimeters for more than two decades, leading the technology race in perimeter security. AMICO Security physically produces the mesh that goes into its perimeter solutions, enabling the company to control the raw materials and the production process, giving it the final say in the quality that goes into the final product.
Security Insurance
Brownyard Group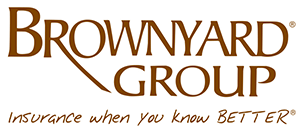 The Brownyard Group offers clients insurance coverage and risk management solutions, ideal for the security guard, private investigative, and alarm industries. With more than 60 years of experience covering security concerns, Brownyard offers broad coverage through an admitted insurer. The company handles claims expeditiously and in a knowledgeable manner by using its in-house claims facility. Brownyard works exclusively through an insurance agent or broker chosen by the client.
Analytics
Esri
Booth #2375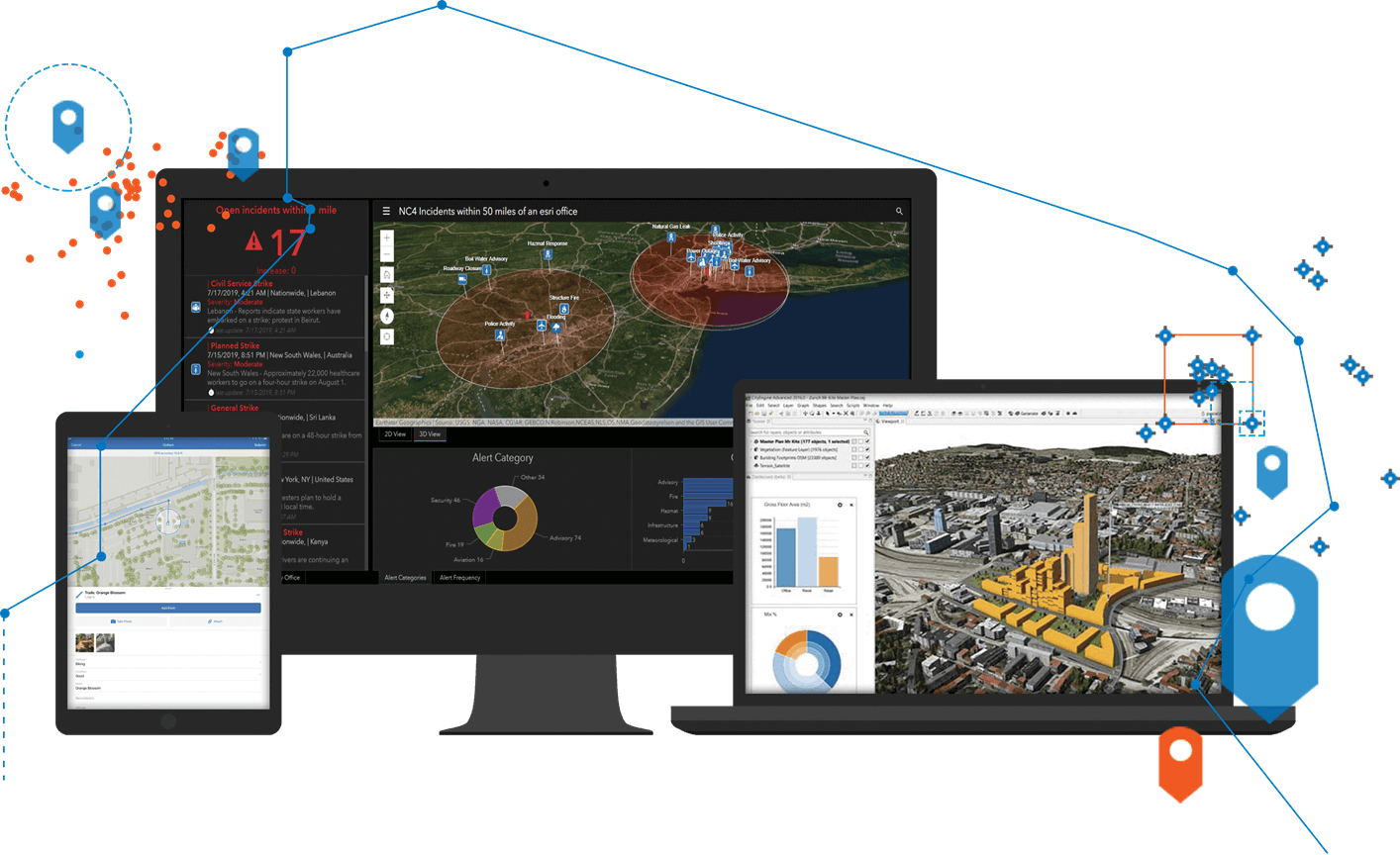 Esri's ArcGIS software offers companies and organizations the ability to leverage location intelligence for corporate security and risk management, which in turn can identify and proactively mitigate against threats before they emerge. With rapid access to authoritative content from disparate data sources, Esri enables businesses to quickly analyze threats and provide real-time insights to decision-makers in one holistic view. See what others can't and uncover patterns to transform your security posture and protect what matters most to your business.
RF Detector
Research Electronics
International Booth #1433
Research Electronics International (REI) introduced the ANDRE Deluxe Near-field Detection Receiver, a hand-held broadband receiver that detects RF signal activity and displays a histogram detailing signal strength over time. The ANDRE Deluxe features an expanded frequency range of up to 12 GHz and several new antennas and probes, including a down-converting directional antenna and an ultrasonic probe to detect sound waves beyond the upper audible frequency range of human hearing. The receiver also includes software features such as data logging and a PC data viewer application for chart generation. The receiver can find hidden electronics, prison contraband, RF emissions, spectrum management, and RF security vulnerabilities.
Door Controller
Continental Access
Booth #225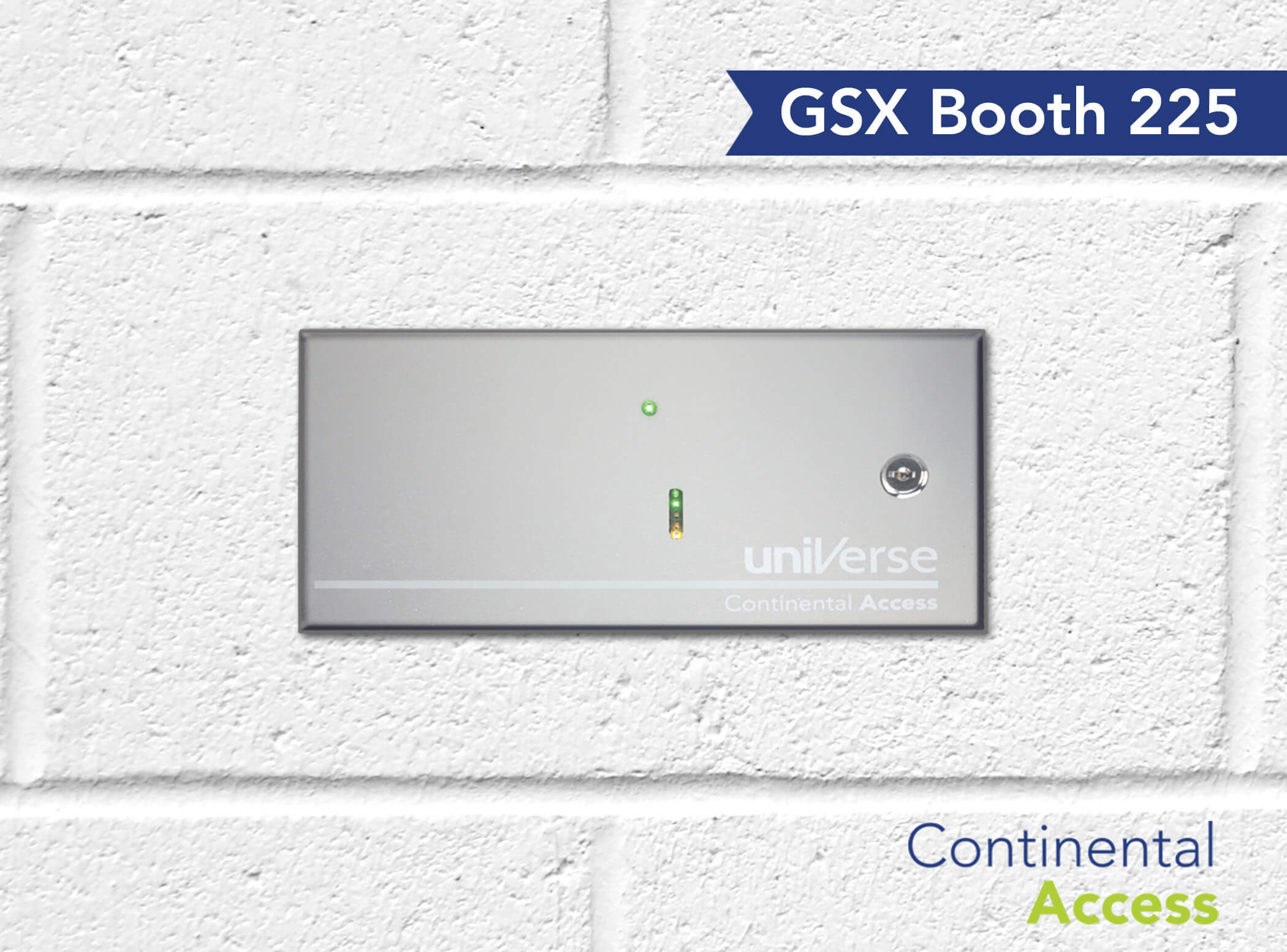 The new Continental Access CICP2100S uniVerse Single Door Surface Mount Controller is ideal for cinder block walls and other hard-to-wire surfaces such as schools and healthcare facilities. Featuring "EZ-learn-networking," it supports two readers on one door and/or one low current strike using power over ethernet (PoE). The controller is IT-friendly, supports PoE or RS485, to downstream 14 controllers on one network drop. Used in the CA4K access control software environment, it can be networked with, or in place of conventional 2-16 Door Supertwo or Accelaterm Controllers, and/or Networx Wireless Access Control Locks. Up to 14 uniVerse controllers can be networked together using RS485 high-speed repeat mode. Continental Access is a division of NAPCO.
Video Management Platform
Salient Systems
Booth #941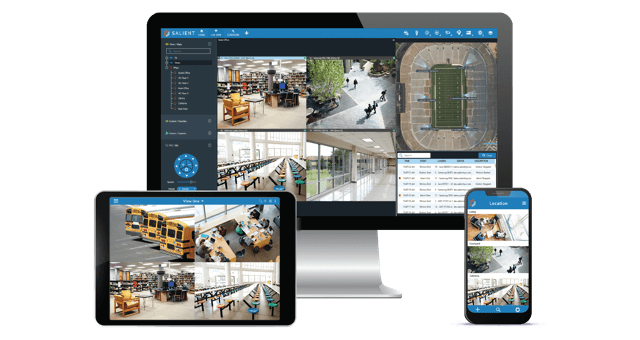 Salient Systems provides comprehensive enterprise video surveillance management systems. The platform provides a full range of applications for scalability, a fully open architecture, ease of use, and a low total cost of ownership. Com- pleteView 20/20, Salient's next-generation video management platform, offers a robust and flexible user-interface. Users can manage and administer enterprise security solutions up to 30 percent faster. Superior command and control tools, seamless third-party integrations, and advanced analytics enable Salient's comprehensive management solution to meet security needs.
ERP Solution
TEAM Software
Booth #669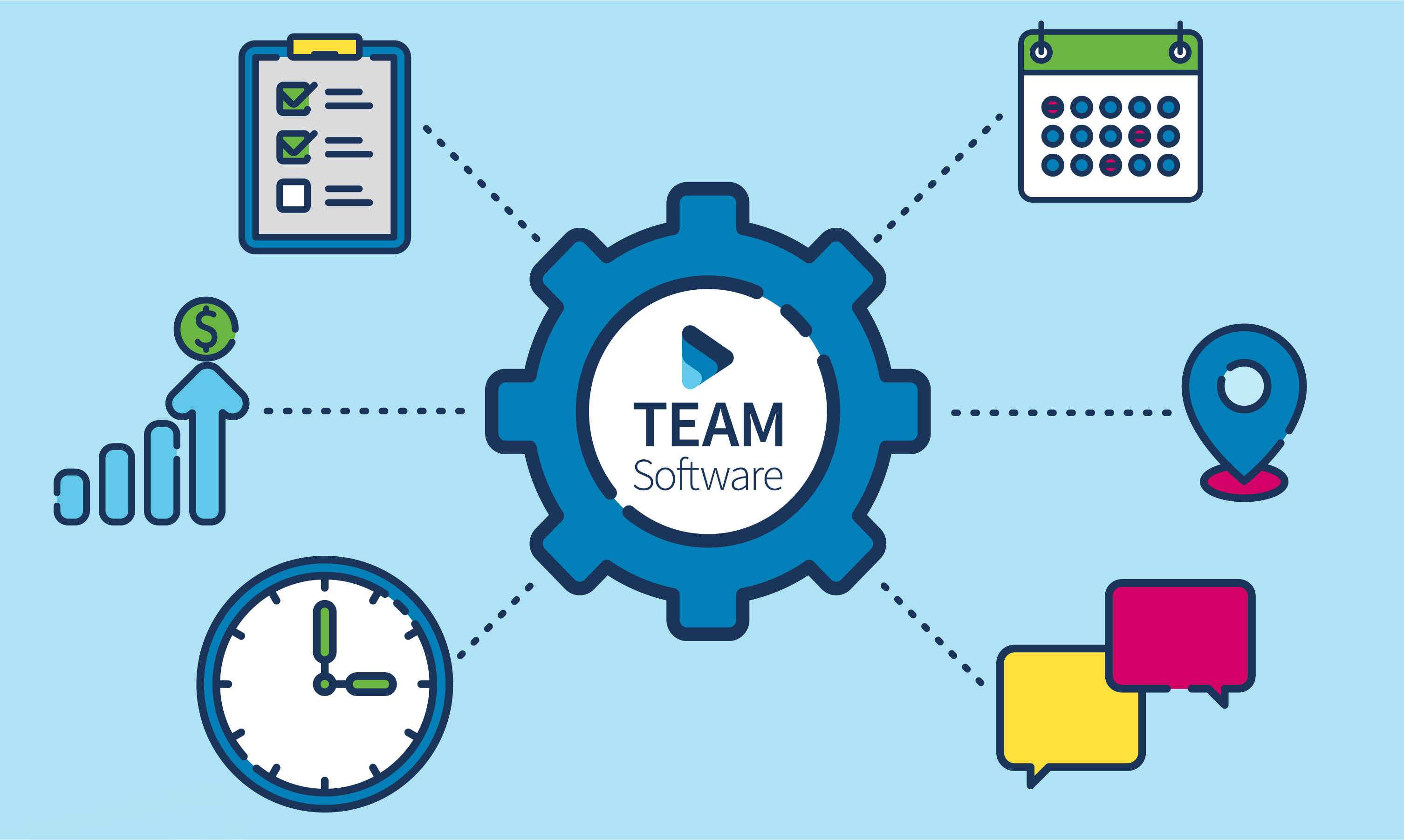 TEAM Software develops WinTeam, an enterprise resource planning (ERP) solution for security contractors. One integrated system drives efficiency, profitability, and growth. WinTeam is designed to provide security contractors with a holistic way to measure performance and automate daily financial, operations, and workforce management. Ensure coverage with qualified officers while keeping costs down by using advanced scheduling tools and mobile capabilities. Drive business efficiency by connecting back-office functions to field workforce productivity. With WinTeam, you can protect tight profit margins with easy to create budgets and more than 100 standard reports to track key business metrics.
Alarm Lock
NAPCO
Booth #225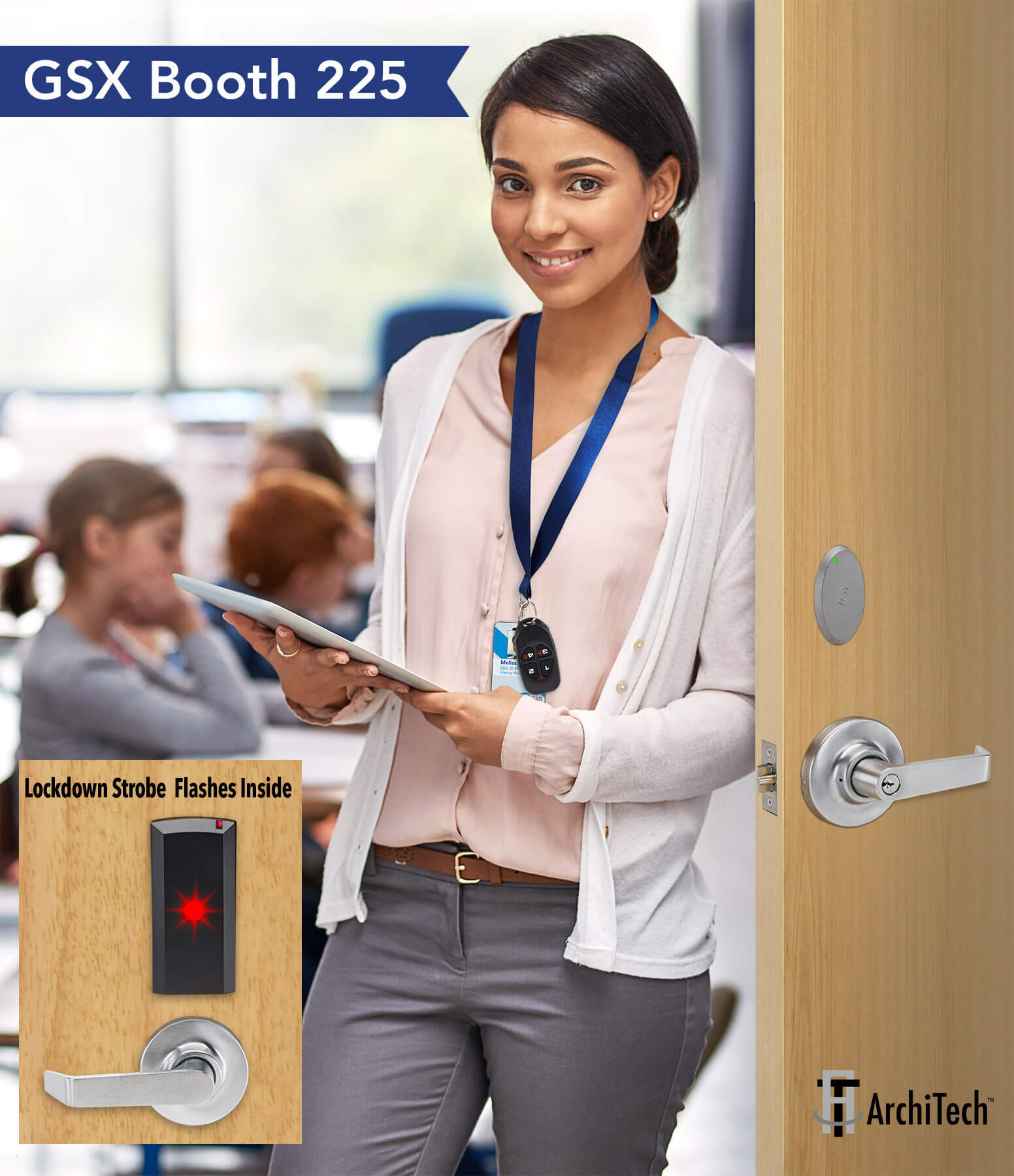 The Architect LocDown N90L Series Wireless Keyless Access Networked Locks from Alarm Lock, a division of NAPCO, feature a lockdown flashing strobe indicator. In an emergency, faculty and staff can remotely press the pocket-sized LocDown keyfob button to lock out unauthorized access, instantly closing off a classroom or area, while occupants remain safely inside. For added peace of mind, the lockdown indicator on the inner door side flashes brightly to indicate it is in lockdown mode. The lock can easily and quickly retrofit any standard door because the lockdown electronics are surface-mounted. Architect cylindrical locks are customizable with choice of lever-handle, multi-technology ID reader shape and finish.
Video Management
Avigilon
Booth #723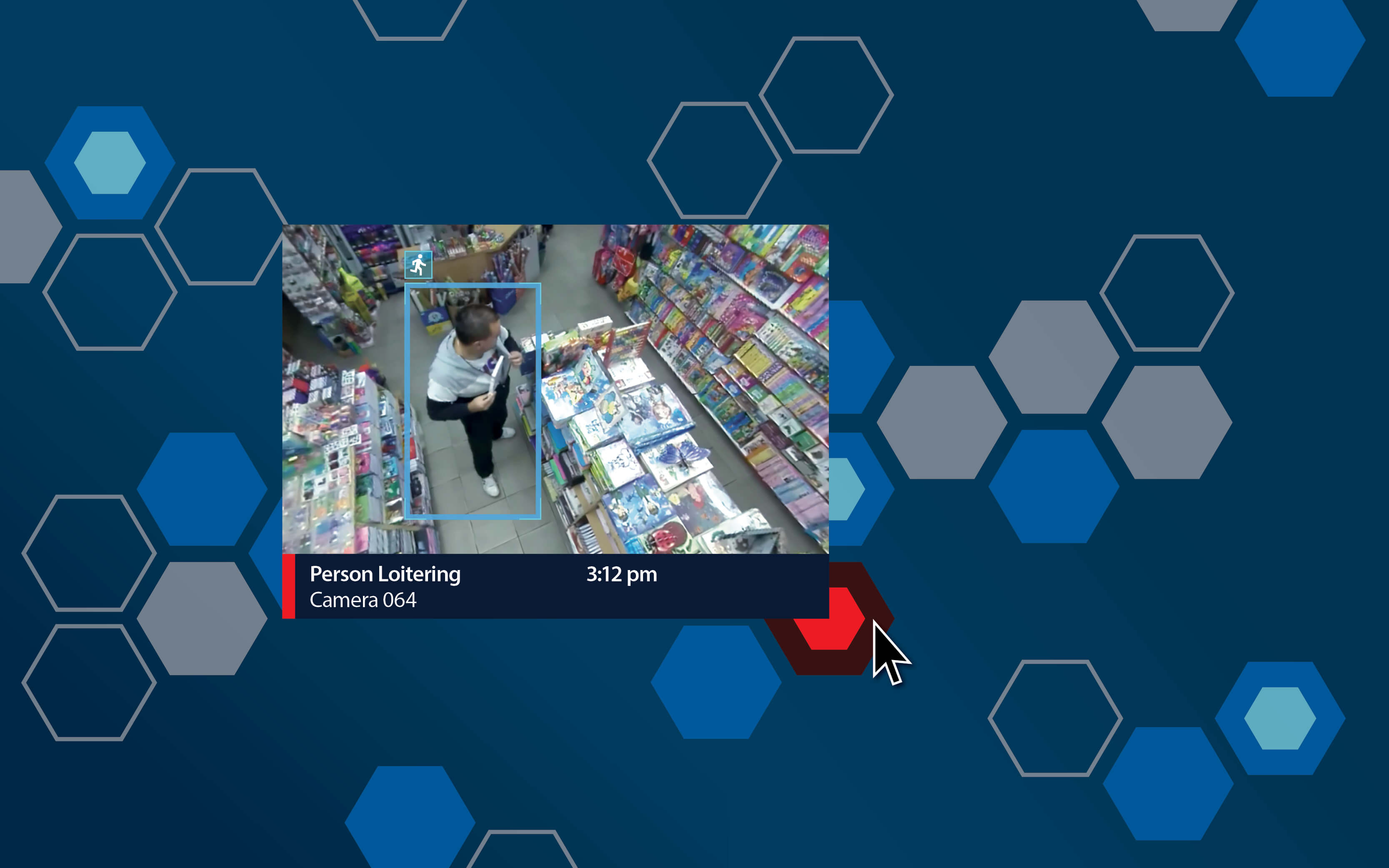 Avigilon Control Center (ACC) 7 is the latest and most advanced version of ACC video management software. By featuring the new Focus of Attention interface, ACC 7 leverages AI and video analytics technologies to filter what information is important and should be presented
to security operators, helping to ensure critical events do not go unnoticed. The interface also features a dark mode, designed with colors that help reduce eye strain in dark environments, such as video security control rooms.
Secure Doorways
Designed Security, Inc.
Booth #714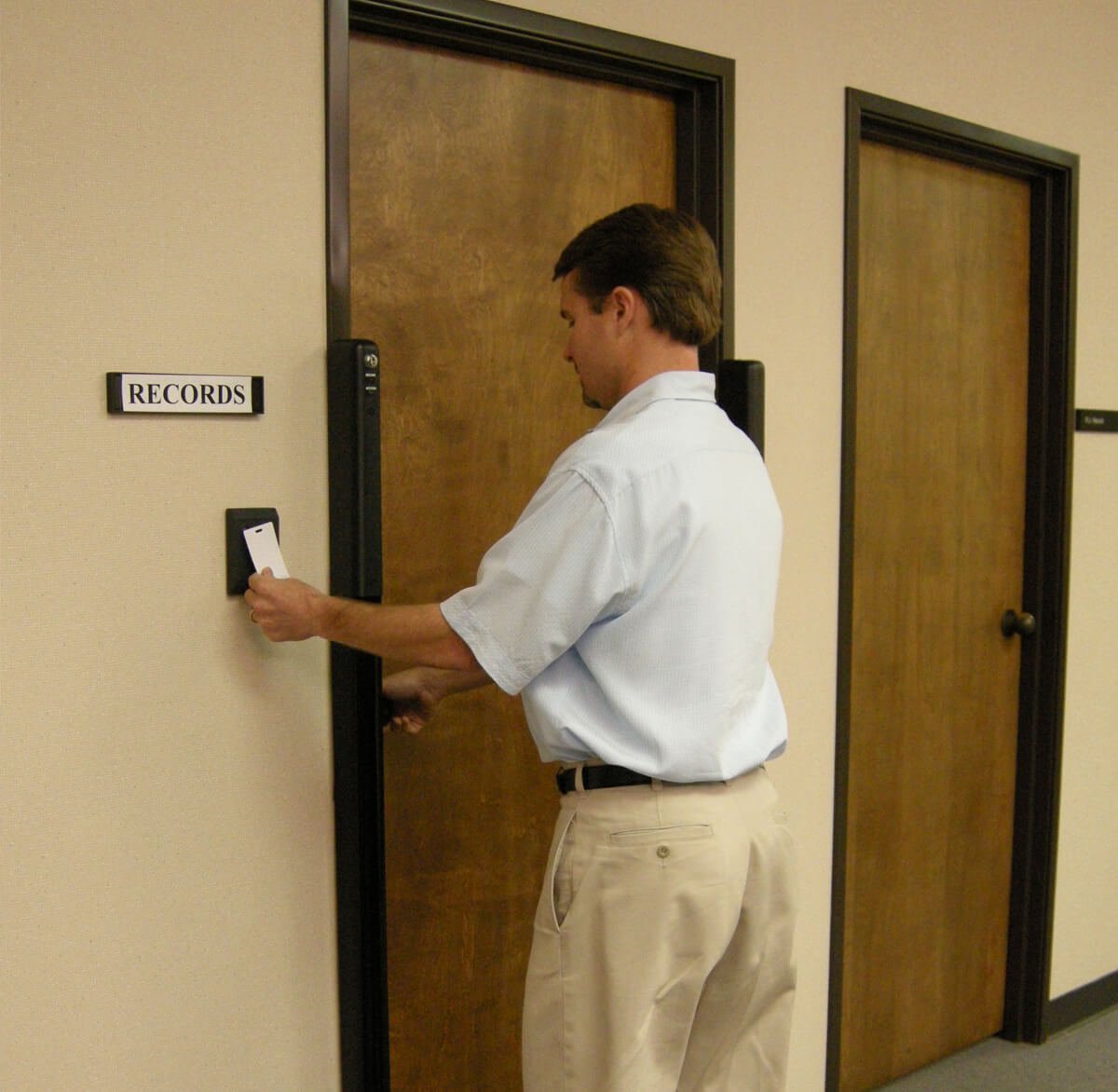 Using proprietary sensing technology to detect direction and tailgating, Designed Security, Inc's, ES5200 Entry Sentry is a unique optical security device. Compatible with all access control systems and card reader technologies, the unit ensures that only one person per valid authorization passes through a secured doorway. The ES5200 Entry Sentry consists of two self-contained, narrow units that can be mounted on doors or walls, which provides local and remote alarm alerts. The unit offers integrated door prop alarm, lock relay, and the option for status indicators on opposite sides of the door. The proprietary sensing technology is used to profile objects as they pass through the secure entry.
Communications
GAI-TRONICS
Booth #2141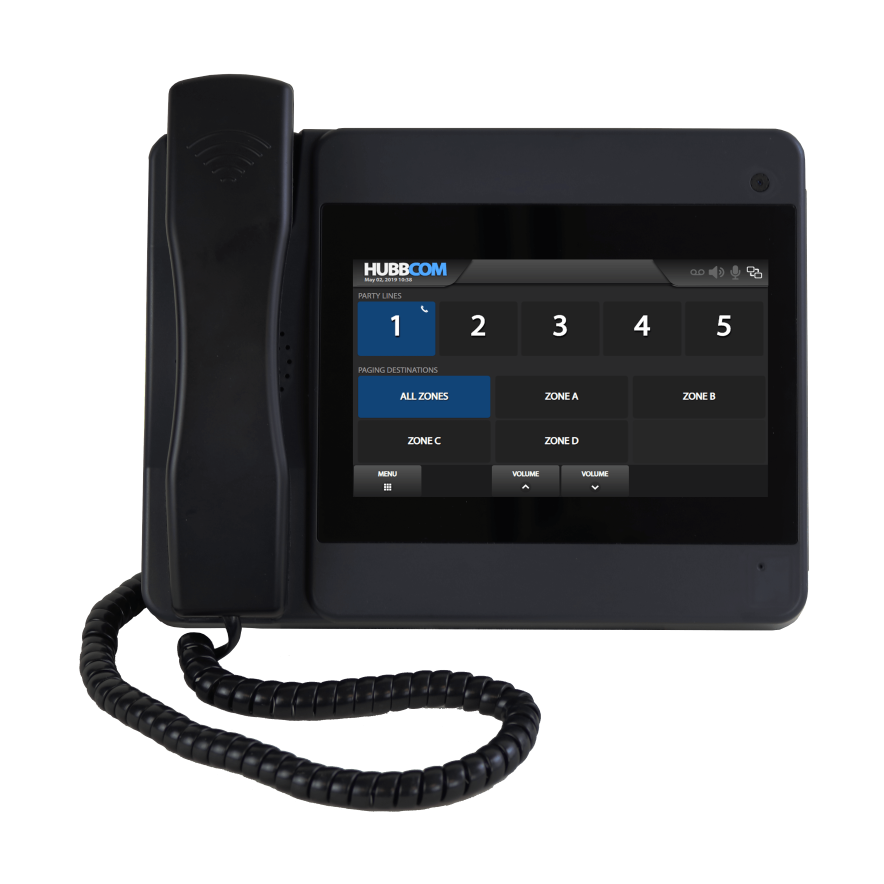 GAI-TRONICS will be featuring its HUBBCOM IP Devices, designed to offer multi-faceted communication and control. The devices provide users with the ability to communicate via SIP telephone or serverless audio/video intercom, whether collaboratively or in emergency situations. Customers can also broadcast messages through their facility's speaker system.
Metal Detectors
Garrett Metal Detectors
Booth #951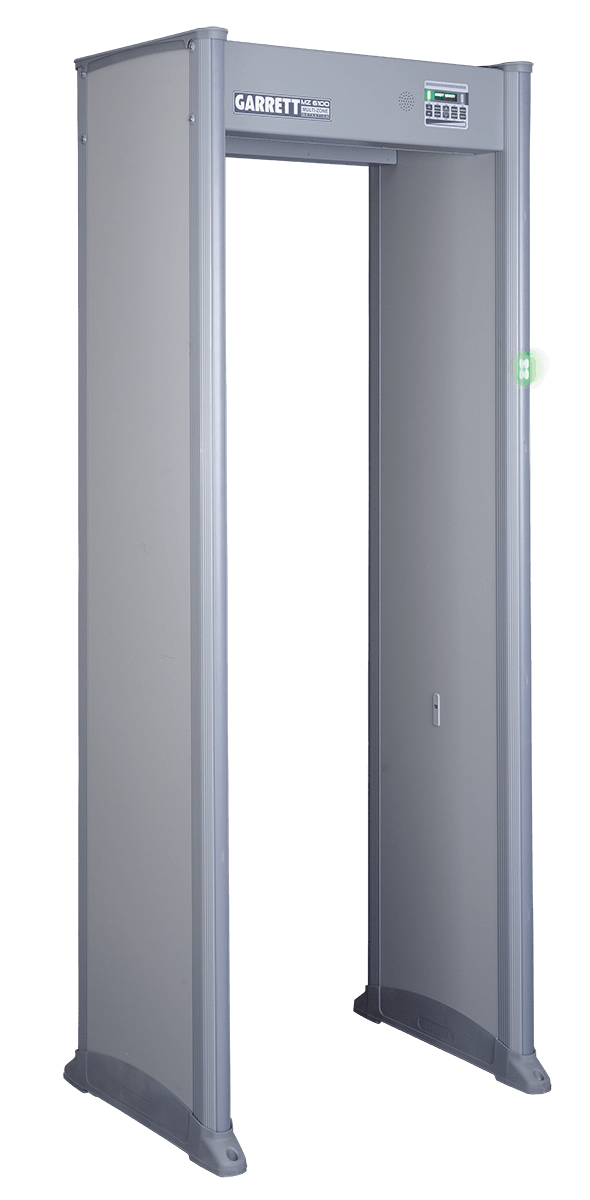 Designed to meet both the advanced performance and budget constraints of schools, special events, loss prevention, mass transit, and other security applications, Garrett Metal Detectors' new tamper-resistant MZ-6100 Multi-Zone walk through unit simultaneously pinpoints the location of one or more metal objects. The MZ-6100, featuring 20 detection zones and bright LED indicators, was designed to be user-friendly for operators. The unit can be fully portable when paired with optional casters and a backup battery, eliminating the need for power cables.
Tailgate Deterrant
Detex
Booth #714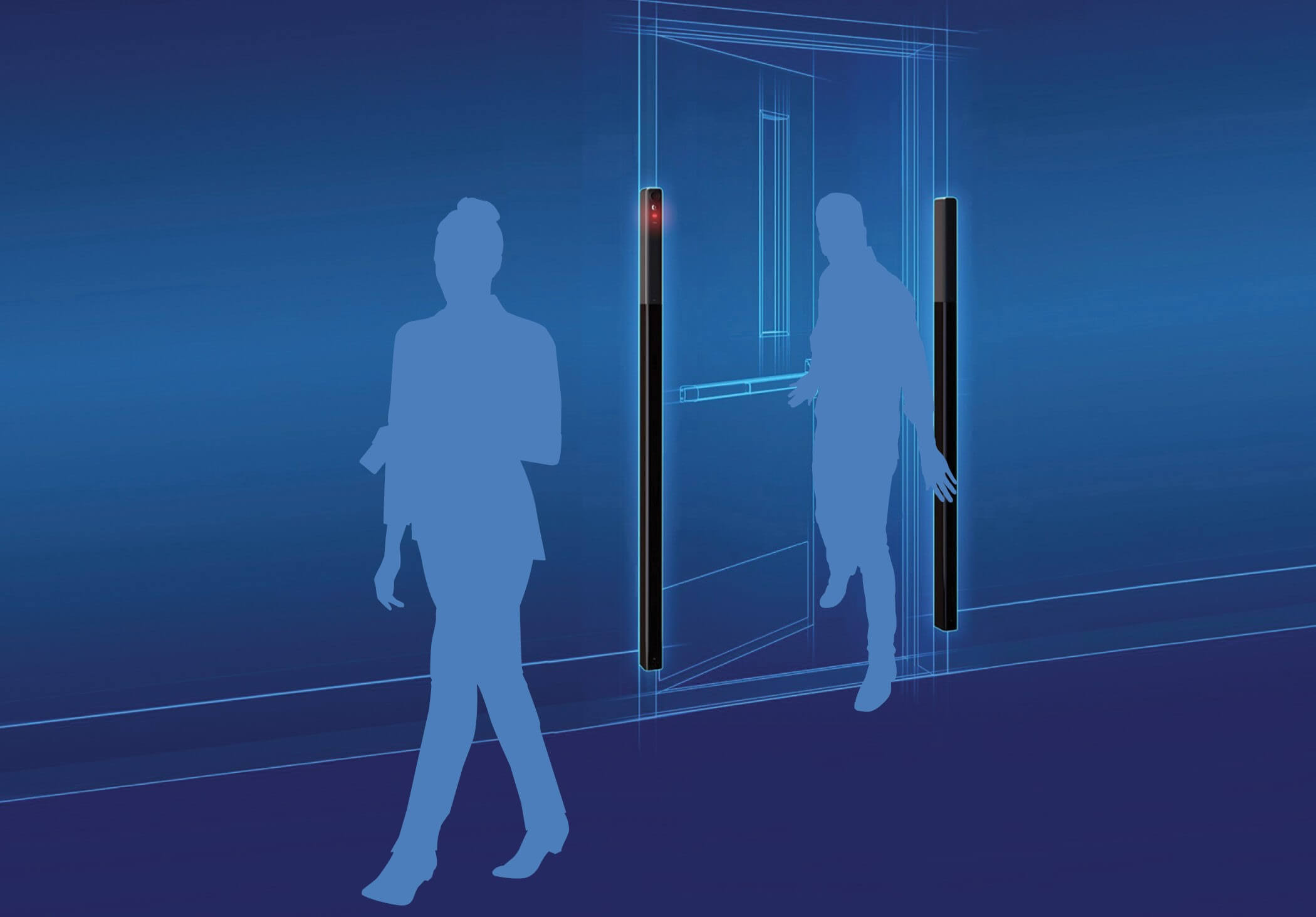 The Detex Tailgate Detection System assures individual entry through a secured doorway, limiting access to one person per authorized card read. The cost-effective optical security solution uses unique algorithms and infrared sensor beams to detect incidents of tailgating. The system offers sleek, unobtrusive hardware for areas requiring tighter security, mounting easily on standard door frames. The level of intervention can be customized with audible alarms or a video record of illegitimate entries. The system is also compatible with most computer-controlled access systems, is easy to retrofit, can monitor entries or exits, and is available with standard, remote, and voice alarms.
Outdoor Security Station
Commend
Booth #1041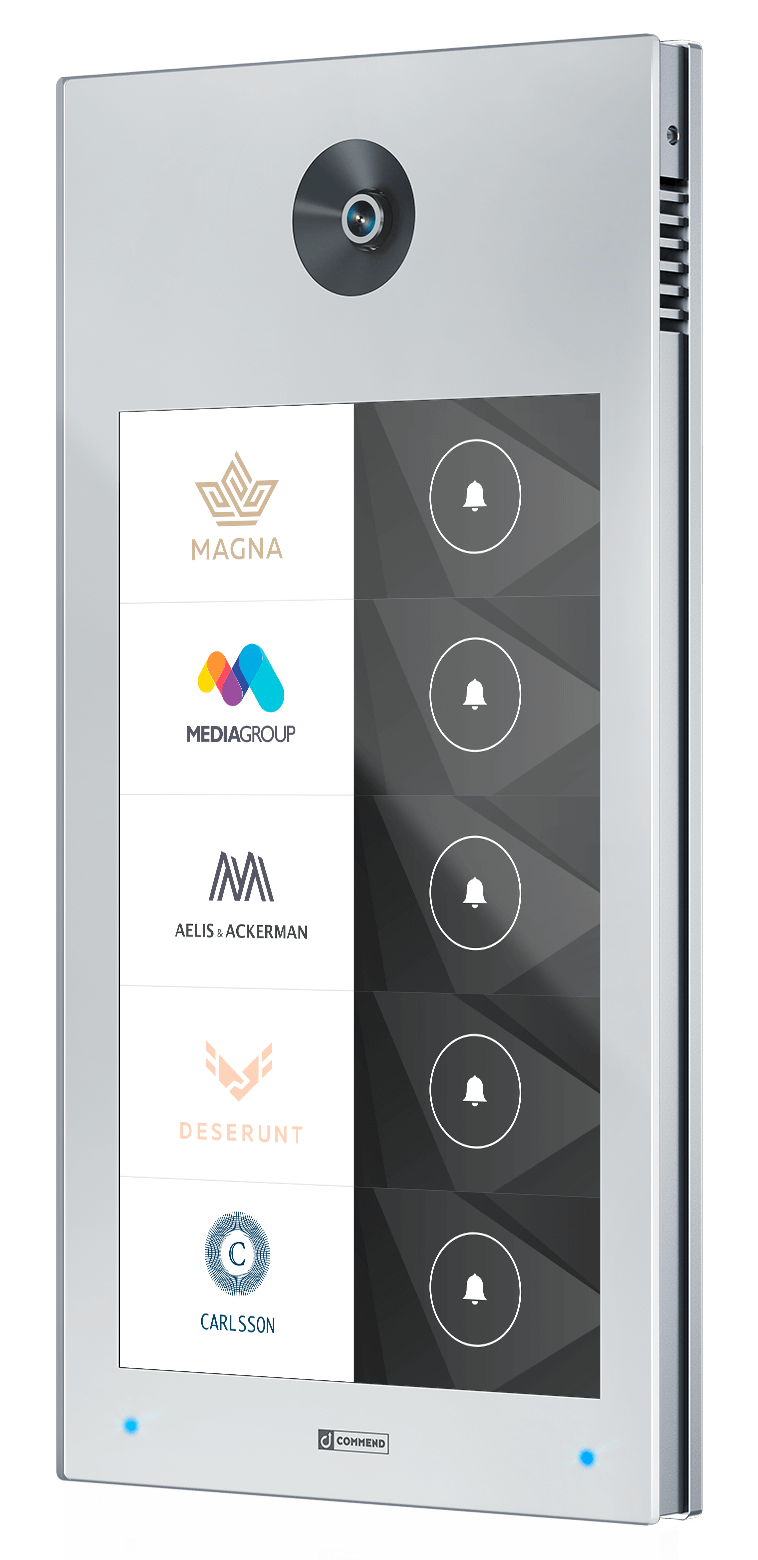 With a 10-inch touchscreen display, daylight compatible display, crystal clear audio, and bidirectional video capability, the Commend OD10 Outdoor Touchscreen Intercom Station offers an advanced security building solution. Part of the company's new CONCERTO Series, the OD10 brings user convenience and adaptability, allowing for a switch between customized welcome information, emergency mode, user information, and guidance.
Surveillance Cameras
Axis Communications
Booth #533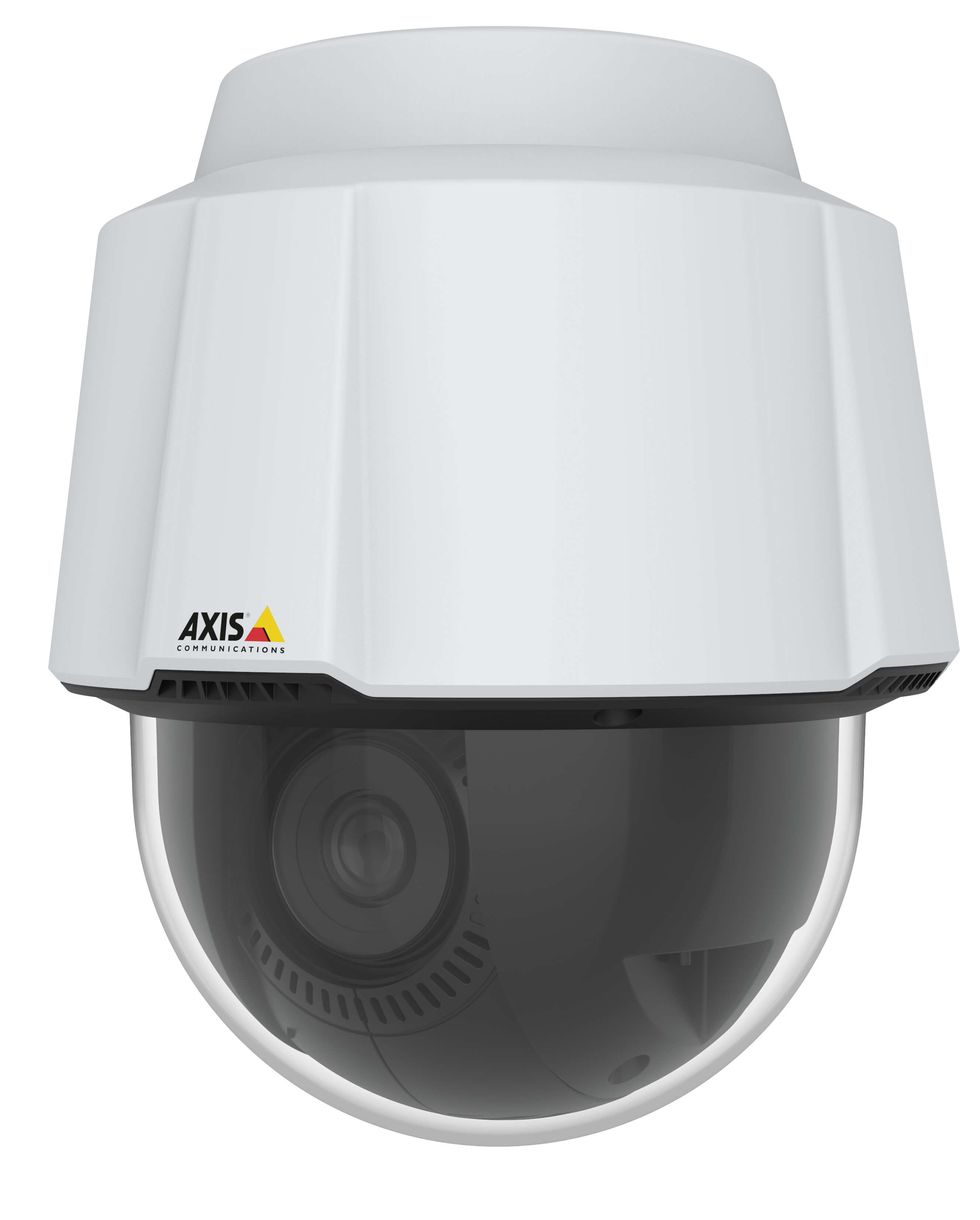 Axis Communications' PTZ camera offers additional security features and extended capabilities for advanced analytics, making it a cost-effective but high-performance option for a wide range of surveillance applications. Featuring a new ARTPEC 7 chipset, the P5655-E PTZ Network Camera also boasts HDTV 1080p with 32x optical zoom, allowing for focus recall, electronic image stabilization, Lightfinder 2.0, and forensic WDR technology.
AI Guard Support
Allied Universal
Booth #523
Allied Universal recently launched HELIAUS, an advanced artificial intelligence platform striving to improve safety and reduce risk by comple- menting on-site guarding efforts. The platform offers advanced workflow automation, data capture and visual- ization, and artificial intelligence with predictive capabilities that can assist in determining better outcomes. With this mobile application, security officers can operate more efficiently and even work to prevent incidents.
Smart Utility Management
ABLOY Security Inc.
Booth #2523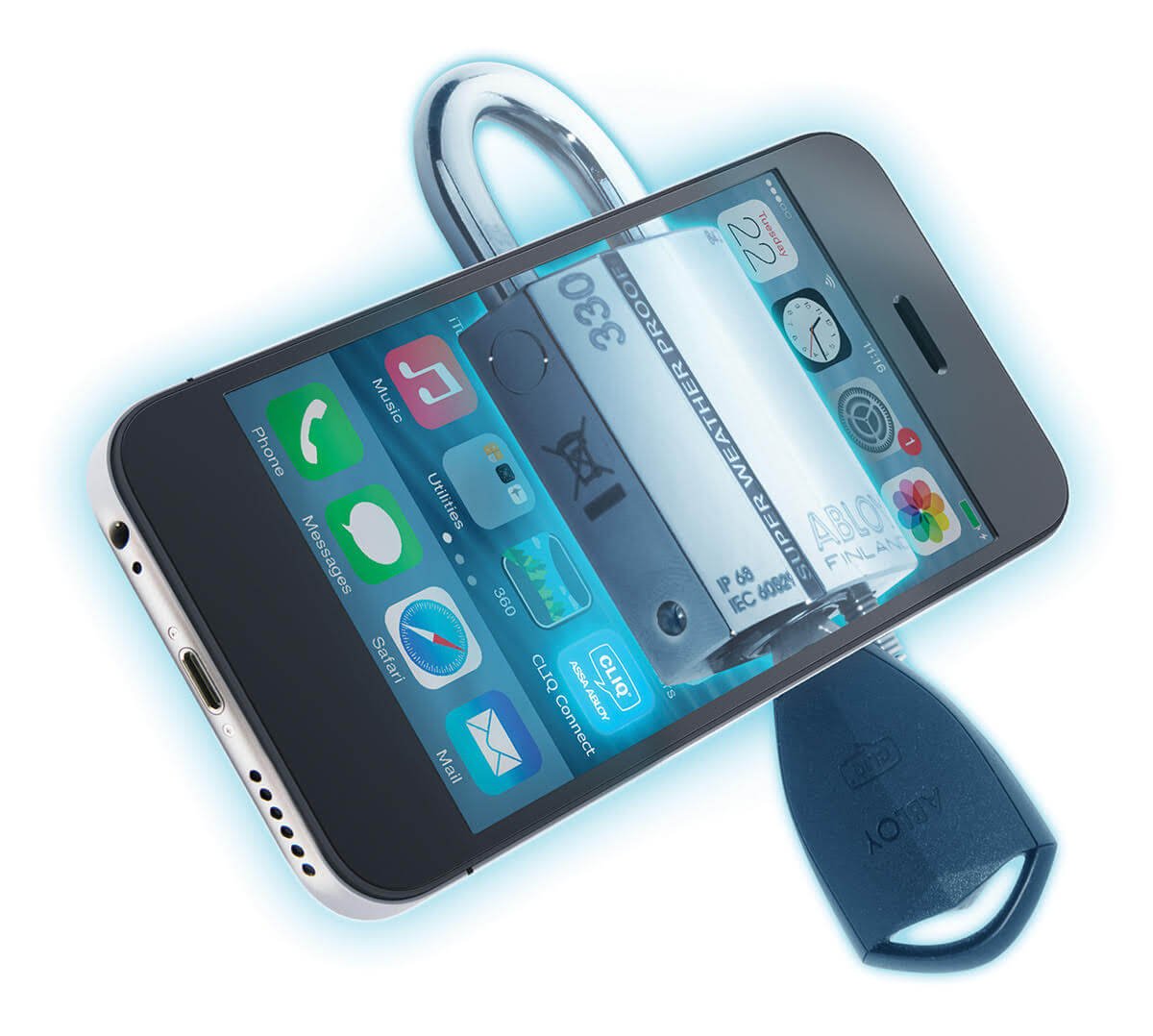 Introduced earlier this year, ABLOY Security Inc.'s PROTEC2 CLIQ Connect offers large utility managers control over their workforces' security permissions, all from a smartphone. This solution also eliminates any concern for lost or stolen keys, because they can now be deactivated remotely without calling for mechanical re-keying. Keys and locks connected to the system provide an audit trail, and critical components are protected for reliable operation during extreme conditions. Facility managers—often already dealing with other aspects of supervising a workforce of hundreds or thousands—can now update, amend, revoke, or renew access rights remotely through the managing software system.
Performance Analytics
TEAM Software
Booth #669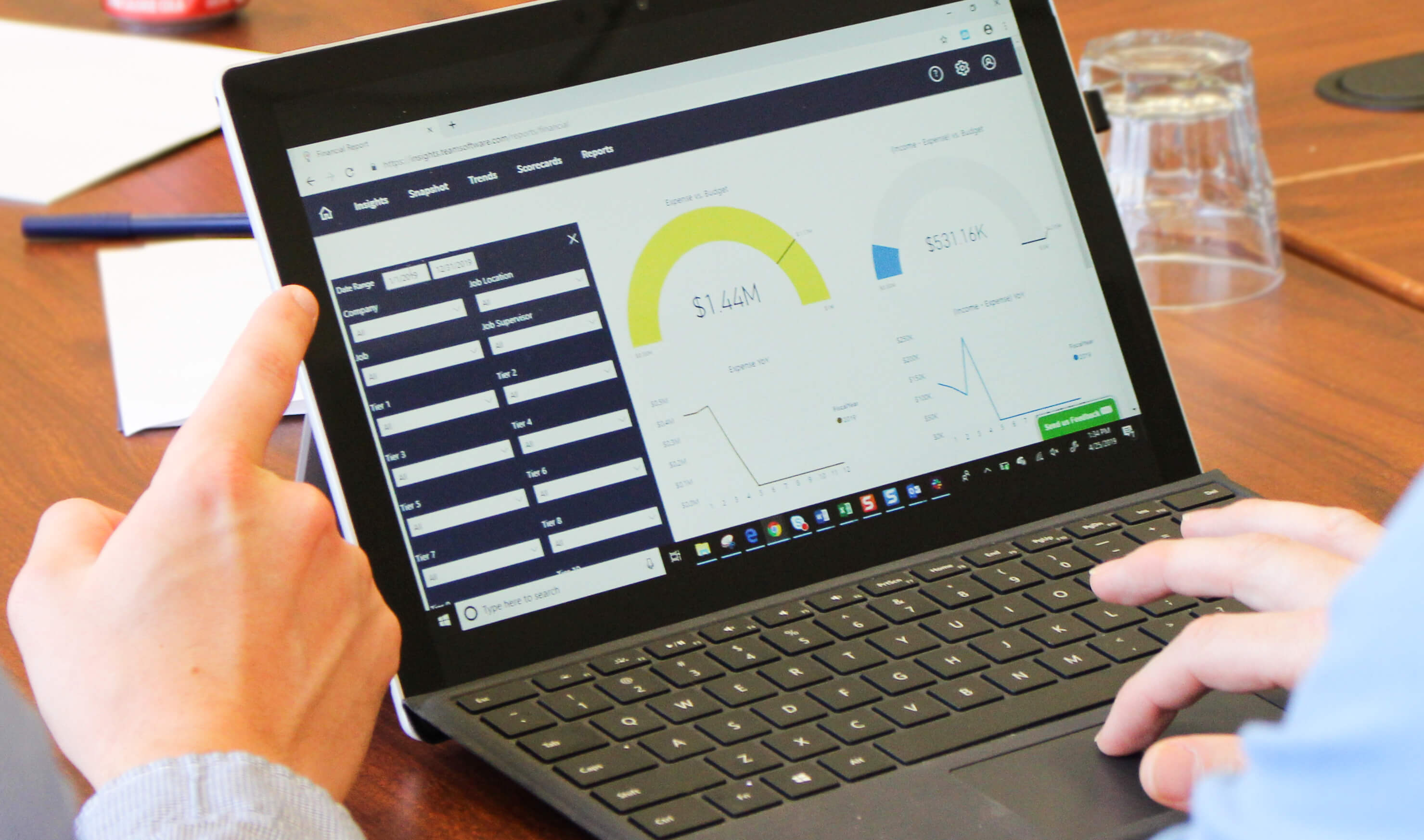 TEAM Software has Insights, an add-on solution to TEAM's holistic enterprise resource planning (ERP). Insights is an advanced data and analytics platform to unlock more value from clients' business data. See key performance indicators in easy-to-read charts and graphs. Review reports and performance scorecards for people, overtime, budgets, and revenue, which help make better business decisions. Set thresholds and create alerts to monitor trends and stay on track with near-real-time updates on financial and operations data. Role-specific permissions ensure the data gets in the right hands at the right time.