Book Review: Homeland Security
​Introduction to Homeland Security: Preparation, Threats, and Response. Edited by Mark M. Lanier and Edmund Sexton. Cognella Academic Publishing; cognella.com​; 2018 pages; $109.95.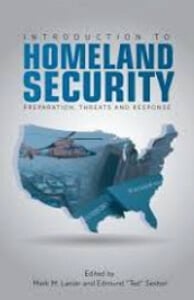 ​Edited by Mark Lanier and Edmund Sexton, Introduction to Homeland Security: Preparation, Threats, and Response is intended to be a beginner-level textbook on the role and functions of the U.S. Department of Homeland Security (DHS). The chapters build three large sections that follow the book's subtitle: Preparation, Threats, and Response. However, the book struggles to flow smoothly from chapter to chapter—each chapter is actually an article or an excerpt from a previously published piece.
These articles vary from one another in both interest and relevance to the overall topic. Earlier chapters on the structure and formation of the U.S. Department of Homeland Security and the history of terrorism are both intriguing and relevant. They frame the historical context and fit well into the narrative of the book. A later chapter that appears to be a research paper on the environmental impact of the Border Patrol seems out of place. A better topic may have been a discussion of the role DHS plays in immigration and border security. The use of articles as chapters also leads to some repetition, where seminal events are discussed as subsections of multiple chapters by different authors.
Perhaps the largest drawback to this book is that it struggles to stay current. The field of homeland security changes rapidly across multiple areas such as threats, technologies, and alliances. Many chapters were originally published in the early 2000s. This leaves gaps in information on recent events, threats, and techniques. The book provides a multitude of references and citations behind each chapter, and some sections also include discussion questions and conclusions.
Overall, the book is an anthology of generally interesting articles that, while not necessarily current, offer solid and well researched information about the early formation and operations of DHS, as well as a thorough discussion of terrorist organizations, their sponsors, and historical development. It would work in an academic setting as a companion to more current material on the same topic.
Reviewer: Yan Byalik, CPP, is the security administrator for the City of Newport News, Virginia, and has worked in the security industry since 2001. He manages the division that is responsible for the security of the city's critical infrastructure. Byalik is the assistant regional vice president for ASIS Region 5A in Southeast Virginia.