Certification Profile: Joseph Souza, CPP, PSP
​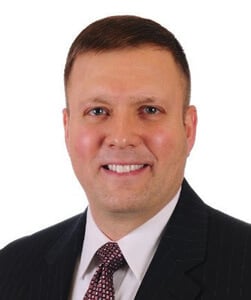 Joseph Souza, CPP, PSP, propelled his security career across several industry sectors. "I've managed government security programs, worked investigations and counterintelligence, directed security operations for a Fortune 500 company, and run security for the largest public university in the United States," he lists. "This profession will never go away, and it evolves constantly."
Following a tour of duty with the U.S. Air Force during the Gulf War, Souza took on a role as a security officer at Hanscom Air Force Base in Massachusetts. After five years there, he advanced into security management.
"Once I started managing, I enjoyed teaching, training, and developing people—especially those in entry-level security positions," he says. In order to help these employees to the best of his ability, he needed to become as knowledgeable as possible in security matters.
He joined ASIS International in 2000, encouraged by coworkers that held leadership positions in the ASIS Granite State Chapter. He enjoyed the education and networking opportunities available through his membership—volunteering in his region and attending conferences.
When he encountered job listings that required applicants to hold the Certified Protection Professional (CPP®) certification, he knew there was only one thing to do—prepare to take the exam.
He attained his CPP in June 2005. After securing a new position as security manager for a Lockheed Martin facility, he earned his Physical Security Professional (PSP®) certification in December 2006.
"I wanted to show that I can think holistically when approaching security topics," he explains. "My certifications demonstrate my knowledge and expertise across many security disciplines."
Souza's expertise was further validated in 2010 when the U.S. Defense Security Service (DSS) recognized the excellence of his Lockheed Martin facility with the James S. Cogswell Outstanding Industrial Security Achievement Award.
As assistant director of security for the University of Central Florida, Souza oversaw the design and construction of the university's first Global Security Operations Center (GSOC). His efforts to modernize the campus's security were spotlighted in the June 2018 issue of Security Management.
Newly hired as security director for the University of Florida, he is revamping security at another large university. He expects his small team of seven to grow to nearly 30 in the next year. He credits his certifications' continued education requirement for allowing him to stay at the top of his field and earn the buy-in of the C-suite to expand his security teams.
"It's not enough to simply run a physical security checklist. You must understand things from a business perspective and be a value-added member of the management team," he adds.
Souza supports fellow security professionals in pursuing ASIS certification and has led weekly study groups. "It isn't an exam you can just cram for and pass," he concludes. "Give yourself enough time, study, and adopt these practices into your work. And don't get discouraged if you don't pass the first time. If it were easy, everyone would do it."
Profile by Steven Barnett, ASIS communications coordinator