Book Review: Global Security
Global Security.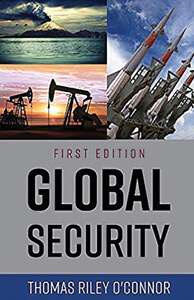 By Thomas Riley O'Connor. Cognella Academic Publishing; cognella.com; 386 pages; $88.95.
Gathering literature on various disciplines, topics, and theories from an array of established sources, Global Security presents a comprehensive study of the title subject. This work is well-researched and demonstrates the varied aspects of worldwide issues that affect security. Author Thomas Riley O'Connor's background in criminology brings a unique perspective to the diverse areas of discussion.
Each chapter contains a brief summary, an overview of the topic, an introduction, and another overview of a specific vital issue covered in the chapter. Chapters conclude with questions on the subject matter discussed. For example, Chapter 8, "Cyberspace and Cybersecurity," discusses the digital age of information in general terms with a focused discussion on cybersecurity including a historical perspective, crimes, and prevention.
Other chapters encompass the worldwide security impact of finance, health, war, human rights, climate change, immigration, and terrorism. The section on crime traces the theories of criminology and shows how criminology relates to terrorism and mass shootings.
References for further study are cited throughout each chapter with more than 35 pages of these resources detailed at the conclusion of the book. The book also includes a comprehensive glossary of terms to assist the reader in understanding some of the concepts mentioned in the chapters.
Although suitable for any global security administrator, this book would be ideal as a textbook for a university course in security, criminology, criminal justice, or sociology. It tackles complex concepts that require considerable concentration for meaningful understanding. Nevertheless, anyone taking the time and effort to read this book will be substantially rewarded with a greater knowledge and understanding of the assortment of international issues affecting global security.
​Reviewer: Jack F. Dowling, CPP, PSP, is president of JD Security Consultants, LLC, in Downingtown, PA. He taught in the College of Criminal Justice and Security at the University of Phoenix and is a member of the ASIS Commercial Real Estate Council. He serves on various committees of the ASIS Commission on Standards and Guidelines.