Book Review: Anthrax Attacks
Recounting the Anthrax Attacks. ​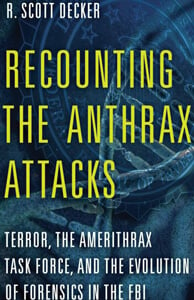 By R. Scott Decker. Rowman & Littlefield; rowman.com; 308 pages; $38.
Those who want to know the behind-the-scenes story of the Anthrax case that shook the nation shortly after the 9/11 terror attacks should read this book. It is an excellent read, told from the perspective of the primary FBI agents involved in the investigation into the Anthrax mailings in 2001. Recounting the Anthrax Attacks tells the story of the events leading up to and involving the mailing of Anthrax to prominent persons within the United States.
Author R. Scott Decker, who led the FBI investigation, recounts the story from the first Anthrax mailings until the investigation's conclusion in 2008. The main characters are the FBI agents involved in the investigation and prosecution of the man identified as the perpetrator of the mailings. Their story is intertwined with the history of the FBI Hazmat Unit and how it evolved during the Anthrax investigation. The book also delves into developments in scientific identification of the hazardous material's DNA to determine the Anthrax strain used in the mailings.
This book should be read by all security professionals who could be involved in a weapons of mass destruction incident. It provides a detailed account of how the FBI investigates criminal activity related to mass casualty incidents. Its only drawback is the excessive detail of the science involved in identifying the DNA, which is best understood by someone with an advanced scientific background. However, this does not deter from the narrative of the investigation and the determination of the person responsible for the mailings.
The book includes photos of the actual evidence collected by the FBI, along with the story behind its collection and use as evidence related to the prosecution of the suspected terrorist. Overall, this book tells a great story, recounting the accomplishments of the FBI, as well as difficulties that arose during the investigation. It chronicles a remarkable effort by the FBI and examines some groundbreaking technology that has changed how law enforcement narrows down potential suspects.
​
Reviewer: Bernard Scaglione, CPP, CHPA (Certified Healthcare Protection Administrator), is director of healthcare security services for DVS Security Services. He is a member of the ASIS International Healthcare Security Council and the ASIS Crime Prevention Council.