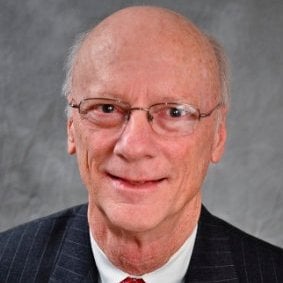 Pat King
Senior Consultant
Sunstates Security, LLC
Pat King thought serving in the Air Force during the Cuban Missile Crisis was the closest he would ever be to guns and violence—that is, until a gunman opened fire at his workplace in Research Triangle Park, North Carolina. Pat was the brand-new head of administrative services and security management at what was, at that time, IBM's largest plant. He and his team were responsible for dealing with the gunman.
In the wake of this shooting tragedy and other incidents of workplace violence around the country, Pat was tasked with determining what had gone wrong and creating a plan to address the causes and effects of similar incidents. As he accessed the collective knowledge of a broad network of active and committed security professionals to help him solve this challenge, Pat realized the extraordinary value of his ASIS membership.
Pat found value in membership from his first ASIS meeting and has continued to experience a return on his investment throughout 32 years of ASIS membership. ASIS members, he said, "have so much more knowledge about security than I'll ever have. One person's experiences and education can't compare to the vast amount of information a group of seasoned professionals can share. "With ASIS, I have a brain trust at my fingertips."
ASIS has supported Pat throughout moves and career changes, as he became involved with ASIS chapters everywhere he went. Pat considers himself an ASIS champion now, as he aims to give back to the organization by revitalizing chapters and rallying support for events. In his retirement, he's taking his ambassadorship a step further. Partnering with a professor at a large North Carolina. university, Pat is helping students learn about ASIS and how to network. In return, those students who show a commitment to the security industry receive a year of sponsored ASIS membership. Through this effort, Pat is helping young professionals learn the value of networking and membership in organizations that can help shape their careers at the onset of their professional lifecycle, instead of having to learn the hard way as he once did.
Pat says that every security professional has one mantra: "I have to protect my people." With ASIS membership, you harness the power of thousands to help you fulfill that mission.
"With ASIS, I have a brain trust at my fingertips."
Pat King
Sunstates Security, LLC