Securing Houses of Worship
Featured Resources: Securing Houses of Worship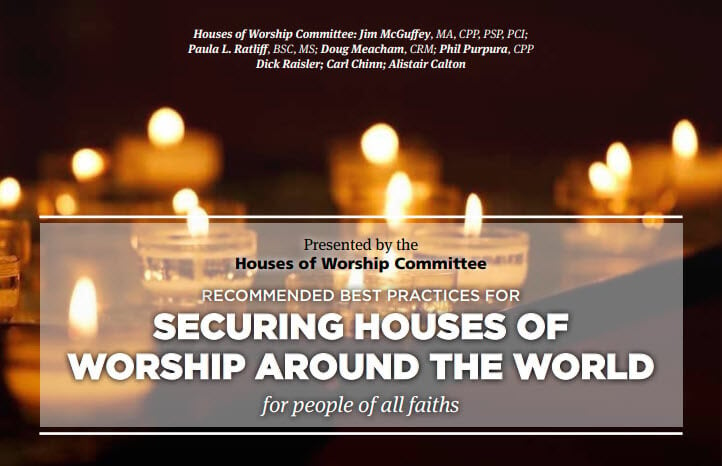 Media reports confirm what many citizens know: hate crimes are on the rise around the world. Incidents targeting religious institutions and houses of worship are especially troubling, and governments are taking action.
ASIS Cultural Properties Community
This online community open to ASIS Members aims to serve as the leading resource for education, outreach, and suggested protection for institutions dedicated to the preservation, presentation, and stewardship of cultural resources.
Hostile Surveillance Detection for Houses of Worship
We often come and go from our Houses of Worship (HOW) with very little thought about who may be watching our activities. If we have implemented basic security precautions, we are probably comfortable in our setting. However, we need to step it up a notch if we are going to detect hostile surveillance at your facility.
Additional Securing Houses of Worship Resources
Securing Cultural and Religious Sites Amid Global Conflict
Interview
Alejandro Liberman, CPP, explains how global conflicts and incidents can have repercussions at cultural properties and religious sites half a world away—such as when conflicts in Israel trigger spikes in anti-Semitic vandalism or violence in Argentina or the United States.
Security Snapshots Interview, July 2021
Preparing a Security Response Plan for Houses of Worship
Document
This document is aimed at all sizes of faith communities from those numbering only a few dedicated individuals up to modern mega communities with hundreds or even thousands of members and whilst some of the more robust security measures that are outlined may not be appropriate for all, they are applicable for those where risk levels warrant their application
Cultural Properties Community – Houses of Worship Sub-Committee, November 2020
How to Safeguard Children in Houses of Worship
Article
Security professionals can help houses of worship implement procedures to protect children from predators
Security Management, November 2020
A Security Survey for Houses of Worship
Survey Template
A supplement design instrument for crime prevention for Houses of Worship.
Security Management, 2015
Open Doors, Secure Spaces
Article
Bold Believers Church of Christ in Dayton, Ohio, strives to maintain a hospitable, welcoming environment for people coming through its doors, but it also keeps an eye out for people who don't have good intentions.
Securing a Sanctuary
Article
Today, Chabad has more than 3,000 community centers, synagogues, schools, and other facilities in approximately 70 countries. One of these was Nariman House, a site targeted by Pakistani militants in November 2008 during the horrific attacks in Mumbai, India.
To Ensure a Safe Haven
Article
When the 15-year-old access control system at Calvary Chapel Fort Lauder­dale (CCFL) in Florida began to fail, Senior Systems Administrator Benny Brown knew it was time for a change.
Soft Targets, Hard Challenges
Article
Soft targets pose a particularly difficult protection challenge. Take, for example, the 2017 Las Vegas shooting, when concertgoers enjoying a music festival at the Las Vegas Village open performance venue suddenly became targets for an active shooter firing more than 1,100 rounds from his hotel suite.
Security Beyond Sunday
Article
Christ Community Church (CCC) in St. Charles, Illinois, about 45 miles west of Chicago, doesn't just open its doors in time for Sunday morning services. Thousands of people traverse its campus each week to participate in a variety of activities.
Houses of Worship Security Funding Extends Beyond Grants
Article
Houses of worship around the world are built on a foundation of openness, accessibility, and hospitality to guests and congregants alike. However, recent terrorist attacks on churches, mosques, synagogues, and other religious institutions are forcing congregations to rethink their security posture.
Protecting Houses of Worship: Evolving Threats in an Ever-Changing Landscape
Webinar
Acts of domestic terrorism are again in the headlines, starkly confronting us with the relentless growth of violence against ordinary citizens who are targeted for practicing their religion.