Physical and Cybersecurity Integration
Featured Resources: Physical and Cybersecurity Integration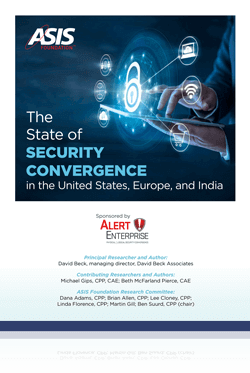 The State of Security Convergence in the United States, Europe, and India
The Executive Summary from the ASIS Foundation study sponsored by Alert Enterprises describes the relationship between cybersecurity, physical security, and business continuity functions in organizations and the extent to which the three functions work independently, two of the three are converged, or all three are completely converged. The research also explores necessary success factors in creating a high-functioning integrated enterprise risk model, from both organizational and strategic perspectives.
Using survey responses from more than 1,000 security leaders in the U.S., Europe, and India, plus more than 20 follow-up interviews, the study provides a 'current state' of the relationship among physical security, cybersecurity, and business continuity.
On-Demand Webinar: 2021: The Year of Convergence
This on-demand webinar (free for ASIS members) provides insights on why today's multi-layered and sophisticated security threats require a unified defense and offense.
---
Four Steps for Getting Started with CMMC Compliance
This Security Management article examines physical and cyber compliance issues for companies who do business with the U.S. Department of Defense.
---
Mastercard Takes a Unified Approach to Security
With a converged security team, Mastercard is taking a unified approach to addressing risks and educating its workforce to reduce threats.
Additional Physical and Cybersecurity Integration Resources