Physical and Cybersecurity Integration
Featured Resources: Physical and Cybersecurity Integration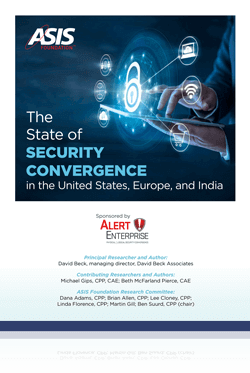 The State of Security Convergence in the United States, Europe, and India
The Executive Summary from the ASIS Foundation study sponsored by Alert Enterprises describes the relationship between cybersecurity, physical security, and business continuity functions in organizations and the extent to which the three functions work independently, two of the three are converged, or all three are completely converged. The research also explores necessary success factors in creating a high-functioning integrated enterprise risk model, from both organizational and strategic perspectives.
Using survey responses from more than 1,000 security leaders in the U.S., Europe, and India, plus more than 20 follow-up interviews, the study provides a 'current state' of the relationship among physical security, cybersecurity, and business continuity.
On-Demand Webinar: ASIS Foundation Research on Convergence: A Deeper Dive
This on-demand webinar (free for ASIS members) looks at how organizations define convergence, what drives the convergence decision, and what models of convergence organizations have successfully deployed.
---

How to Bridge the Gap
This Security Management article examines how a presidential executive order required physical and cyber functions to work together.
Additional Physical and Cybersecurity Integration Resources
What Poker Taught One Expert About Cybersecurity
Article
Tarah Wheeler shares her thoughts on convergence and responding to security incidents at GSX 2019.
Security Management, December 2019
Security Convergence in the U.S., Europe, and India: Survey Results
Webinar
Martin Gill and Michael Gips present findings from the ASIS Foundation research.
Free on-demand webinar, registration required.
Digital Threats to High Value Targets Pose Physical Security Risks
Article
The threat of compromising someone's digital security to create a physical threat to an individual or an organization is on the rise.
Security Management, June 2019
Leveraging IT for Security: The Evolution of Continuous Assurance, Automation & Presence Control
Webinar
Much of IT-Physical Security work is about applying physical security concepts to secure IT. This webinar flips that script and discusses how concepts from IT can improve physical security systems.
On-demand webinar, fee required.
An Overview of the NIST Cybersecurity Framework
Webinar
Using the NIST framework to align physical and cyber security professionals.
On-demand webinar, registration and fee required.
Building a Unified Approach to Cyber and Physical Security
Webinar
From cyberthreats that lead to safety threats, to information breaches that facilitate theft, a sophisticated security operation must have visibility across the entire risk landscape.
Free on-demand webinar, registration required.
Top Five Challenges for Managing Cybersecurity Risk
Article
Areas where using trusted identity management techniques can reduce cybersecurity risk.
Security Management, December 2018
Current and Future Threats
Podcast
Scott Klososky, founding partner of Future Point of View, offers his perspectives on the changing technology landscape and its convergence with both physical and cybersecurity.
Security Management Podcast, March 2018