While ASIS helps security professionals at every stage of their career, ASIS recognizes that our next generation of professionals represents the future of the profession. Each month, the ASIS blog features a Q&A with a NextGen member within our membership and share their unique perspective on a range of topics ranging from industry trends, and the value of ASIS membership to professional development. This month's blog features Oleg Kachko.
Learn more about the ASIS NextGen Community and get involved today.
Q: As a young professional, what do you think the future of security holds?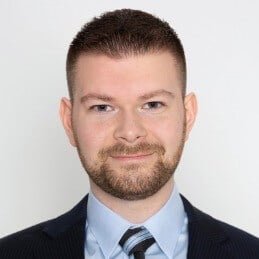 A: As a young professional, it is evident that the future of security holds significant developments in all facets. The security guarding industry is expected to undergo significant transformations in the future due to advancements in technology. For example, the integration of surveillance drones, wearable devices, and AI-powered analytics will increase the efficiency in surveillance capabilities of security operation centers. Training programs for guarding will adopt more of a technologically hybrid approach to develop skills to use these evolving resources. It is my belief that collaboration among security companies, technology providers, and law enforcement will increase to combat the geopolitical and socioeconomic threats which evidently are on the rise. On the topic of physical security, it too will continue to evolve, integrate, and streamline technologies like facial recognition and biometrics. Cybersecurity will continue to be a major concern with advancing technology, requiring more sophisticated defense mechanisms like AI and ML. Overall, our role in the security industry is to continue staying proactive, staying informed, and prioritizing the client experience more than ever.
Q: How can young professionals stand out in the industry?
A: To stand out in the security industry, young professionals can take several steps. By staying curious and committed to learning, it will help one keep up with industry trends. Taking a specialization in a particular area of security, such as emerging technologies, can make young professionals valuable with a unique set of expertise. I suggest building a network of security professionals by attending industry events, joining organizations, and connecting with colleagues/mentors who can provide valuable insights. Another way to stand out is by seeking out challenging assignments which can allow you to showcase your skills and demonstrate potential. Do not turn down leadership opportunities and participate in cross-functional teams, where you demonstrate your ability to drive results and contribute to the organization's growth. Last but not least, building a professional online presence through platforms like LinkedIn helps to further expand your network with industry professionals and enhance your professional brand.
Q: What opportunities exist for young professionals in the security industry?
A: The security industry provides numerous opportunities for young professionals. Security positions, such as guarding, managing access control systems, and implementing surveillance technologies, offer the chance to provide the safety of individuals and property. Risk management and compliance professionals is another field that helps organizations identify vulnerabilities and mitigate risks. A role as a security consultant offers valuable insights and support to enhance the overall security frameworks for clients. Cybersecurity roles, including network security, ethical hacking, data protection, and threat intelligence, are in high demand as organizations strive to protect their digital assets. With the rise of the Internet of Things (IoT), specializing in IoT security becomes increasingly important to secure connected devices. Embracing these challenges and staying up to date with emerging trends will lead to a rewarding and fulfilling career in the diverse field of security, no matter which route you decide to take.
Q: How has your involvement in ASIS International helped your career?
A: Being involved in ASIS International has been a game-changer for my career. Through ASIS , I've had the privilege of connecting with a vibrant community of security professionals and industry experts. The networking opportunities have been invaluable, allowing me to establish meaningful connections and build relationships. ASIS has been an incredible source of knowledge and education, keeping me at the forefront of industry trends and best practices. Their publications, research reports, and educational programs have expanded my knowledge base, ensuring that I stay current in this ever-evolving field. I can confidently say that ASIS has played a pivotal role in shaping my career trajectory.
arrow_upward