Lawmakers Mark Second U.S. Capitol Attack Anniversary as Investigations, Security Improvements Continue
Lawmakers gathered on the steps of the U.S. Capitol Friday morning to mark a moment of silence on the second anniversary of the 6 January 2021 attack when a mob stormed the U.S. Capitol to delay the certification of the 2020 presidential election and the peaceful transition of power.
The assault injured thousands of people, including more than 140 law enforcement officers who were on the scene. Five people were killed, and the attack caused more than $1.5 million in damage to the U.S. Capitol building.
"As the result of the events on January 6, the lives of five heroic officers were lost," said U.S. Representative Hakeem Jeffries (D-NY) ahead of the moment of reflection. "One hundred and forty officers were seriously injured that day. Many more will forever be scarred by the bloodthirsty violence of the insurrectionist mob. We stand here today with our democracy intact because of those officers."
Sponsored

Check out this guide to help you assess your school's safety readiness for the upcoming year.
To honor their sacrifices, Biden will award on Friday the Presidential Citizens Medal—the second highest civilian award—to individuals who defended democracy on 6 January. U.S. Capitol Police Officers Eugene Goodman, Harry Dunn, Caroline Edwards, and Aquilino Gonell will receive the recognition. Officer Brian Sicknick will also receive the award posthumously. Washington, D.C., Metropolitan Police Department Officer Daniel Hodges and former officer Michael Fanone will receive the award, as well.
Amidst the moments of reflection, however, U.S. Capitol Police continue to make security improvements to prevent a similar assault from occurring in the future, and the U.S. Department of Justice continues one if its largest investigations to hold individuals accountable for their actions on 6 January.
Security Improvements
The breach of the U.S. Capitol is one of the most significant physical security incidents in modern memory. The mob was able to storm the grounds and force its way into the building, resulting in the evacuation of congressional leaders and sheltering-in-place for staffers not able to flee. Clearing the grounds and securing the building took several hours, due in part because of communication failures and delayed response from supporting agencies who were not sure they had the authority to respond to requests for help.
Afterwards, the U.S. Senate and others launched full security reviews to understand what happened and where—and how—security measures failed. The U.S. Capitol Police (USCP) then underwent two years of significant improvements to address security shortcomings, including equipment upgrades and growth of its Civil Disturbance Unit.
Any planned demonstrations or significant events at or near the U.S. Capitol now require USCP to prepare detailed incident action plans setting forth responsibilities for command officials and participating law enforcement agencies. The USCP chief now has the authority—after Congress passed new legislation—to unilaterally declare a state of emergency and call upon the National Guard for help.
USCP has also hired a new intelligence director and changed how it disseminates critical information to officers and officials through daily briefings, alerts, and other real-time notifications.
"Perhaps most important, the United States Capitol Police is successfully recruiting and training new police officers at a rate that will, in the next several months, put us above our pre-pandemic and pre-January 6 staffing levels," said USCP Chief Tom Manger in a press statement on 4 January 2023. "This success comes at a time when most law enforcement agencies are struggling to bring on additional officers."
Investigation
The investigation into the attack continues to be one of the largest U.S. Department of Justice initiatives undertaken in history. As of 4 January 2023, authorities had arrested more than 950 individuals for their alleged roles in the attack. They have been charged with a variety of crimes, including:
860 people charged with entering or remaining in a restricted federal building or grounds


284 people charged with assaulting, resisting, or impeding officers or employees


295 charged with corruptly obstructing, influencing, or impeding an official proceeding or attempting to do so


99 people charged with using deadly or dangerous weapons or causing serious bodily injury to a law enforcement officer


91 charged with entering a restricted area with a dangerous or deadly weapon


50 charged with conspiracy


36 charged with theft of government property


11 arrested on series of charges related to assaulting members of the media or destroying their equipment
Nearly half of the charged individuals (484) have already pled guilty, while 40 other individuals have been convicted at trials. Some of the most high-profile court proceedings have involved members of domestic right-wing extremist groups for planning and organizing individuals to travel to Washington, D.C., and storm the Capitol to disrupt the peaceful transition of power from then U.S. President Donald Trump's administration to incoming U.S. President Joe Biden's administration.
Elmer Stewart Rhodes III, the founder and leader of the Oath Keepers, and Kelly Meggs, the leader of the Oath Keepers' Florida chapter, were convicted on seditious conspiracy charges in November 2022. Enrique Tarrio, the leader of the Proud Boys, is facing similar charges and awaiting jury selection before his trial will begin later this month.
[New] Newsletter

Find out your top seven security news stories, delivered to your inbox weekly, and powered by ASIS International.
Of the 940 charges and cases so far, analysis by the George Washington Program on Extremism reveals that more than 80 percent of individuals were charged using evidence from their personal social media accounts, other individuals' social media accounts, or both.
The GW program has also found that 118 individuals charged have military experience; their average age is 40; and most of them are men (809 men to 131 women).
Meanwhile, the FBI, the Bureau of Alcohol, Tobacco, Firearms, and Explosives, and the Metropolitan Police Department have increased the reward money for information that leads to the arrest of a suspect who placed pipe bombs outside the Democratic National Committee and Republican National Committee headquarters on 5 January 2021.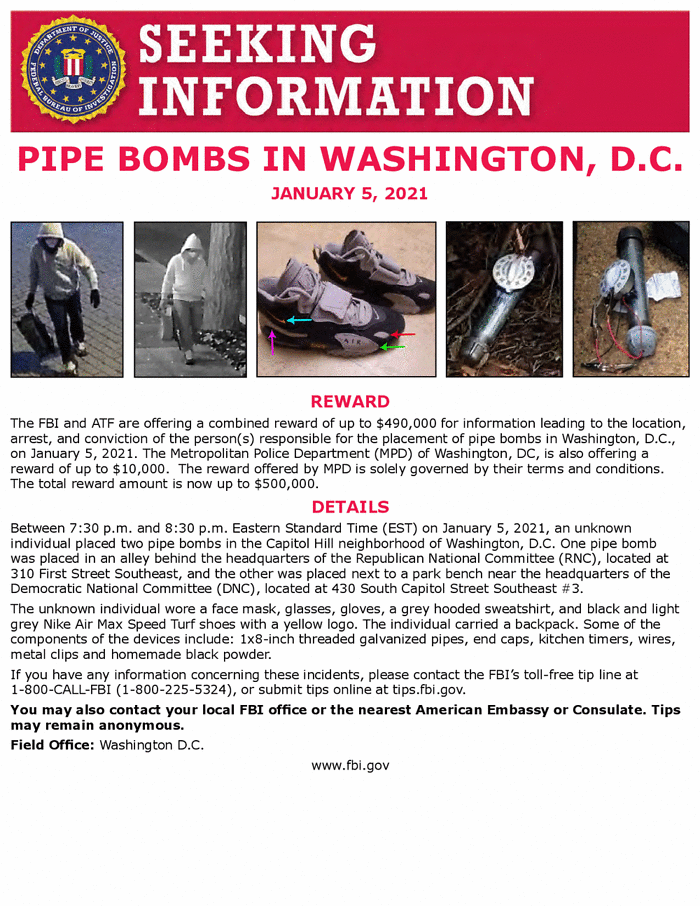 Investigators have conducted approximately 1,000 interviews, visited more than 1,200 locations, and collected more than 39,000 video files in the scope of their work, but the suspect remains at large. One of the difficulties in determining who the individual is is the fact that materials to create pipe bombs are widely available for purchase, the FBI said in a press release.
January 6 Committee
In December 2022, the U.S. House of Representatives January 6 Select Committee voted to recommend the U.S. Department of Justice charge former President Trump with criminal charges: obstructing an official proceeding, conspiracy to defraud the United States, conspiracy to make false statements, and assisting and aiding or comforting an insurrection.
"In the Committee's hearings, we presented evidence of what ultimately became a multi-part plan to overturn the 2020 Presidential election," the committee wrote in its final 845-page report detailing its investigation. "That evidence has led to an overriding and straight forward conclusion: the central cause of January 6th was one man, former President Donald Trump, whom many others followed. None of the events of January 6th would have happened without him."
The recommendation for charges against Trump is the first of its kind, but it is not legally binding. The U.S. Department of Justice has said it will "exercise independent judgment" on the committee's recommendations, according to The Washington Post.
The committee also voted to refer four U.S. House of Representatives Republican members to the House Ethics Committee for not complying with subpoenas to appear for testimony: Kevin McCarthy (R-CA), Jim Jordan (R-OH), Scott Perry (R-PA), and Andy Biggs (R-AZ).
Election Reforms
To prevent future challenges like those seen on 6 January 2021 to the Electoral College process, the U.S. Congress passed measures that provide more clarity on the role of elected officials in the process.
ASIS Certificate

Designed to give you the foundational knowledge and skills you need to become a more dynamic security professional, including EP specific threat and risk assessment, protective intelligence, advance planning and more.
With the passage of the Electoral Count Act in December 2022—as part of the omnibus spending bill—clarifies that vice president's role in the Electoral College proceedings is ceremonial and raises the number of lawmakers to object to state electors increase to 20 percent of the members of the U.S. House of Representatives and the U.S. Senate.
"Congress has approved a budget that includes essential reforms to the Electoral Count Act," wrote Brennan Center for Justice Michael Waldman in a post. "The updates, which have broad bipartisan support, eliminate ambiguities in the electoral count process that former President Trump and his allies seized on as they tried to overturn the 2020 election. Anyone looking to undermine future election results will have fewer options, and that is a victory for our democracy."