Book Review: The Art of Resistance: My Four Years in the French Underground
The Art of Resistance: My Four Years in the French Underground. By Justus Rosenberg; William Marrow; Harpercollins.com; 304 pages; $28.99.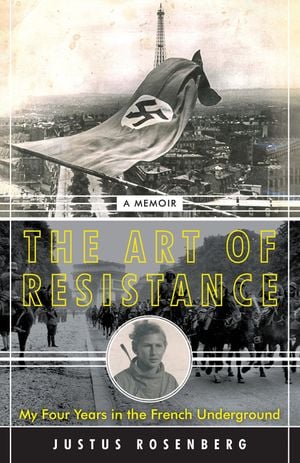 At age 98, Professor Justus Rosenberg published a memoir—his part of the story of Nazi Germany's bid for world domination that ended in defeat. Gracefully written and exceptionally edited, as we would expect from a professor of literature, Rosenberg gives us a chronicle of heroes and survival, valor, honor, and courage.
Born in Germany to Jewish parents of Polish descent 21 years before Hitler declared war on the United States, Rosenberg and his family barely survived a night of mob violence against Jews in his hometown of Danzig. Traveling to Paris to further his education, he escaped 1938's Kristallnacht, the infamous Night of Broken Glass—a pogrom of hatred, looting, murder, burned synagogues, and smashed and broken Jewish businesses across Germany.
Rosenberg holds our attention as he describes joining the French Underground, his assignment first as a recruiter then an intelligence gatherer for the Resistance; how he helped blacklisted intellectuals escape over the Pyrenees Mountains into Spain; and finally living outdoors in the forests of occupied France leading small unit ambushes as a machine gunner and team leader. He details an extraordinary level of operational security—the use of false identity cards, aliases (Rosenberg was known as Jean-Paul Guiton), compartmentalization of units and missions, and intelligence passed with a strict need-to-know.
The Nazis were vigilant in identifying those of Jewish descent, and Rosenberg was put aboard a train destined for Poland's work camps. He enlisted the help of a fellow prisoner to fake illness and succeeded in getting himself sent to a local hospital, where he underwent unnecessary surgery before escaping and returning to the Resistance.
In 2017, the French government awarded Rosenberg the French Legion of Honor. When asked how he survived the Holocaust, Rosenberg attributed his endurance to a combination of luck, an ability to foresee danger, and the excellence of his guerilla training. He added that growing up with Aryan looks—blond hair and blue eyes—no doubt helped him avoid suspicion. And certainly teaching himself French, Polish, Russian, and English, coupled with fluency in his native German, added to his luck.
Rosenberg ends his memoir with an epilogue, which the reader will find appealing and necessary for closure of a story filled with so much violence and disregard for human value. He details the fates of the many individuals he worked with and helped, as well as those who helped him. Many did not survive the war, some were captured and executed, some sent to the death camps. Yet others, like himself, made it through and put their lives back together, going on to productive careers.
Reviewer: R. Scott Decker, PhD, is a retired FBI special agent with experience in violent crime, terrorism, and physical security. His book, Recounting the Anthrax Attacks—Terror, the Amerithrax Task Force, and the Evolution of Forensics in the FBI, has won awards for non-fiction, true crime, and science and technology.