February 2020 ASIS News
Advancing Security with the ASIS Foundation
Research and Scholarships. Through these prime directives, the ASIS Foundation makes a difference in the lives of those who keep the world safe.
The ASIS Foundation is the charitable arm of ASIS International. Supported by the generous donations of ASIS members, chapters, and other organizations, the Foundation awarded more than 50 scholarships and grants in 2019—giving more than $50,000 in promotion of security education and collaboration.
The window to apply for a Foundation scholarship has opened for 2020. Through 15 April, security professionals looking to accelerate their career path through education and certification can browse available scholarships and apply at asisfoundation.org/scholarships.
The Foundation's Certification Accelerator program offers a free CPP or PSP certification exam to every ASIS chapter around the globe. Interested applicants can apply through their chapters. In 2019, 133 exam scholarships were awarded to members in 43 countries. Chapters who wish to participate in the program in 2020 must submit their selected recipient to the Foundation by 1 November.
In addition to providing scholarships, the ASIS Foundation conducts timely security research on contemporary threats, best practices, and industry trends—providing valuable and actionable knowledge for the security profession.
In December 2019, the Foundation published a new original study sponsored by AlertEnterprise exploring The State of Security Convergence in the United States, Europe, and India.
Based on responses from more than 1,000 security leaders from around the globe, the study analyzes the relationships between physical security, cybersecurity, and business continuity in modern organizations.
According to the report, despite years of predictions about the inevitability of security convergence, just 24 percent of respondents have converged their physical and cybersecurity functions. When business continuity is included, 52 percent have converged two or all of the three functions. Of the 48 percent who have not converged at all, 70 percent have no current plans to converge.
"For years, security practitioners have accepted that organizations are increasingly converging their physical security and cybersecurity functions," says Brian Allen, CPP, president, ASIS Foundation Board of Trustees. "This study collected current data to measure trends and progress with converging environments. What we've learned is that, although convergence has brought positive results, there is still much work to be done."
In 2020, the Foundation will be introducing a new series of research reports on digital transformation. These are designed to help professionals understand new technologies impacting security and how to apply them. Reports focusing on blockchain and artificial intelligence will be released in Q2 and Q3 of 2020.
Learn more about the Foundation's mission and how you can get involved at asisfoundation.org.
ASIS Global Events
As the preeminent organization for security management professionals, ASIS International offers a dynamic calendar of events for members to advance their professional development. Read event recaps from the last quarter of 2019 and look forward to attending a global event near you later this year.
Security Week LATAM ASIS 2019
Nearly 300 security management professionals attended the annual Latin American Security Week event hosted by the ASIS Mexico City Chapter. Held at the Centro Citibanamex 14–16 October 2019, Security Week LATAM drew more than 20 exhibiting companies.
On the event's opening night, attendees heard from Santiago Nieto Castillo, director of the Financial Intelligence Unit of Mexico's Ministry of Finance, who discussed the intersection of security and the financial sector. Following the keynote, attendees enjoyed a lively reception with traditional mariachi music and fare.
The Congress offered hands-on learning opportunities throughout two days of education and networking. Themes throughout the event included cybersecurity, the social responsibility of security, and criminal activities. Each day also featured learning labs focused on drones and active shooter threats.
On the final day, ASIS regional leaders held a breakfast with representatives from the ASIS Professional Certification Board, the Women in Security Council, and the ASIS Foundation—along with 2020 ASIS Global Board member Pablo Colombres, CPP. The breakfast allowed for an open discussion about the future of ASIS.
The event closed with a recognition ceremony for exhibitors and sponsors and a lively panel discussion.
ASIS Middle East 2019
The Bahrain International Convention and Exhibition Center in Manama, Bahrain, was the site for ASIS Middle East 2019. More than 500 attendees from 15 countries gathered 4–6 November for the biennial event.
Held under the patronage of His Excellency Minister of Interior of Bahrain Rashid bin Abdullah Al Khalifa, the landmark event kicked off in the presence of His Excellency Minister of Oil Mohammed bin Khalifa Al Khalifa; ASIS International President-Elect Godfried Hendriks, CPP; and more than 400 high-level delegates from the public and private security sectors.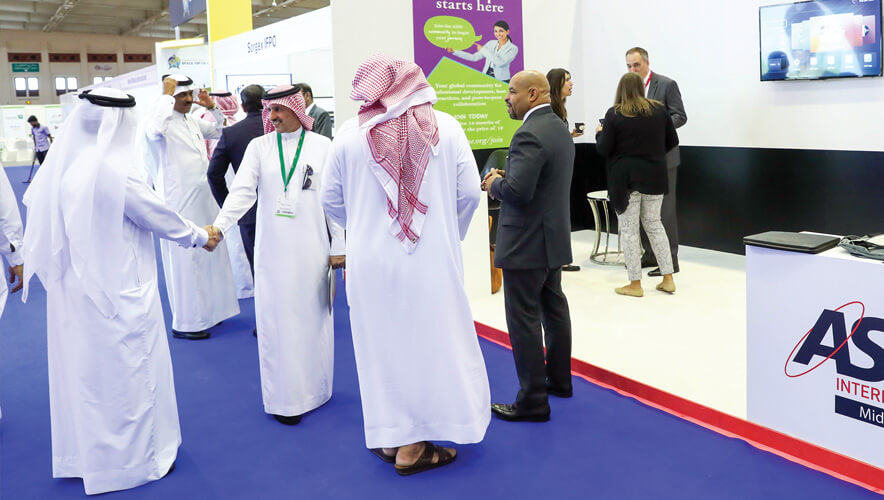 This was the first time a fully integrated event with a standalone exhibition and two educational streams has been held in the Middle East. Key sponsors included Saudi Aramco, SABIC, STC Specialized, Nesma, Hikvision, and Al Kuhaimi.
With the theme "Industry 4.0 Enabling Security," the conference attracted 27 senior speakers—such as Major General Tariq Al Hassan, chief of public police, Kingdom of Bahrain, and Abdullah Al-Ghamdi, general manager of industrial security at Saudi Aramco—representing the biggest names in sectors like cybersecurity, unmanned vehicles and drones, and critical infrastructure protection.
By ASIS Volunteer Engagement Manager Alyson Freitas
2020 Global Event Calendar
Learn more at asisonline.org/events.
1–3 April ASIS Europe 2020, Prague, Czech Republic
18–19 May 13th Annual CSO Summit, Washington, D.C., USA
16–17 June ASIS Caribbean Conference, Oranjestad, Aruba
24 June ASIS Southeast Asia, Kuala Lumpur, Malaysia
TBD July IE Business School/ASIS Program: Effective Management for Security Professionals, Madrid, Spain
9–12 August SecurityXchange, Park City, Utah, USA
21–23 September Global Security Exchange, Atlanta, Georgia, USA
4–9 October Wharton/ASIS Program for Security Executives, Philadelphia, Pennsylvania, USA
TBD October ASIS LATAM 2020, Mexico City, Mexico
Free ASIS Webinar Trial
February 2020 brings the opportunity to sign up for a free webinar trial subscription. The trial subscription, running 3–29 February, includes:
• Free access to upcoming webinars scheduled during February 2020.
• Free and immediate access to On Demand Catalog items in The Learning Exchange. On demand webinars include: SM webinars, Members Only webinars, and Enterprise Security Risk Management webinars. Note: On Demand items must be viewed and completed during the trial period.
• CPE credit for the completion of eligible live and on demand webinars.
Go to learning.asisonline.org for a complete listing of upcoming and On Demand webinars.
PSP Virtual Study Group Begins 1 March
Preparing for the Physical Security Professional (PSP®) Certification Exam? Join a community of your peers to master the content together. The PSP Virtual Study Group provides the tools and support you need to successfully prepare for the certification exam.
You'll learn how and what to study as you engage in interactive discussions, share tips and tools, and assess your readiness for the PSP exam. The study group includes 12 recorded modules, six live sessions, flexible yet structured study, practice quizzes, and more.
Learn more and sign up today at asisonline.org/virtualPSP.