Featured Resources: Management and Leadership
Elearning Collection: Managing Security Teams Better by Understanding Generational Differences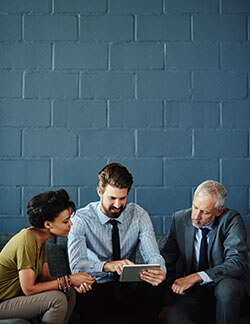 Today's workforce is one of the most age diverse in recent history with up to four different generations working together. Managing these individuals with differing attitudes and expectations can be a challenge. This eLearning Collection reviews each of the generations, details their typical characteristics and traits, and identifies what sets them apart and what commonalities they share. Use this knowledge to build a better team and more effectively manage your workforce.
Earn 2 CPE credits by completing the training.
Ebook: Team Building
This collection of Security Management articles and original content on building, managing, and empowering diverse security teams.
---
Member's Only Webinar: Selling Security to the C-Suite
In this on-demand webinar learn how to develop a business case for a security project and how you convince the C-Suite to buy-in. Presenters share real-world examples that show how to seek approvals within various firms.
Open to current ASIS members. Learn more about ASIS membership.
---
Additional Management and Leadership Resources
Recent Security Management Article
Under Pressure: Managing Team Wellness
Article
How to mitigate effects of a chronically stressful job on security teams.
Security Management, July 2019
Measuring and Improving Departmental Productivity
Your First 90 Days as a New Leader
Article
Strategies on how new managers can use their first 90 days as a springboard to success.
Security Management, June 2019.
Building a Business Case
Webinar
This webinar outlines the process to develop a business case. You'll learn what to include, where to find your data, how to evaluate alternatives, and ultimately make your case to management.
On-demand webinar for ASIS members only.
Performance Conversations: Checking In & Coaching Up
Article
The dreaded annual review process—bureaucratic, form-heavy, often dreaded by both managers and employees—is out. Performance conversations—frequent, agile, light on formality but heavy on coaching and two-way feedback—are in.
Security Management, July 2018.
The Strategic Leader
Article
Being a strategic leader goes beyond being the subject matter expert on all things security. It is making that knowledge relevant to, and an integral part of, the company's business goals. Security Management, February 2018
Leading While Female
Article
Research study on women who have attained leadership positions in security uncovers four major themes critical to their rise: opportunities to succeed, gender diversity as a differentiator, breaking through in a male-oriented industry, and the importance of relationships and mentorships.
Security Management, December 2017.
The CSO is the Steward of Corporate Security: Does the Company See Your Big Picture?
Webinar
Learn how a culture of communication and results-oriented risk management makes organizations and municipalities alike safer, more effective, and more resilient. On-demand webinar, free, registration required.
Creating Culture Together
Article
How to assess the culture of your organization (or department)… and what to do about it.
Security Management, April 2016.
Defining Leadership Competencies for the 2020 CSO
Webinar
As the level and responsibilities of a position increase, the leadership skills necessary to thrive shift from intellectual and technical skills to qualities linked to emotional intelligence. On-demand webinar, fee and registration required.
Security Policies, Procedures, Plans, and Directives
Starting from Scratch
Article
Don Taussig, CPP, enters a Fortune 500 company and designs and builds a new security function.
Security Management, May 2019.
Paved with Good Intentions
Article
Sometimes a company designs incentive systems for their employees that do way more harm than good. This article discusses how to spot "perverse incentives" and how to avoid them.
Security Management, February 2018.
Policies and Procedures Workshop
Webinar
This on-demand webinar offers security managers tips and techniques for effective policy and procedure writing. On-demand webinar, fee and registration required.
Develop, implement, and coordinate security staffing processes and personnel development programs
A Return on Your Educational Investment
Article
Report from a recent ASIS course delves into management and leadership case studies on corporate strategy and leadership to answer the question: Can security be a value generator for an organization?
Security Management, March 2019
The Hard Truth about Soft Skills
Article
"Hard skills will get you the interview—soft skills will get you the job."
Security Management, February 2019.
An Investment in Employees
Article
Investing in personnel remains one of the most cost-effective business decisions in an organization's strategic planning, as well as in its formulation of short- and long-term budgetary projections.
Security Management, October 2018.
Mentor & Me
Article
Through mentorship, a new security manager can experience professional situations and even make decisions that turn out to be wrong without suffering the consequences of on-the-job mistakes. Such an opportunity is invaluable, because having a safe space to fail is crucial for professional growth and skill development.
Security Management, June 2017.