SIA and ASIS International to Hold Diversity, Equity, and Inclusion Event for Security Industry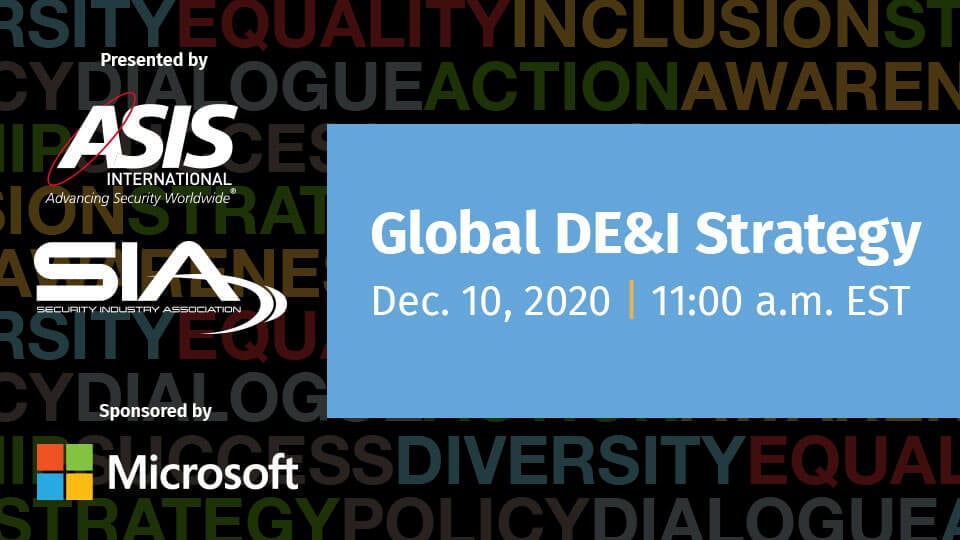 Media Contacts:
Andy Cutler
Director, Communications, ASIS International
[email protected]
703.518.1415
Geoff Kohl
Sr. Director of Marketing, Security Industry Association (SIA)
[email protected]
301.804.4702
Leading security associations join forces to help drive corporate diversity, build a culture of inclusion, and create real action within industry
Silver Spring, MD/Alexandria, VA (10 November 2020)—ASIS International and the Security Industry Association (SIA), the leading membership associations for the security industry, have announced a partnership to produce an event designed to help security organizations and businesses around the world develop and implement diversity, equity, and inclusion (DE&I) strategies. The free virtual event, titled "Global DE&I Strategy: Policy and Practices that Produce Positive Business Outcomes," will be held 10 December 2020, 11 a.m. – 12:30 p.m. ET.
Diversity, inclusion, and bias are critical topics that have generated important conversations in recent months, and now, SIA and ASIS have joined together to create this learning experience for the security profession to focus on specific and practical resources that enhance the effectiveness of security enterprises.
"This event's program will help move the industry's discussion about diversity forward," said SIA's CEO Don Erickson. "Creating a more diverse, equitable, and inclusive culture can help attract the next generation of employees to the security industry. Moreover, making these types of changes has been shown to improve an organization's productivity, and that is why this event is focused on actionable learning."
The focus will be on a strategic approach to diversity and inclusion, with the emphasis that a DE&I program can strengthen and deepen hiring practices by growing the pool of candidates, while increasing retention and engagement of team members and customers.
"We believe that bringing together leading security membership associations to address diversity, equity, and inclusion issues is not only a step in the right direction, but behavior that could, and should, be modeled in other industries as well," stated Peter O'Neil, FASAE, CAE, CEO, ASIS International. "By addressing these systemic issues collectively, we hope to dramatically expedite informed discussions and actions taken to advance DE&I throughout the security profession. When it comes to DE&I, we believe in leading by example."
The event begins with a session designed to help leaders baseline current diversity related language and allow attendees to understand and "speak the same language." The event then turns to three current pain points facing security industry professionals, and these challenges will be addressed within individual breakouts designed to facilitate deeper conversations and action plans:
Hiring Policies and Practices to Create and Retain a Diverse Candidate Pool
Best Practices for Facilitating Difficult Dialogues
How to Create a Diversity Program in Your Organization
To learn more about the "Global DE&I Strategy: Policy and Practices that Produce Positive Business Outcomes" event from ASIS International and SIA, and to register, please visit: www.asisonline.org/professional-development/webinars/asis-sia-diversity-equity-inclusion. Registration is free.
###
About SIA
SIA is the leading trade association for global security solution providers, with over 1,100 innovative member companies representing thousands of security leaders and experts who shape the future of the security industry. SIA protects and advances its members' interests by advocating pro-industry policies and legislation at the federal and state levels, creating open industry standards that enable integration, advancing industry professionalism through education and training, opening global market opportunities and collaborating with other like-minded organizations. As the premier sponsor of ISC Events expos and conferences, SIA ensures its members have access to top-level buyers and influencers, as well as unparalleled learning and network opportunities. SIA also enhances the position of its members in the security marketplace through SIA GovSummit, which brings together private industry with government decision makers, and Securing New Ground, the security industry's top executive conference for peer-to-peer networking.
About ASIS International
Founded in 1955, ASIS International is the world's largest membership organization for security management professionals. With hundreds of chapters across the globe, ASIS is recognized as the premier source for learning, networking, standards, and research. Through its board certifications, award-winning Security Management magazine, and Global Security Exchange (formerly the Annual Seminar and Exhibits)—the most influential event in the profession—ASIS ensures its members and the security community have access to the intelligence and resources necessary to protect their people, property, and information assets. Learn more about the work we do at www.asisonline.org.