ASIS Middle East 2017 Addresses Securing Economic Diversification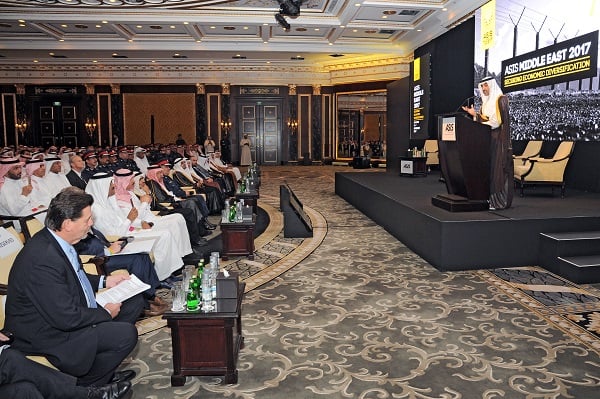 Manama, Bahrain—​Under the patronage of His Excellency Lieutenant General Shaikh Rashid bin Abdulla Al Khalifa, Minister of Interior, Kingdom of Bahrain, ASIS Middle East 2017 attracted over 600 registrants to the Ritz Carlton, Bahrain, November 5–7.
The event was opened by His Excellency Shaikh Mohammed bin Khalifa Al-Khalifa, Minister of Oil, Kingdom of Bahrain.
Dr. Muhammad M. Al-Saggaf, Senior Vice President of Operations and Business Services, Saudi Aramco, provided the opening Keynote Address. He helped the security practitioners in attendance understand the broader context of economic diversification in the region, so that efforts can be better directed support those strategic objectives.
One of the event highlights was a panel discussion where the opening keynote speech was interpreted from a variety of security professionals' perspectives. The panelists were His Excellency Major General Tariq Al-Hassan, Public Security Chief, Kingdom of Bahrain; Aali Al-Zahrani, General Manager of Industrial Security, Saudi Aramco and Senior Regional Vice President of ASIS International Region 12, which covers the Middle-East and North Africa; Eduard Emde, Head of the Health, Safety and Security Section at ESA European Space Agency, and Past President, ASIS International; and Thomas J. Langer, CPP, ASIS International 2017 President and Vice President of Security at BAE Systems.
The conference covered a broad range of key topics such as Critical Infrastructure Protection, Soft Target Protection, Compliance, The Human Factor in Cybersecurity, Offshore Security, Future Skillsets for Security Professionals, IoT Risks, Maritime Security, Travel Risk Management and Risks and Solutions related to Unmanned Aerial Vehicles.
ASIS International President, Thomas J. Langer, CPP, remarked, "This event highlighted just how many security challenges we face in common, regardless of which region of the world we operate in. There is a clear need—not just for security professionals but also their colleagues, and especially leaders—to be aware and supportive of integrated approaches to managing risk. In many sessions, we saw a natural link to ASIS' strategic priority around using Enterprise Security Risk Management (ESRM) as a means to mitigate an interconnected range of threats to our organizations."
The event was supported by Knowledge Partners: Saudi Aramco, the Gulf Petrochemical Industries Company (GPIC), and the ASIS International Dhahran Chapter. Sponsors included AMNCO, Secutronic, Building Defence Systems, G4S, BT Group, NESMA Security, and Nesma Trading.​
---
​About ASIS International
Founded in 1955, ASIS International is the world's largest membership organization for security management professionals. With hundreds of chapters across the globe, ASIS is recognized as the premier source for learning, networking, standards, and research. Through its board certifications, award-winning Security Management magazine, and Annual Seminar and Exhibits—the most influential event in the profession—ASIS ensures its members and the security community have access to the intelligence and resources necessary to protect their people, property, and information assets. Learn more about the work we do at www.asisonline.org.​